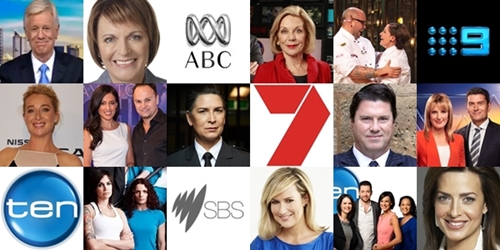 And so brings to an end another year as the calendar clicks over from 2013 to 2014.
It was a year that marked some historical milestones: 25 years since Australia Live, the launch of Imparja Television, The Comedy Company and World Expo 88 and Graham Kennedy's return to the Nine Network.
It was 40 years since Peter Hitchener joined the Nine Network and 40 years since the opening of the Sydney Opera House.
Seven Mackay (formerly MVQ6) turned 45, and it was 50 years since the assassination of John F Kennedy saw TV rise to the challenge in covering breaking news while technology was still lagging.
The year saw some changes in television news and current affairs. The Seven Network brought in changes to Today Tonight on the east coast, with former Ten newsreader Helen Kapalos taking over the Sydney-Melbourne edition of the program, while Sharyn Ghidella (pictured) hosted the new Brisbane edition. Also in Brisbane, Seven bumped longtime newsreaders Rod Young and Kay McGrath to the lower-profile Friday and Saturday nights while Bill McDonald (ex-Ten) and Ghidella took over as principal news anchors. Seven's moves in the 6pm news and current affairs hour have done it little favours in the ratings, with Nine News and A Current Affair taking leadership on the east coast.
Seven also copped some short term pain with the announcement that Melissa Doyle was stepping down from Sunrise after being in the role for more than a decade. The sudden move led to lots of media speculation that Doyle was being pushed aside for the younger Sam Armytage but the change has done little harm to Sunrise's ratings.
Seven Network producer Adam Boland, the man who led Sunrise and The Morning Show to dominate morning television, took up the opportunity to move across to rival Network Ten to reinvigorate its ailing morning timeslot. Boland's new initiatives, Wake Up and Studio 10, launched in November and have yet to make a significant dent into their rivals' audiences but the network is so far not shying away from the battle — although some brutal decisions have already been made, in particular the removal of co-host Natasha Exelby from Wake Up after only 16 days.
Ten News' Adelaide weather presenter Jane Reilly shocked viewers when she decided to focus on her radio career after more than 30 years on Adelaide television. Less surprising was Mal Walden's decision to step down from Ten News in Melbourne, ending over 50 years in broadcast media and 40 years in Melbourne television news. And Sandy Roberts departed the Seven Network after 40 years.
Meanwhile, Ten News was re-badged as Ten Eyewitness News, reprising a brand that was successful for the network in the 1980s.
Offspring's Asher Keddie won the TV Week Gold Logie and former newsreader Brian Henderson was inducted into the TV Week Logie Awards' Hall of Fame.
Regional networks WIN, Prime and Southern Cross renewed their ties to their respective capital city partners, largely at an increased cost. WIN put the axe to its regional news bulletin in South Australia and the 4.30 Nine News bulletin at its Perth station STW Nine. WIN also cut production staff numbers in regional Victoria and shifted production of its Canberra bulletin to Wollongong.
WIN sold its Perth and Adelaide stations to Nine Entertainment Co, giving Nine owned-and-operated stations across all five major capitals for the first time and putting it on level footing with Seven and Ten. Nine Entertainment Co ended the year with a listing on the Australian Stock Exchange.
SBS scored a long-term deal to cover the Tour de France, Nine renewed its rights to cricket coverage although Ten scored the Big Bash League contest. Ten also secured the rights to the XXII Winter Olympics in Sochi, Russia and by the end of 2013 had also secured a deal to broadcast the V8 Supercars in partnership with Foxtel from 2015.
SBS2 got a revamp with a new focus on appealing to younger viewers, including news program The Feed and adopting coverage of A League and Tropfest.
Australia's conversion from analogue to digital television was completed.
Seven won the ratings year, though Nine came out of the battle well with younger demographics.
While Ten had hoped that 2013 would be a year of rebuilding after a dismal 2012 — and put change in motion in February by replacing CEO James Warburton with Hamish McLennan — it finished the year in fourth place behind ABC — an unthinkable prospect in years gone by.
Here we took a look back at the 'new generation' of TV sets released to the market in 1963; the changing face of journalism in the 1960s as television was overtaking newspapers and radio as the dominant news medium; the battle for local news dominance in Canberra in the 1990s, and saw that TV stations were putting big bucks into breakfast television as far back as the 1960s; and we looked at the year 1993 as reported in the pages of TV Week.
One of the year's highlights, and among the most-viewed posts on this blog all year, was a joint venture with TV Tonight looking at the longest-running programs and events on television at the moment.
What to expect in 2014?
The Seven Network will have more from reality titles My Kitchen Rules, House Rules, The X Factor, Dancing With The Stars and The Amazing Race: Australia.
In drama, Home And Away, A Place To Call Home and Winners And Losers will be joined by mini-series Never Tear Us Apart, the story of INXS, and former Packed To The Rafters star Rebecca Gibney will produce and star in The Killing Field.
Lifestyle program Better Homes And Gardens returns for its 20th year and Sunrise co-host Sam Armytage hosts the new makeover show Bringing Sexy Back. Afternoon game show Million Dollar Minute will return with new host Simon Reeve.
New and returning overseas shows for Seven include Downton Abbey, Mr Selfridge, Revenge, Resurrection, The Goldbergs and Intelligence.
The Nine Network has two series of The Block coming up in 2014, plus The Voice returns, with new judges Kylie Minogue and will.i.am, and introduces its new spin-off The Voice Kids. Big Brother and The Great Australian Bake Off will be back, though it's yet to be seen if Australia's Got Talent will re-appear after a lacklustre ratings performance this year.
House Husbands will be back for a third series, to be joined by new series Love Child, starring Jessica Marais (Packed To The Rafters) and Mandy McElhinney (Power Games: Magazine Wars), and factual dramas Gina, based on mining tycoon Gina Rinehart, Schapelle, the story of the trial and conviction of Schapelle Corby, and Fat Tony And Co, based on crime figure Tony Mokbel.
Hamish And Andy's Gap Year goes to South America, and Eddie McGuire is back for another year of Hot Seat.
Nine's news and current affairs portfolio — currently including Nine News, A Current Affair, 60 Minutes, Today and Financial Review Sunday — will be joined by a new series, Inside Story.
Other new local productions include Mayday Mayday — The Story Of Flight QF32, When Love Came To Town, The Embassy: Bangkok and Marriage At First Sight.
New and returning overseas titles include CSI, The Mentalist, Person Of Interest, Arrow, The Following, Sherlock and Top Gear.
Nine will also broadcast the 56th annual TV Week Logie Awards and the Academy Awards.
ABC kicks off 2014 with the telecast of the New Year's Eve Fireworks from Sydney Harbour.
New Australian drama includes Carlotta, Parer's War, Janet King, Anzac Girls, The Code, The Gods Of Wheat Street and Old School, joining returning titles Rake, The Time Of Our Lives and The Doctor Blake Mysteries
Chris Lilley is back with a new series, Jonah, and Spicks And Specks returns with a new line-up. Other new comedies include Utopia, Maximum Choppage, 8MMM and Soul Mates. The Moodys is the spin-off to the 2012 series A Moody Christmas. The Chaser is back with another series of The Checkout and a new show, We'll Have To Leave It There.
Returning comedies include Upper Middle Bogan, Please Like Me, Comedy Up Late, The Roast and Dirty Laundry Live.
Paul Hogan looks back over his 40 year comedy career in Hoges: I've Just Gotta Ask!
Network Ten will be hoping that 2014 gets off to a good start on the back of the summer T20 Big Bash League and February's coverage of the Winter Olympics. Ten will also have coverage of the XX Commonwealth Games from Glasgow, Scotland, in July-August.
The Biggest Loser and MasterChef Australia will be back, and The Bachelor will return after it scored a much-needed ratings boost towards the end of this year's series. So You Think You Can Dance? makes a return after three years with new host Carrie Bickmore (The Project) and celebrity judge Paula Abdul.
Drama series Offspring will be back, as will Wonderland. Puberty Blues, which was due to return in 2013, will be back in 2014, to be joined by crime thriller Secrets And Lies and political drama Party Tricks — the latter starring Offspring's Asher Keddie and Puberty Blues' Rodger Corser.
Neighbours will be back in January for its 30th year, and fourth year on Eleven. A new series, Lost With The Boys, will appear exclusively on Ten's online platform Ten Play.
Long-running children's series Hi-5 will be on Eleven from 2014.
Have You Been Paying Attention?, a late entry in the 2013 season, will return in 2014. There are also plans for an 'entertainment-based' program for the 6.00pm timeslot but Ten has yet to reveal any further details. From 6.30pm The Project continues to kick-off Ten's evening schedule, and the network has also announced the return of Wanted, The Living Room, Bondi Vet and Bondi Rescue.
Wake Up and Studio 10 will continue their David and Goliath battle against the established morning programs on Seven and Nine. Ten will also hope that the arrival of former Nine and Seven news boss Peter Meakin will pay some ratings dividends for Ten Eyewitness News.
Returning international shows include Homeland, Modern Family, NCIS, NCIS: Los Angeles, Under The Dome, Elementary and The Good Wife, to be joined by new titles 24: Live Another Day, The Millers, Crisis and Steven Spielberg's Extant.
SBS will continue its Once Upon A Time documentary series with Once Upon A Time In Carlton but has had to postpone screening of Once Upon A Time In Punchbowl to later in the year after concerns were raised about the authenticity of one of the series' subjects.
Andrew Denton, Jacki Weaver, Rebecca Gibney (pictured), Richard Roxburgh and Lisa McCune will feature in new episodes of Who Do You Think You Are?
New documentaries include Living With The Enemy, Australia's Secret Heroes, What's The Catch? and The Great Australian Race Riot.
Sport on SBS through 2014 includes the FIFA World Cup, FA Cup, Tour de France, Hyundai A League and UEFA Champions League.
RockWiz and NITV's Marngrook Footy Show will be back for another year, while SBS2's The Feed is being extended from 15 to 30 minutes.
Food will be covered with Luke Nguyen, Peter Kuruvita, Adam Liaw and Shane Delia all returning with new episodes of their respective programs.
International drama includes new episodes of Vikings, The Bridge, Borgen, Lilyhammer and Masters Of Sex and the debut of Generation War, Spies Of Warsaw and US series Rectify.
Foxtel will start 2014 with the launch of new channels TVH!TS and SyFy replacing TV1 and SF.
Prison drama Wentworth will be back on SoHo and features the reprisal of Prisoner's Officer Joan "The Freak" Ferguson, played this time by Pamela Rabe (pictured)
Mini-series The Devil's Playground will debut on the Showcase channel.
HBO dramas Game of Thrones, Newsroom, House of Cards, VEEP and Ray Donovan will be back on Foxtel with new episodes.
Australia's Next Top Model will return for another series, joined this year by an Australian version of Naomi Campbell's The Face and new series The Real Housewives Of Melbourne.
Television.AU will continue to monitor events surrounding Australian television, with an eye on the past and will again maintain its coverage of TV from 20 years ago as documented in the pages of TV Week.
Happy New Year to you all and best wishes for the year ahead!