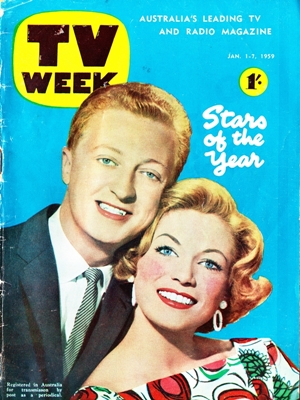 It was the issue of TV Week dated 1 January 1959 that announced the winners of the first TV Week Awards — what would become the Logie Awards.
During 1958, TV Week had invited Melbourne readers of its magazine to vote for their TV favourites for the year. There was no glamorous ceremony for handing out the shiny statuettes but rather presentations were made on each of the live shows to be handed their awards. Awards going to overseas or non-live programs were presented to the management of the respective TV stations to be passed on.
Not surprisingly, the top awards for "Stars of the Year", Best Male Personality and Best Female Personality (the predecessors to the Gold Logie) were won by Graham Kennedy and Panda Lisner from In Melbourne Tonight. The show itself also won the award for Best Regular Live Program.
Kennedy was then given the honour of giving the awards a name for future years. He chose "Logie", from the middle name of TV inventor John Logie Baird, as it was 'short, easy to remember and had a link to the history of television'. Kennedy joked many years later how different the awards might have been if he'd chosen to name them after his own middle name — Cyril.
The award itself, measuring about 16 centimetres in height, was designed by Alec De Lacy and was selected from dozens of submissions. De Lacy had sought to design a figure that was "as modern as television" with clean, sleek lines. It is a design that has stood the test of time, modified only to incorporate the evolution of the TV Week masthead.
Overseas shows The Perry Como Show and Perry Mason were overwhelming favourites among TV Week readers.
William Sterling, a producer for ABC, was awarded for his contribution to the increasing presentation of live plays on television, providing a new outlet for Australian artists.
Ian Jones from HSV7 was recognised for his technical direction and creative imagination in producing The Hit Parade. 
Sunnyside Up host Bill Collins was awarded in recognition of his own versatile talents. Most familiar as a sporting commentator, Collins had provided to be a skilled performer as a singer and in comedy skits on Sunnyside Up.
The HSV7 variety show Swallow's Juniors, hosted by Brian Naylor, was recognised for its promotion and encouragement of young talent, while GTV9's The Happy Show was an overwhelming popular favourite for the children's program category.
ABC was awarded for its outstanding contribution to sports coverage. In an era before the commercial sector had come to dominate sports coverage on television, the national broadcaster was commended for its coverage of a range of sports including Australian Rules, Test cricket, motor racing, rugby league, soccer and tennis.
Best Male Personality: Graham Kennedy
Best Female Personality: Panda Lisner
Best Regular Live Program: In Melbourne Tonight
Most Popular Film Variety Show: The Perry Como Show
Most Popular Film Drama Series: Perry Mason
Best Regular Children's Show: The Happy Show
Special Award For Outstanding Children's Show: Swallow's Juniors
Special Award For Live Drama Production: William Sterling (ABC)
Special Award For Technical Direction: Ian Jones (The Hit Parade)
Special Award For Outstanding Performances: Bill Collins (Sunnyside Up)
Special Award For Outstanding Sports: ABC Sporting Department
Source: TV Week, 1 January 1959