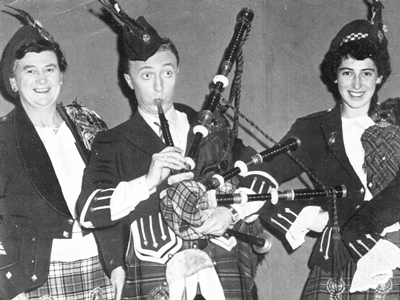 In Melbourne Tonight, one of the most significant shows in Australia's early TV history, started 60 years ago today.
The program was the brainchild of Norman Spencer, program manager at Melbourne's new channel GTV9. He had produced a popular variety show, The Happy Gang, on radio for a number of years. He was keen to adapt the format, a mix of spontaneous humour, musical performances and lighthearted commercials, to the new medium of television.
Spencer knew that to mount such a program would be a costly exercise, so significant sponsorship was needed, Luckily a major electronics manufacturer was ready to come on board, but with a condition that their choice of radio announcer hosted the new program. Spencer had already tried unsuccessfully to get The Happy Gang host Dick Cranbourne to come across and was not sold on the sponsor's choice — another radio announcer, John McMahon.
Spencer happened to see a young radio sidekick called Graham Kennedy make his TV debut in an appearance on an early GTV9 telethon for Red Cross. Kennedy, then 23 years old, made his second TV appearance in a soup commercial wearing a long pair of floppy rabbit ears. As brief as they were, these TV appearances were enough to convince Spencer that Kennedy was the man to host the new show and he managed to get the station management and sponsor onside.
Although In Melbourne Tonight was initially planned to be a loose adaptation of The Happy Gang, it also took influence from the fledgling 'tonight' show formats developing elsewhere — such as The Tonight Show from NBC in the United States, which had a format heavy in interviews. Kennedy was also sent to Sydney to get an insight into how things worked up there on Sydney Tonight, hosted by Keith Walshe on ATN7.
In Melbourne Tonight — soon abbreviated by viewers as simply IMT — made its debut as a 45-minute program on Monday 6 May 1957. Kennedy, who had been the junior sidekick to radio funnyman Clifford Nicholls "Nicky" Whitta, soon found that he was no interviewer and worked best with the ad-lib style he had picked up on radio. Comedy skits, studio stunts and music performances became the emphasis, along with Kennedy ruthlessly mocking the show's sponsors in presenting commercials live to air. The show became a huge success for Nine for over 13 years and elevated Kennedy (pictured with 'barrel girl' Panda Lisner in 1959) to the point that he became dubbed 'The King'.
Over IMT's 3000-plus run, more than 50 hosts presented from the show's desk set, either as one-off guest hosts or regular weekly presenters such as Bert Newton, Toni Lamond, Noel Ferrier and Tommy Hanlon Jnr— and there was a cast of regular performers to feature — but it was always Kennedy that was the show's star. IMT had its own orchestra and ballet, and by 1964 it had outgrown GTV9's modest Studio One to move into a lavish new Studio 9 — a state-of-the-art production studio able to handle the large scale production numbers that were becoming commonplace for the show.
Kennedy presented his last In Melbourne Tonight on 23 December 1969. The show continued in 1970 with a different host for each of four nights a week — Stuart Wagstaff, Ugly Dave Gray, Jimmy Hannan and Bert Newton — but it had failed to maintain the momentum of its earlier days. By the end of the year the IMT name was gone and only Tonight With Stuart Wagstaff and The Ugly Dave Gray Show remained. Both shows were abruptly axed by GTV9 in March of 1971. Rising production costs, falling ratings and a new local quota system that only counted programs airing before 10.00pm were the final nails in the coffin.
But the legacy of IMT continued at Nine for decades to follow. Kennedy was lured back to Nine in 1972 for The Graham Kennedy Show, which continued until 1975 — and GTV9 became the hub of television variety shows right up until 2010, when Nine finally shut down its heritage Bendigo Street studios in the suburb of Richmond.
Source: The Graham Kennedy Story, Southdown Press, 1958. From Wireless To Radio: The 3DB Story, 1984. King: The Life And Comedy Of Graham Kennedy, 2003.