Melbourne's first television station had its beginning in April 1955, when newspaper publisher The Herald And Weekly Times (HWT) was successful in gaining a licence to operate one of two commercial licences available for Melbourne.
By July, the company that was to be registered as Herald-Sun TV Pty Ltd (named after HWT's two major newspapers) was allocated the Channel 7 frequency — hence the call-sign HSV7. (The 'V' stands for Victoria)
Production and office facilities were being installed in a converted newspaper warehouse in Dorcas Street, South Melbourne. The plan was for two studios, with the building topped by a transmission mast which would serve a dual purpose, to not only receive signals from outside broadcasts but also to send the station's output to the main transmission tower being built on Mount Dandenong.
The larger of the two studios would be equipped with three Marconi Mk III cameras, while the smaller studio would have two cameras and house the master control suite. Also within the premises were two announcers' booths, a film library, a dark room (for photography work including a studio) and a film editing room. An art room, for the development of graphics materials for broadcast as well as the construction and decoration of sets, was also included.
The station had purchased an outside broadcast van from the UK. The van was equipped with a further three cameras plus a rooftop microwave link. This outside broadcast van would prove to be essential with the Melbourne Olympic Games coming up plus the potential for football coverage.
Keith Cairns, a former HWT executive who was to be appointed as HSV7's first manager, went to the BBC and to and United States to research television. He spent several weeks at a local US TV station, WEWS in Cleveland, Ohio, to see just how a TV station worked in a market of comparable size to Melbourne.
Other executives, mostly plucked from the HWT stable, were also to make visits to the US and UK to research television and to purchase the station's first programs.
The Government had set very modest limits on how much licencees could spend on importing programs, so HSV had formed an alliance with Frank Packer's Consolidated Press in Sydney, the licencee of Sydney's new TCN9, to pool together their collective budgets to secure overseas shows for their Melbourne and Sydney channels. The newspaper owners of HSV and TCN also had existing ties with the Walt Disney company to publish comics in their newspapers, so this led to Disney programs such as Disneyland and The Mickey Mouse Club being picked up by HSV7 and TCN9.
The partnership between the two channels also meant HSV7 would represent TCN9 in a sales capacity in Melbourne, while TCN would reciprocate in Sydney.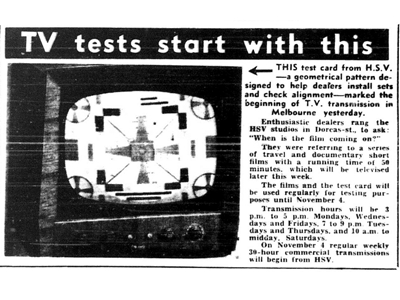 By February 1956 it was expected that completion of the 100 metre-high transmission tower on Mount Dandenong was only a month away, with plans to begin test transmissions by mid-year. It was to be July before the first pictures were transmitted from HSV7, only three days after TCN9 had begun doing the same in Sydney.
HSV7's test transmissions, which largely comprised only a test pattern (pictured above) and music with the occasional short film, would continue for two hours a day — enabling TV retailers to have working sets on display and for technicians to be able to install sets in homes.
Initial reports from the first test transmissions indicated that even at low power a clear signal could be received from Geelong and from as far away as Ballarat and Traralgon. This was despite earlier concerns that the potential for widespread reception would be limited.
With HSV7's opening night approaching the next step was the appointment of talent. The new station had managed to secure the services of Danny Webb and Eric Pearce, both from HSV's sister radio station 3DB. A young radio announcer by the name of Bert Newton, then on 3XY, had also auditioned for a role at the channel. He passed the audition, only to be informed that with Pearce and Webb now on board that the station did not have the budget for a third male "star" and asked him to 'wait' for his TV debut.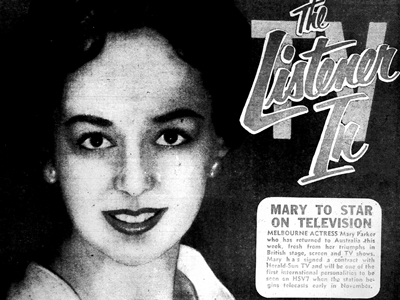 HSV7 had also signed up Melbourne actress Mary Parker (pictured above on the cover of The Listener In-TV) for announcing and some presenting duties. Parker was based in London at the time, having done some work on BBC television, and was returning to Australia for her new role.
Meanwhile, as Seven was getting ready to launch, expectant viewers unfamiliar with the world of television were seeking answers about the new medium. The Listener In-TV ran a 'TV Service Bureau' to field questions from nervous future viewers: "Are battery operated sets available in Australia?", "What is Automatic Focusing?", "Which control deals with the steadiness of the picture?", "Does a tin roof affect TV reception?", "Why are there so many types of aerials?", "Can I paint my TV aerial?" and many others.
After months of anticipation and planning, opening night finally arrived on Sunday, 4 November 1956. The test pattern faded from screen at about three minutes to 7.00pm with a short "lead up" to the official formalities and introduction from Pearce. From then there were two short pre-recorded speeches from Prime Minister Robert Menzies and State Opposition Leader John Cain (senior). Both were unable to be at the opening night but wished the new channel all the success.
Appearing live from the HSV7 studio in Dorcas Street were Melbourne Lord Mayor Sir Frank Selleck and the Federal Minister for Labour and National Service, Harold Holt, with Victorian Premier Henry Bolte declaring the station officially open.
Pearce, as the master of ceremonies, gave a brief dedication at the end of the formalities: "We dedicate this station to the full service of the community. To Australian life — the happy families in the homes — we promise to serve you faithfully and well."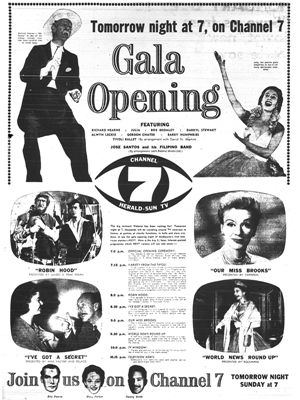 Once the opening formalities were out of the way the first program was a 45-minute variety show broadcast live from Melbourne's Tivoli Theatre, featuring Darryl Stewart, Gordon Chater, Barry Humphries, English actor Richard Hearne, American puppeteer Bob Bromley plus the Tivoli ballet and orchestra. The show largely went by without a hitch, although a brief break in the link between Dorcas Street and the outside broadcast van at the Tivoli had viewers staring at a slide for a short while assuring them that their sets weren't faulty.
The Tivoli special was followed by English series Robin Hood, then Pearce was back on screen to host the debut of game show I've Got A Secret, featuring former VFL star Jack Dyer, cartoonist John Frith, announcer Shirley Cecil and university lecturer Olivia Wykes with special overseas guest star, 1956 Miss Hollywood, Jean Moorhead.
Next up was Eve Arden in the American sitcom Our Miss Brooks followed by a half-hour compilation of filmed news stories from overseas sources. TV Window followed, presenting a 15-minute preview of upcoming shows plus some behind-the-scenes from opening night.
Pearce was back again at 10.15pm with Seven's first news bulletin and Parker presented the weather before the station signed off for the night by 10.30pm.
The next day Seven launched its daily children's show The Judy Jack Show, while Webb and Parker presented news and weather at 7.00pm and again at 10.00pm. Radio racecaller Bill Collins also made his TV debut hosting a 15-minute preview of the next day's Melbourne Cup.
Overseas shows launched through the week included The Patti Page Show, Hopalong Cassidy, Father Knows Best, The Three Musketeers, Rin Tin Tin, San Francisco Beat, Kraft Television Theatre, Big Town, Annie Oakley, Jet Jackson, Jungle Jim and Douglas Fairbanks Presents.
Local shows to debut during the first week included quiz show Stop The Music with 3DB's John Eden, pop music show Hit Parade, talent quest Stairway To The Stars, Sports Talk with Bill Collins and Harry Gordon, interview show Eric And Mary (you guessed, Eric Pearce and Mary Parker) and children's show Peters Fun Fair with Zig and Zag.
The first week was capped off by the launch of a new studio-based show, Wedding Day. The first television venture to come from radio producer Hector Crawford, Wedding Day was almost reality TV, 1956-style. The show, screening on Saturday nights, would feature a couple married earlier that day, with the show opening with film of the wedding ceremony. The happy couple would then be brought in to the studio that evening and welcomed by the show's hosts, 3DB announcer John Stuart and actor Carl Bleazby.
The couple would be interviewed and then presented with gifts — household items such as a steam iron and a lawnmower and more practical gifts such as clothing and blankets.
The newlyweds then get to cut a wedding cake and are given the chance to win a grand prize — something more lavish like a wristwatch, knitting machine, washing machine or a tea and coffee set — but they can only win the prize by identifying a mystery item from part of a magnified picture.
Wedding Day was not just a celebration of a newlywed couple but also of those celebrating a significant anniversary. The first episode featured a couple from Ivanhoe who had just celebrated their ruby wedding — 40 years of marriage.
Seven's launch in November was just a few weeks before the Melbourne Olympic Games — with HSV utilising its outside broadcast van and a mere three cameras to provide as much as eight hours of live coverage during the day and a few hours each night, even though Olympic organisers would sometimes not confirm what events could be telecast until the morning of competition.
Covering the Olympics was to be a huge logistical exercise not just for HSV7 but also for its two new rivals, ABV2 and GTV9, also providing similar coverage with only basic levels of TV production knowledge and equipment.
Production at HSV7 was soon expanded to new variety shows Sunnyside Up and The Late Show — the latter initially hosted by Noel Ferrier before making way for Bert Newton.
Ernie Sigley (pictured), Gaynor Bunning and Heather Horwood performed on Teenage Mailbag, and Ron Casey hosted World Of Sport, initially on Saturday mornings before it became a Sunday afternoon tradition in Melbourne for almost 30 years.
Seven joined the Royal Children's Hospital Good Friday Appeal in 1957 with two 15-minute segments during the afternoon and a half-hour in the evening. The station's contribution to the Appeal expanded in 1960 with the first all-day telethon.
HSV7's long tradition of VFL (later AFL) coverage started in April 1957 with the custom of live coverage of the last quarter of a selected match on Saturday afternoon. It was a concept also adopted by ABV2 and GTV9 until years later when HSV7 would emerge as the major broadcaster of the league — a role it maintains today having missed only the 1987 and 2002 to 2006 seasons due to rights going to other broadcasters.
HSV7 would go on to operate from its modest studio complex in Dorcas Street for decades to come, but by 1960 it was already apparent that the Dorcas Street studios were not going to keep up with demand. The station soon bought the former Regent Theatre in Fitzroy and converted it into a television studio — based on the concept of the Ziegfeld theatre in New York which hosted The Perry Como Show.
The HSV7 Teletheatre, with capacity for a studio audience of 600, opened in April 1961 and continued to host various productions for the station through to the 1970s.
Source: Broadcasting And Television, 15 July 1955, 4 November 1955, 27 January 1956, 24 February 1956. The Age, 19 July 1956, 26 July 1956, 16 August 1956, 18 April 1957. The Listener In-TV, 15 September 1956, 22 September 1956, 27 October 1956, 3 November 1956, 10 November 1956. The Sun, 17 July 1956, 3 November 1956, 5 November 1956. The Herald, 3 November 1956. 50 Years Of Television In Australia, Hardie Grant Books, 2006.