"The King wants his crown back" screamed the front page of the Sydney Morning Herald's The Guide on 28 March 1988 (pictured), as Graham Kennedy prepared to make his return to the Nine Network thirteen years after they had formally parted company. Nine was welcoming their golden boy back with open arms, and a generous pay packet, which was a far cry from his earlier departure from the network in 1975, triggered by his controversial "crow call" which saw him banned from appearing on live TV.
The reason for Kennedy's return to TV (it had been four years since his last regular TV appearance, as presenter of Seven's Eleven AM) was to front Nine's fresh assault on the 10.30pm timeslot — emerging at the time as the latest TV ratings battleground — with a new program, Graham Kennedy's News Show.
The new program was actually a latecomer to the 10.30pm battle.  Seven's Newsworld with Clive Robertson had set the ball rolling a couple of years earlier, gaining very respectable ratings numbers in a timeslot where most viewers are considered to have gone to bed. The Ten Network had responded earlier in 1988 with Late Night Australia, a talk-variety show hosted by showbiz veteran Don Lane who had joined the network a year earlier.
Late Night Australia had failed to make any significant inroads against Newsworld, scoring low single-digit shares as opposed to Newsworld's double digits, but Nine was hopeful that "the King" would tip the ratings scales in their favour — though Kennedy was being politely modest. "Should the program get a seven or eight rating, I will be thrilled," he told Robin Oliver of the Sydney Morning Herald. "If you ask (Nine boss) Sam Chisholm that, he'll say, 'No, we want a 15.' Which is almost impossible, because on a normal night there's only 20 ratings points of people out there." (Newsworld was reported to be averaging 11 to 12 points a night)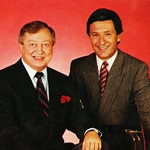 Adding to Nine's gamble was Kennedy's choice of sparring partner — Nine sports presenter Ken Sutcliffe, someone unknown to viewers outside of Sydney.  "Ken Sutcliffe?  I hadn't met him," Kennedy admits. "I chose him from the news.  I don't know why.  I thought there was something about his demeanour — a cheeky wit lurking there somewhere."
After the show's debut on Monday, 25 April 1988, reviews of Kennedy's return were less than positive. Barbara Hooks, writing in The Age, commented that "Kennedy (had) managed to trivialise items about Anzac Day and a clifftop rescue. At least the floor crew were enjoying themselves hugely. They guffawed at everything — jokes, flubs (and there were not a few of those) and technical gaffes. We were promised wit but were given cheap and contrived verbal slapstick."
Sydney Morning Herald's Robin Oliver wrote:  "Graham Kennedy's News Show got off to a faltering start. Kennedy appeared to be almost shaking with nerves as the program began. There were only a couple of good moments in the opening show; it should get better on its second outing. It could hardly get worse."
Even Sutcliffe himself later gave an unflattering review of the early shows. "In the first three or four weeks it looked like the worst thing that ever bloody happened on Australian television," he told TV Week. "We knew how crook we were and we knew it would take time."
But Nine needn't have worried about the opening night reviews, as it was soon clear that Graham Kennedy's News Show, combining serious news with comic banter between Kennedy and Sutcliffe while rolling the occasional Kennedy clip from the In Melbourne Tonight vault, was a late-night hit, eventually bumping Robertson from his ratings throne and seeing Ten's Late Night Australia cancelled by mid-June.
After the customary summer break, when the program returned to air early in 1989 the title had changed to Graham Kennedy Coast To Coast and Nine's former US correspondent John Mangos (pictured) had replaced Sutcliffe who had moved on to a higher profile with Wide World Of Sports.
Graham Kennedy Coast To Coast continued through 1989 but Kennedy announced his resignation from the show at the end of the year, citing the end of his original two-year agreement with Nine. Nine denied suggestions at the time that Kennedy decided to move on rather than face Seven's aggressive new late-night project, Tonight Live hosted by lawyer-turned-comedian Steve Vizard, set to debut in January 1990.
Coast To Coast continued without Kennedy into 1990 with Mangos joined by Terry Willesee and Gretel Killeen presenting a lighthearted take on the news. Coast To Coast in its new format was no match for Seven's Tonight Live and it was soon cancelled. Kennedy, meanwhile, didn't travel far from Nine, hosting the new series Graham Kennedy's Funniest Home Video Show — the predecessor to Australia's Funniest Home Video Show. It was a role that Kennedy only held for one season, marking his final regular TV appearance.
But the irony is that Nine eventually chose to replace Coast To Coast with a late-night news program, The World Tonight… hosted by Clive Robertson.
Source: Sydney Morning Herald, 28 March 1988.  The Age, 26 April 1988.  Sydney Morning Herald, 26 April 1988.  TV Week, 24 December 1988.