It was 25 years ago that Brisbane was on show to the world when it hosted World Expo 88. It was the first time in a century that the world's fair had been hosted in Australia — the last time was in Melbourne in 1880.
The 1988 world's fair was hosted at Brisbane's South Bank and ran for six months from 30 April to 30 October 1988. It was the largest event of Australia's Bicentennial year.
World Expo 88, with the theme "Leisure In The Age of Technology", came at a cost of over $600 million and expected 7.8 million visitors over the six month duration — though in reality by the event's end it had clocked up more than 16 million visitors. More than 40 nations were on show at Expo plus there were daily shows of music, comedy, theatre, parades, water skiing and a nightly fireworks display.
Brisbane's Network Ten channel TVQ0 was the host broadcaster for World Expo 88, and in doing so it put itself on show for Expo visitors. For the entire six month duration of Expo the channel ran its newsroom at the Expo site, putting its news operation on display for all — including production of the nightly Eyewitness News bulletin and the national mid-morning news seen across the Ten Network.
Various aspects of TVQ0's news production was on display, such as the use of chroma-key, receiving of news stories via satellite, editing and graphics design and studio control.
As host broadcaster TVQ0 and its Network Ten partners also devoted much of the opening day of Expo to bringing the event to viewers — starting with the three-hour opening ceremony including the official opening of World Expo 88 by Her Majesty Queen Elizabeth II. Later in the afternoon there was a two-and-a-half hour preview of upcoming events to feature at Expo, then Brisbane viewers got Eyewitness News from the Expo studio.
The opening night spectacular, broadcast from 8.30pm, included two hours of performances and fireworks.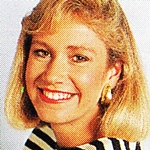 TVQ0 (which converted to TVQ10 in September 1988) also kept viewers informed on the latest events at World Expo with a half-hour program, This Week At Expo. The weekly program was broadcast nationally through the Ten Network, hosted by Eyewitness News reporter Anna McMahon (pictured) and later Fiona Crawford.
Although the Seven and Nine networks were not host broadcasters they also got involved in Expo. Seven's Beyond 2000 profiled some of the technical innovations on display at Expo, while national news program Newsworld was also to make a visit to Expo.
The Nine Network's Today, hosted by George Negus and Elizabeth Hayes, and A Current Affair with Jana Wendt were presented live from Expo in the days leading up to its official opening. On the eve of the official opening of Expo, Nine's Brisbane channel QTQ9 presented It's As Brisbane As…, giving viewers a behind-the-scenes look at Expo — but Nine didn't have that timeslot to itself for Expo, as TVQ0 also presented its own one-hour special Expo — The Curtain Rises at the same time.
Network Ten's Good Morning Australia, with Tim Webster and former Queenslander Kerri-Anne Kennerley, was also presented from Expo in the days leading up to the official opening.
World Expo 88 had also appointed a raft of Honorary Ambassadors — starting with Prime Minister Bob Hawke and including a list of prominent Australians, including TV celebrity Jacki MacDonald and Network Ten personalities Bill Collins, Neighbours star Annie Jones and Eyewitness News Brisbane sports presenter Billy J Smith.
After it closed in October 1988, the World Expo 88 site was redeveloped into the South Bank Parklands, a recreational, retail and entertainment precinct opened in 1992.
To celebrate the 25th anniversary of World Expo 88 an exhibition Light Fantastic: Expo 88 Rewired is being held at the Museum of Brisbane, in Brisbane City Hall through to January 2014.
Source: The Sunday Mail, 24 April 1988 and 1 May 1988.  Foundation Expo (expired link)