Today marks the 45th anniversary of the launch of MVQ6 in the north Queensland town of Mackay.
The station is now part of the Seven Network and broadcasts as Seven Mackay.
Although the station was launched on 9 August 1968 its history dates back as far as March 1960, when Mackay Television Development Pty Ltd was formed. Maitland Low, general manager of local radio station 4MK, was appointed company manager.
The company was the sole applicant to operate a commercial television service in Mackay, but that was no guarantee it would be granted the licence. Postmaster-General Charles Davidson said that he would not grant a licence until he was satisfied that the applicant would comply with the relevant broadcasting regulations and would not enter into any exclusive arrangement with a metropolitan station for the supply of programs.
Mackay Television Development Pty Ltd was granted the licence in September 1963. Company chairman HJ Manning was informed of the company's successful application via telegram from Mr Davidson.
The Mackay licence was one of twenty commercial licences granted as part of the fourth stage of the nationwide rollout of commercial television.
The new Mackay station — MVQ6 — was based at studios in Victoria Street, Mackay, and incorporated into new premises planned for radio 4MK. MVQ6's transmissions emanated from a mast located at Mount Blackwood, sharing a transmission tower with ABC which opened its local station ABMQ4 in December 1967.
MVQ6 made its first test pattern transmissions on the evening of Friday, 2 August 1968, giving the station's engineers and local viewers a week to make sure all was working before the official opening a week later.
Opening night, Friday 9 August, was a formal affair with a cocktail party and dinner at Hotel Whitsunday, attended by around 150 industry representatives — including those from other regional Queensland stations — and government dignitaries. The event was also attended by the great-granddaughter of John Mackay, founder of the city. Postmaster-General Alan Hulme was unable to attend the function but would officially open MVQ6 via a pre-recorded speech.
"I am sure the directors of this station are going to do their best to cater for the social activities of Mackay and that the service generally will be one of a high standard and of a tremendous advantage to you," Mr Hulme said in his speech.
The federal member for the local seat of Dawson, Rex Patterson, said the advent of commercial television would have an educational benefit for younger viewers. "There are many parents who believe that television is not good for children. I do not believe this is so if it is handled properly. This commercial station I am sure will give great benefit to all of us," he said.
MVQ6: Friday 9 August 1968
5pm Test Pattern, Music
6pm Station Introduction: MVQ6
6.05 The Bugs Bunny Show
6.30 Special: Julie Andrews
7.30 Special: This Is MVQ Channel 6. Includes interviews with those responsible for the building of MVQ6
7.50 Special: The Sweet Heart Of Australia. Film depicting the sugar industry in Mackay and surrounding areas.
8pm Official Opening MVQ6
8.30 Movie: The Little Hut
10pm Wild Wild West
11pm Tomorrow's Highlights
11.05 Epilogue
11.10 Close
Source: The Daily Mercury, Mackay, 9 August 1968.
MVQ6's initial program schedule included around six hours of programming each night. The new channel had a staff of 14.
Technical developments at the station by the early 1970s included the installation of the first videotape machine, worth $30,000, and the expansion of the station's coverage via a translator station at Collinsville (MVQ11). MVQ would later install translator stations at Nebo (MVQ8) and Moranbah (MVQ11).
Colour test transmissions were scheduled to commence in October 1974, as allowed by the broadcasting authorities, however MVQ was forced to postpone their tests to December following delays in receiving transmission equipment. Full-scale colour transmission was launched by the station on 1 March 1975 — the date all Australian TV stations were permitted to officially launch in colour.
In 1982 the MVQ6 logo was changed to a multi-coloured design incorporating the station's new slogan, 'Tropical Television'. By 1985 MVQ6 and other regional Queensland stations had expanded their transmission hours to include early mornings with the advent of the relay of Good Morning Australia from the Ten Network.
The studios on Victoria Street were refurbished and expanded in the mid-1980s at a cost of around $1.5 million. Stereo transmissions launched in 1987, ahead of the installation of UHF translator stations at Airlie Beach (MVQ46), Shute Harbour (MVQ58) and Tieri (MVQ65).
In 1987 MVQ6 shareholders had accepted the offer of a takeover by Christopher Skase's Qintex group, owner of TVQ0 in Brisbane — though Skase was in the process of selling TVQ as he had also just bought the Seven Network stations in Sydney, Melbourne and Brisbane. This gave MVQ6 and its new sister station, SEQ8 Maryborough/Wide Bay, access to the Seven Network.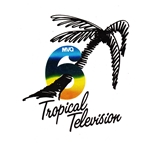 The advent of aggregation led to MVQ6 and SEQ8 merging their operations in 1990 as Sunshine Television Network — with both MVQ and SEQ call-signs replaced by a single call-sign, STQ.
The new-look network became the Seven Network affiliate through the Regional Queensland market, stretching from Cairns in the north to Darling Downs in the south, when aggregation was implemented on 31 December 1990.  Rival regional networks WIN and QTV in turn expanded into Sunshine's broadcast area as the Nine and Ten network affiliates respectively.
The collapse of the Qintex group led to Sunshine Television Network being sold to Gosford Communications Limited in 1992 before being bought into the Seven Network in 1995, leading to the name change to Seven Queensland.
Although Seven Mackay still occupies its original Victoria Street premises (pictured above) it no longer has a production presence there, with the Seven Local News for six Queensland regional markets produced at facilities located in Maroochydore, read by Rob Brough and Joanne Desmond.
The conversion from analogue to digital television in Mackay started in 2003 with the analogue signals switched off throughout the Regional Queensland market in December 2011.
Seven Queensland also carries the Seven Network's digital channels 7TWO and 7mate.
MVQ6 was one of four commercial stations launched across Australia during 1968 — with others being BKN7 Broken Hill, GTS4 Port Pirie and GSW9 Albany.
** Many thanks go to Steven Pritchard who has kindly curated and offered resources used to compile this article **
Source: The Daily Mercury (Mackay): 23 March 1960, 19 September 1963, 29 November 1963, 9 November 1967, 3 August 1968, 9 August 1968, 10 August 1968, 19 February 1972, 3 March 1972, 1 October 1974, 3 July 1987, 22 August 1987, 18 January 1992, 28 August 1992, 2 December 1995, 13 August 2003. Pioneer News (Mackay): 26 February 1985.