Continuing the countdown of the top 60 Australian TV shows. See also Part I, Part III, Part IV, Part V and Part VI.
Feel free to share or comment and there will be a poll later in the week.
50. This Fabulous Century (Seven, 1979)
Billed at the time as the most expensive documentary project ever undertaken by Australian TV, This Fabulous Century (presented by Peter Luck, pictured) took us back through 80 years of various aspects of Australian life, including sport, politics, industry, fashion, crime, media, the performing arts, war and natural disasters.
49. The Feed (SBS2, 2013-)
The relaunch of SBS2 into a channel of youth and emerging culture came with current affairs program The Feed. Presenting a mix of news, current affairs and satire, The Feed will effortlessly scan the spectrum of topics from the flippant to the most serious — noting special episodes on topics such as school bullying, drugs and Sydney's lockout laws. The show has also single-handedly elevated Lee Lin Chin from the rank of serious newsreader to a cultural phenomenon and Gold Logie nominee.
 
YouTube: SBS2Australia
48. Life Support (SBS, 2001-2003)
Before reality TV really kicked in, Australian television was heavily into lifestyle 'infotainment'. Shows about renovations, finance, cooking, dating, gardening and travel dotted the prime time TV landscape — all told with sugary sweetness. Life Support took the premise and sent it up ruthlessly, providing blunt social commentary (some of which they couldn't get away with today) and the sort of handy hints you'd never see on Better Homes And Gardens.
47. Home And Away (Seven, 1988-)
Created by Seven in response to the success being enjoyed by Ten's Neighbours (ironically, a show original dumped by Seven), Home And Away has become a huge success in its own right. For almost 30 years the residents of Summer Bay have endured just about every personal and emotional crisis ever known plus a constant string of natural disasters — bushfires, floods, earthquakes and even landslides. Ray Meagher, who plays the grouchy Alf Stewart, has been with the series since day one.
46. GP (ABC, 1989-1996)
The weekly tale of life around a Sydney GP surgery not only uncovered all manner of personal relationships among its staff but also brought to the mainstream audience a constant stream of diseases, ailments, medical conditions and social issues. For over 300 episodes its guest cast includes a roll call of just about every film and television actor known in the country at the time.
45. Australia Live (Nine/ABC/SBS, 1988)
A one-off production that really makes the list purely for its technical marvel in linking up presenters positioned all over Australia into a single four-hour program — a feat that had only become possible with the advent of the domestic satellite — to provide a snapshot of Australia to kick off the bicentennial year of European settlement.
45. Offspring (Ten, 2010-2014, 2016-)
The story of Melbourne family the Proudmans has given us the full gamut of emotional dramas — from quirky and amusing to heartbreaking and complicated. With a strong ensemble cast (led by Asher Keddie, pictured with Matthew Le Nevez) and great guest actors, Ten was reluctant to let the series wrap up as it did in 2014, eventually leading to the gang getting back together this year.
43. Gogglebox (Foxtel/Ten, 2015-)
The premise of a TV show about people watching TV shows sounds ludicrous, but the Brits made it into a winning formula that has since been picked up in various other countries including Australia. A format that makes its everyday participants (including Angie and Yvie, pictured top) almost as famous as the shows being featured, it also gives us all a reminder of what is good, or not so good, about TV.
42. Bellbird (ABC, 1967-1977)
There was nothing all that remarkable about ABC's nightly serial of life in the fictional country town of Bellbird, and in the cities it had barely an audience. But in the country it was a popular ritual to watch Bellbird leading up to the local news. To this day it remains ABC's longest running drama and producer James Davern went on to create another popular rural series, A Country Practice, a few years later.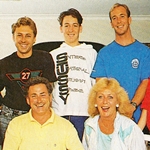 41. Sylvania Waters (ABC, 1992)
Often credited as one of the first reality TV shows, this BBC-ABC co-production took us into the lives of the extended Baker-Donaher family in the plush waterside suburb of Sylvania Waters. It made family matriarch Noeline Donaher both a heroine and a villain at the same time, as viewers watched, scrutinised and judged the family's dramas every week.