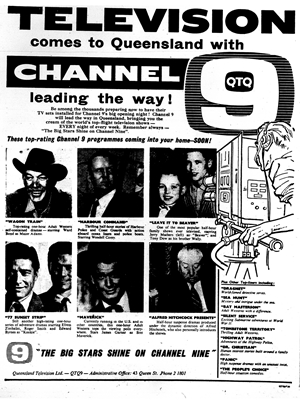 Although Brisbane was the site of some of Australia's earliest experimental television transmissions in the 1930s, television in Australia was officially launched in 1956 in the two largest cities, Sydney and Melbourne.
In September 1957, the Postmaster-General announced plans for the second stage in the introduction of television in Australia — covering Brisbane, Adelaide, Perth and Hobart.
ABC would provide the national television service, and applications were invited for an unspecified number of commercial television licences for Brisbane. Three applications were received: Queensland Television Ltd, Brisbane TV Ltd and Australian Consolidated Press.
In October 1958, the Government had announced Queensland Television Ltd and Brisbane TV Ltd as the successful applicants for what would become QTQ9 and BTQ7.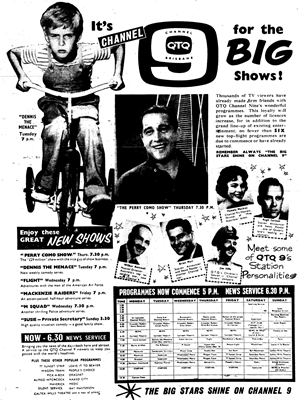 Although a majority of the investment in Queensland Television Ltd was through local shareholders, investors also included Amalgamated Television Services (ATN7, Sydney), General Television Corporation (GTV9, Melbourne), NBC International in the United States and Associated Television from the United Kingdom.
Brisbane TV's largest shareholder was Queensland Newspapers Pty Ltd, with other investors including regional newspaper publishers from Queensland and northern New South Wales, AWA, Commonwealth Broadcasting Corporation (radio station 4BC, Brisbane), the Herald and Weekly Times (HSV7, Melbourne)  and Associated Newspapers (London).
Australian Consolidated Press' application was rejected as although it was deemed to have capacity to operate a commercial television service, as it was already doing in Sydney, most of its share register was based in Sydney, with very little representation from Queensland — while the other two applicants both had a majority of investment from within Queensland.
Both QTQ9 and BTQ7 set up studios and transmission towers on Mt Coot-tha, west of the Brisbane CBD, while ABC's ABQ2 was also to broadcast from a tower on Mt Coot-tha, but with its studios based in the suburb of Toowong.
BTQ7's studios were billed as the largest of the three new channels, with the complete station construction reported to have cost £600,000.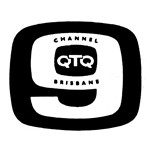 QTQ9 commenced test pattern broadcasts from 1 July 1959 — the same day that the moratorium on the local retail of TV sets was lifted. The station was officially launched on Sunday 16 August 1959 with a four-hour schedule. The first face seen from the channel was Hugh Cornish, who would go on to become QTQ9's chief on-air personality and general manager.  He also presented QTQ9's first news service, a 15-minute bulletin later that night.
The Postmaster-General, Charles Davidson, officially opened the channel and there were also speeches from Queensland Premier Frank Nicklin, Lord Mayor Reg Groom and QTQ chairman Douglas Wadley, and a message of congratulations from Prime Minister Robert Menzies.
The speeches followed a 15-minute film documenting the construction of QTQ9's studios and featuring various aerial shots of Brisbane.
But with Brisbane's major newspaper The Courier-Mail being owned in common with upcoming rival channel BTQ7, its coverage of QTQ9's official opening was decidedly brief — with a single article of a few paragraphs and no pictures, buried deep in the next day's newspaper.
BTQ7 was to open on Sunday 1 November 1959. At 6.00pm, the chimes from Brisbane's City Hall were broadcast to thousands of south east Queensland viewers, leading into a station identification announcement by station presenter Brian Tait before handing over to program manager Wilson Irving. The station was soon officially opened by Deputy Governor and Chief Justice of Queensland, Sir Alan Mansfield.
There were more speeches to round out the 15-minute opening ceremony, before BTQ7 crossed to its first news bulletin, read by Brian Cahill and with weather presented by Nancy Knudsen.
After the 15-minute news bulletin was the Brisbane debut of Disneyland and Robin Hood, before the station's first movie, Casablanca. This was followed by the first edition of interview program Meet The Press before PME Playhouse featured Malaya Incident, starring Richard Egan and Ann Sheridan.
Ending the night's transmission was a news update from Brian Tait, a weather forecast with Sybil Francis and the epilogue from the Council of Churches.
The next night was ABC's turn, with more than 300 people attending the official celebration of the opening of ABQ2 at Middenbury House, adjacent to the ABQ studios. ABC radio announcer Russ Tyson was the first face to be seen on the channel, introducing ABC chairman Sir Richard Boyer to welcome viewers to the new channel. ABQ2 was then declared open by Postmaster-General Charles Davidson before a welcome message from the BBC. Ron Brady presented ABQ2's first news bulletin, which was followed by US sitcom The Phil Silvers Show, a documentary of Princess Alexandra's Queensland visit, drama series Wells Fargo, documentary Growing Up With Guba, British drama Boyd QC, a live studio recital from Queensland musicians and vocalists, then a documentary on Soviet leader Nikita Khrushchev.
The transmission closed with a televised unveiling of a plaque installed at the entrance to the ABQ building.
With three channels now on the air, it then became a battle for the attention of viewers. With the advent of competition from two new channels, QTQ9 instantly expanded its schedule to commence at 5.00pm each weekday afternoon.
While most filmed programs such as dramas, serials and movies came from the United States or, in the case of ABC, the United Kingdom, the three channels fought it out with their own live shows — including children's shows in the afternoons, the evening news and then local variety and quiz shows.
But keen viewers in Brisbane's CBD may have also noticed a fourth TV "channel" on their TV set. The electrical trades section of Brisbane's Technical College in George Street had been granted a special experimental licence to broadcast a low-power signal on Channel 10. The special channel was intended to aid the school in training new TV servicemen and any signal emanating from Channel 10 was likely to only be receivable from within the immediate area around the college.
The college had invested more than £75,000 in setting up its TV training facility.
Source: The Courier Mail, 1 July 1959, 17 August 1959, 2 November 1959, 3 November 1959. TV Week, 11 August 1984. The 11th Annual Report Of The Australian Broadcasting Control Board, 1958-59.