Today marks the fiftieth anniversary of the first appearance of Homicide on Australian television.
The series, produced by Crawford Productions, wasn't the first drama produced by Australian television but was the first to demonstrate that Australian audiences would watch locally-produced drama in overwhelming numbers. Its success sparked a booming industry of Australian television drama production.
But launching Homicide did not come easy. Since television began in Australia drama production had been largely limited to televised plays and short-run daytime serials. There were some notable prime-time efforts, including GTV9's Emergency in 1959 and ATN7's historical series, Jonah, in 1962. In the early 1960s ABC had produced historical mini-series including Stormy Petrel, The Outcasts, The Patriots and The Hungry Ones.
Crawford Productions, headed by Hector Crawford and his sister Dorothy, had been making radio programs since the mid-1940s. One of its most popular shows was a crime series, D24, based on real-life cases and produced in association with Victoria Police. The advent of television in 1956 saw Crawford Productions immediately begin the production of television programs but it was 1961 before the company had launched its first TV drama, a courtroom series called Consider Your Verdict, for Melbourne's HSV7. When Consider Your Verdict was rumoured to be cancelled in April 1964, TV Times columnist John Pacini (pictured) implored Seven to replace it with one that he'd heard was in the pipeline:
"Consider Your Verdict has had a three-year run. This reflects great credit on HSV7. It has demonstrated quite clearly a desire to support locally made television products. To maintain what should be a jealously guarded record HSV7 must replace Consider Your Verdict with another "Made in Australia" series. Dame Fortune has been kind indeed for such a show is waiting on the sidelines to be pressed into service.

Its title… Homicide.

And it's as dramatic as it sounds, believe me. It tells the story (I hope weekly) of a homicide case in which three detectives, supposedly based in an Australian Police HQ, conduct the investigations. The series is Australian acted and Australian written.

Sack Consider Your Verdict if you will — as I believe is your intention, HSV7. But replace it with this Homicide series. It's better than Consider Your Verdict, and provides another step forward in the cultivation of locally made shows."
Whether HSV7 had already agreed behind-the-scenes to go ahead with Homicide is not clear, but by July it was reported that the station had picked up Homicide for series production. The commissioning of Homicide no doubt came as a relief to Crawfords, as Hector had mortgaged his house to fund its production and both he and Dorothy had worked without salary for a year to keep the company afloat. Even so, Crawfords still made a considerable loss on the initial series as Seven paid far less than what it cost to make.
The first episode, titled The Stunt, went to air on HSV7 on Tuesday, 20 October 1964 at 7.30pm.
The episode opens with the scene of a mock bank robbery being staged by university students as a prank. The leader of the 'robbery', Lindsay Murdock (Ian Turpie), armed with a cap gun, was fatally shot by the bank's security guard, John Healy (Gordon Glenwright).
Enter Homicide's first squad, Inspector Jack Connolly (John Fegan), Detective Sergeant Frank Bronson (Terry McDermott) and Detective Rex Fraser (Lex Mitchell), to determine if Healy acted within his duties or if there were other factors at play — in particular the relationship between Murdock and his university colleagues, Prue Ellison (Susan Haworth) and James Collier (Laurence Beck).
The episode featured interior studio scenes recorded on videotape combined with exterior scenes recorded on film — a production technique to be employed by various Crawford productions in the years that followed, although Homicide would later change to film-only production.
Early reviews for Homicide were promising, with TV Times' Pacini following up his April comments:
"Hats off to Crawford Productions and HSV7 for excellent premiere of Homicide which looks like being the first mature crime series made in this country. A long-wanted step in right direction to enable near opportunityless actors and actresses ply their trade in something other than corny commercials."
Fellow TV Times critic Frank Doherty's only criticism was that the efforts of the episode's scriptwriters, Ian Jones and Phil Freedman, were not given their due recognition, with their names placed near the end of the closing credits:
"Burying the identity of the author of an hour-long drama near the tip of the tail of the credit list would seem, at best, a perfunctory way of admitting the part he played in the feature."
TV Week columnist Alec Martin said the series "has plenty of potential, but let's hope that Lex Mitchell (the younger detective, pictured) gets a better hair style as the series goes on."
But not everyone was thrilled with the new show. TV Week critic Frank Thring was far from complimentary:
"The scripts are unactable, the dialogue unspeakable, the actors a strange mish-mash of the professional and the amateur, and the final result a goulash that could tickle only the most undiscriminating palate."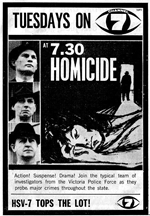 Despite Thring's criticism the viewers clearly felt otherwise. The opening episode gained a rating of 33 (per cent of households) for HSV7 — an outstanding result for the new four-station market. When the first episode aired in Sydney (still a three-station market at that time) in January 1965 it rated 40, a staggering result given that Melbourne-made programs usually drew only a lukewarm response in Sydney.
By 1966 Homicide was the third top rating series on Australian television. It then hit the number one spot in 1967 and topped the national ratings again in 1969, 1970, 1971 and 1972. It won Best New Drama at the 1965 TV Week Logie Awards, and went on to win Best Drama at the Logies in 1966, 1967, 1968, 1969, 1971 and 1973.
Homicide's success paved the way for a growing demand for Australian-made television drama. The Nine Network followed Seven's lead with a spy drama Hunter and, later, police series Division 4 — both from the Crawfords stable.
The third commercial network, 0-10, had failed in its first attempt at police drama, the in-house production The Long Arm in 1970, but had commissioned Crawfords for its next project which became rural cop series Matlock Police.
Seven also commissioned another series, a private detective drama, Ryan in 1972. Ryan, which starred a young Pamela Stephenson alongside lead actor Rod Mullinar, only lasted one season.
By 1975 the proliferation of Crawford productions was at breaking point — with three cop dramas, Homicide, Division 4 and Matlock Police, alongside soap opera The Box and sitcom The Last Of The Australians. All up it was accounting for six hours of prime time programming each week, plus the additional hours of daytime re-runs.
Despite strong ratings the Nine Network cancelled Division 4, citing financial constraints amid a growing slate of local production, and 0-10 soon followed in cancelling Matlock Police.
Homicide, the show that started it all, was the last to go. It was axed in August 1975 but with a backlog of episodes stayed on screen until early 1977. It finally bowed out with its 510th episode — creating a record for a weekly series not matched until a later Seven Network drama, Blue Heelers, came to an end in 2006.
There was speculation that the rapid cancellation of three of Crawfords' major productions was an act of collusion by the networks, responding to Crawfords' push for increased Australian content on TV — but the timing of the axings also came as soap operas were emerging as the new ratings giant, with Number 96, Reg Grundy's Class Of '74 and Crawfords' own The Box delivering strong ratings. Soaps were also cheaper to produce and could fill more hours of airtime each week than a weekly police drama.
The Box continued through to 1977, while Crawfords went on to establish two new hit shows — World War II period drama The Sullivans for Nine and soapie-based police drama Cop Shop for Seven.
Crawford Productions is now Crawfords Australia and owned by WIN Corporation. The company has been releasing selected titles of its archive on DVD — including Homicide and Division 4. Details of these and other releases can be found at their website.
Seven Melbourne will pay tribute to Homicide with the special 50 Years Of Homicide, screening Wednesday 22 October, 10.30pm.
Source: IMDB. Australian Television Information Archive. TV Times, 8 April 1964. TV Week, 18 July 1964. TV Times, 14 October 1964. TV Times, 4 November 1964. TV Week, 31 October 1964. TV Week, 12 December 1964. TV Times, 8 February 1975. TV Times, 16 August 1975. The Age, 15 July 1981. Australian Television: A Ratings History 1956-1998, ACNielsen. Australian TV The First 25 Years, 1981.