With the disappointment of The Long Arm behind it, in 1971, Melbourne's ATV0 continued to pursue options for a police drama to rival Homicide and Division 4.
While The Long Arm was produced in-house, the station reached out to Crawford Productions — producers of Homicide and Division 4 — to develop a police drama series for them.
Crawford Productions came back with Matlock Police, a weekly drama centred around the fictional country town of Matlock. With a reported cost of $24,000 per episode — in 1971 dollars — the series took a different viewpoint to its popular rivals which were largely focused on stories based in the city.
Assembled to lead the cast of Matlock Police was Michael Pate, Vic Gordon, Grigor Taylor, and Paul Cronin as motorcycle cop Gary Hogan.
In the first episode, broadcast on ATV0 on 25 February 1971, the town matriarch, Grace Falconer (Sheila Florance) is brutally attacked and robbed. Meanwhile, a group of hippies are in town and become involved when a local girl's horse is shot, and a couple of hunters are caught trespassing and shooting on private property.

YouTube: robbie czajka
The opening episode also featured the hippies in a nude swimming scene. Nudity was not to be a regular feature of the series, and its appearance in the first episode attracted later criticism from Crawfords' managing director Hector Crawford. "The nude bathing scene in the first program overstepped the bounds," Crawford conceded to TV Times shortly after. He did, however, defend criticism about any violence depicted in the series. "The purpose was to achieve a great degree of realism," he said. "Our writers spent time studying various large rural communities so they could reflect the right attitudes and I believe in this they succeeded. Even if children did see the program, the violence in cartoons far exceeds that in Matlock Police. I think Tarzan is terrifying."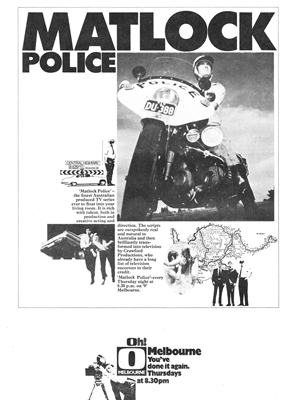 Despite Crawford protesting the nudity from the first episode, two years later nudity was to become a trademark on two fellow 0-10 Network dramas — Number 96 and The Box. Crawford, who also produced The Box, then had Matlock Police have a glimpse at nudity again in its 100th episode, with three couples shown to be swimming and frolicking on a riverbank. The same episode also promised a love scene between a couple played by Ross D Wyllie and Lynda Keane. Despite the hype leading up to its broadcast, the end product was largely inoffensive and was allowed to be broadcast in the show's regular 7.30pm timeslot.
As Matlock Police progressed through the early '70s, Grigor Taylor was to leave the show, replaced by Tom Richards (pictured, below). Michael Pate also eventually left and was replaced by Peter Gwynne. As with the other police dramas, Matlock Police also featured a steady stream of guest stars over its 200+ episodes, representing a who's who of the acting fraternity at the time.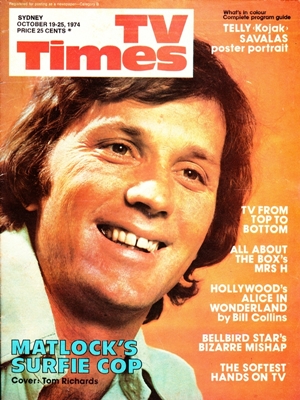 The series also gained international attention, of sorts, when an accountant from the real life English town of Matlock found about the show after a chance meeting in France with Australian actress Queenie Ashton, who had appeared in various guest roles in Matlock Police. The local newspaper then researched the town's fictional namesake and reported on the similarities between the two.
By 1975, police dramas were losing favour with the networks. Nine had axed Division 4 after six years. And just as Hector Crawford was hoping to sell Matlock Police on the overseas market, by mid-1975 Matlock Police was axed by the 0-10 Network, with Seven to axe Homicide shortly after that. Crawford announced that production of Matlock Police would wind up in September but a backlog of episodes would see it airing through much of 1976.
The popularity of the show's motorcycle cop Gary Hogan, played by Paul Cronin, saw that character lead a spin-off series, Solo One. The 13-episode drama saw Hogan relocated to the real-life town of Emerald, and the series taking on a more family-friendly tone than its predecessor. "There are no murders, sex scenes or violence. It's the first Australian adventure series for a long time that is honest-to-goodness family entertainment, and I think it's a credit to Crawfords," Cronin told TV Times. The Seven Network ended up picking up Solo One but eventual plans for any renewal of the series were stalled when Cronin instead took up a lead role in the upcoming series The Sullivans.
Matlock Police continued to appear in re-runs until well into the 1980s, and in 2015 it was released on DVD.
Source: Listener In-TV, 20 February 1971. TV Week, 26 February 1972, 8 July 1972, 14 April 1973, 19 April 1975. TV Times, 14 April 1971, 29 January 1972, 12 July 1975, 22 November 1975. TV Eye — Classic Australian TV. IMDB