Bandstand host and TCN9 Sydney newsreader Brian Henderson won the Gold Logie for most popular personality on Australian television for 1967 at the 10th annual TV Week Logie Awards.
The awards were held at Melbourne's Southern Cross Hotel on Friday 22 March 1968 and telecast on the Nine Network. The awards were hosted by Bert Newton for the second time running.
Henderson's versatility — ranging from presenting commercials to reading the news to hosting the country's most successful pop music program — had made him popular with viewers and TV Week readers of all ages. At the time he was reported to be halfway through a contract with Nine that saw him paid $160,000 over five years.
Although the Logies had awarded Gold awards to both male and female personalities the previous year, TV Week had made the decision not to award a Gold to a female in 1968. Logies organisers had decided that there was no female star to dominate or appear nationally on TV through 1967.
Patricia Amphlett — "Little Pattie" — at the age of 19 one of the star performers on Bandstand, won the Logie for Best Teenage Personality. The award came after she had completed a tour of South East Asia.
Bobby Limb's Sound Of Music, by this stage in its fifth year on air, won the Logie for Best Australian Show. The win represented a highlight for the show after host Limb had taken time off for cancer surgery.
Bob Dyer, host of the long-running Pick A Box and a TV Week Gold Logie winner in 1961, was awarded TV Quizmaster of the Decade. He and wife Dolly had taken Pick A Box from a radio show to becoming a TV hit, making it Australia's most successful quiz show in over ten years of television.
Best New Show of 1967 was won by ABC's This Day Tonight, the first program to gain widespread interest in nightly current affairs.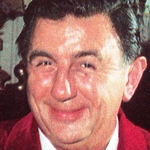 The Seven Network sitcom My Name's McGooley What's Yours won the Logie for Best Australian Comedy for the second year running. The series, starring John Meillon, Gordon Chater (pictured) and Judi Farr, was into its third series.
Drama series Homicide, top of the ratings in Melbourne and Australia's most popular locally made program, won the Logie for Best Drama for the fourth year running. Producer Hector Crawford summed up Homicide's success. "The reasons for its wonderful success are really quite simple," he told TV Week. "The first is that Australians know best how to entertain Australians. The second is that Homicide has only barely a quarter the budget of similar American shows. Because of this everybody connected with Homicide has developed a sort of genius for finding ways of doing things better and faster."
Nine Network's documentary series Project 67 won the Logie for Outstanding Australian Television Contribution of 1967 for Days Of Destiny, reporting on the Israeli war.
Melbourne-based sports commentator Ron Casey, host of HSV7's World Of Sport, won the Logie for TV Sportscaster of the Year. Casey gained national fame for his coverage of Lionel Rose's world title fight in Tokyo. As well as commentating Australian Rules football he had also covered boxing, racing, wrestling, tennis and Olympic athletics.
The Logie Award for Best Commercial was won by Alka-Seltzer.
British sitcom Till Death Us Do Part, a surprise hit for ABC, won the award for Best Overseas Show.
State-based award categories were dominated by variety and game shows and personalities.
International guests at the awards presentation were Peter Breck (Big Valley), Chris George (Rat Patrol), Cheryl Miller (Daktari) and Violet Carson (Coronation Street). Carson's tour of Australia saw the Coronation Street star mobbed and cheered by crowds wherever she went.
National awards:
Gold Logie — Best Male Personality: Brian Henderson
Gold Logie — Best Female Personality: (Not awarded)
Best Teenage Personality: Patricia Amphlett
TV Quizmaster Of The Decade: Bob Dyer
TV Sportscaster Of The Year: Ron Casey 
Best Australian Show: Sound Of Music
Best Drama Series: Homicide
Best Australian Comedy: My Name's McGooley What's Yours
Best New Show: This Day Tonight
Best Overseas Show: Till Death Us Do Part
Outstanding Australian Television Contribution: "Days Of Destiny" (Project '67)
Best Commercial: Alka-Seltzer
State-based awards (Best Male Personality, Best Female Personality, Best Show):
NSW: Don Lane, Dita Cobb, Tonight
VIC: Graham Kennedy, Rosie Sturgess, In Melbourne Tonight
QLD: Ron Cadee, Jill McCann, I've Got A Secret
SA: Ernie Sigley, Anne Wills, Adelaide Tonight
TAS: Lindsay Edwards, Caroline Schmit, Line-Up
Source: TV Week, 30 March 1968, 25 December 1968.
The 60th annual TV Week Logie Awards. Sunday 1 July, 7.30pm (Red Carpet 7pm), Nine Network.