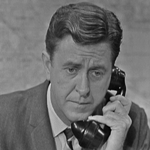 Actor Terry McDermott, one of the founding cast members of the long-running series Homicide, has died at the age of 91.
He featured in early TV dramas including The Adventures of Long John Silver, Whiplash and Consider Your Verdict.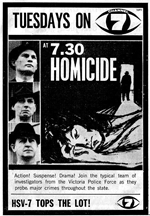 He appeared in the pilot episode of Crawford Productions' proposed series Homicide. A year had passed after the pilot had been filmed and there had been no word of the series being picked up. In a conversation with Hector Crawford, McDermott said that he'd had an offer to do some hosting for ABC. Crawford pleaded with him not to accept the job and consequently reminded HSV7, which was being indecisive about Homicide, that the proposed show was about to lose one of its three leads. The series then got picked up, and McDermott played the part of Det Sgt Bronson for over two years. He also returned to the series several years later in a different guest role.
He went on to appear in The Adventures Of The Seaspray, Skippy The Bush Kangaroo and Barrier Reef. After a 12 month stint in the stage production Man Of La Mancha, in 1968 he began the ongoing role of Max Pearson in the ABC rural soap Bellbird. He also starred and co-produced the series' spin-off feature film, Country Town.
Later credits included Division 4, Matlock Police, Bluey, Young Ramsay, Cop Shop, Skyways, The Sullivans, Holiday Island, Prisoner, Tanamera: Lion of Singapore, Anzacs and Neighbours.
An appearance in the 1980s production of Mission: Impossible, filmed in Australia, reunited McDermott with American actor Peter Graves, who he had worked with on Whiplash almost 30 years earlier.
McDermott died from Parkinson's disease. He is survived by wife Nathalie and his family including 15 grandchildren and seven great-grandchildren.
Source: The Age, IMDB, Classic Australian TV.. TV Times, 23 October 1968.