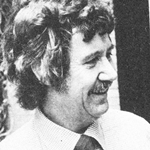 Forty years ago there was a turning point for two of Australia's most prolific television producers — Reg Grundy and Hector Crawford.
Grundy (pictured), a former radio announcer, had built his TV production empire largely on game and panel shows — many being local adaptations of formats developed overseas. It was a successful strategy but the genre was losing favour with the networks who could gain more local production points with drama.
So Grundy, who began his TV career as a host of Wheel Of Fortune, had moved into soap operas. He brought English TV producer Alan Coleman to Australia to put together the company's first drama project, Class Of '74, for the Seven Network. The series, scheduled in an early evening timeslot from its launch in March 1974, told the story of students and teachers at fictional high school Waratah High. Veteran actor Leonard Teale (Homicide, Seven Little Australians) led the cast, joined by John Hamblin, Jeanie Drynan, Gordon Glenwright, Gaynor Sterling, Allan Lander, Janet Kingsbury, Vince Martin and US actor Chuck Danskin. The school's students played by Joanne Samuel, Megan Williams, Jeremy Chance, John Diedrich, Barbara Llewellyn, Anne Lambert, Adrian Bernotti, Kevin Wilson and Carla Hoogeveen — selected from a pool of around 300 young hopefuls.
In an era where Number 96 led the charge for sex and nudity on TV, Class Of '74 tested the boundaries as far as it could for its early timeslot. "The difference between us and the producers of Number 96 is that we believe there's no need to see these young people fornicating in bed. We're not going to put on a peep show," Class Of '74 scriptwriter John Edwards told TV Times.
While it might not have been a "peep show", Class Of '74's early storylines were lurid enough to bring the viewers in — "Who's the girl having an affair with one of the teachers? Who's the boy whose activities in the holidays may get him expelled as soon as he returns? Is it true that one of the pupils has posed for a pornographic picture? Greg lures Julie to his pad but Julie won't have a bar of what Greg has in mind."
The irony in the early success of Class Of '74 was that it bumped another Grundy program, quiz show Great Temptation, from its long held 7.00pm timeslot to go up against Number 96 at 8.30pm. It was a move that would ultimately mark the end for Great Temptation.
Class Of '74 saw through the end of the year and continued as Class Of '75 with some new cast members signed up — including former Number 96 stars Abigail, Peter Flett and Briony Behets, Peta Toppano and Anne Charleston — and a new emphasis on comedy. The new-look series was not a hit with viewers and the show soon vanished from sight, with Melbourne's HSV7 demoting the revamped series from prime time to Saturday mornings after barely six weeks, although Grundy was to revisit the schoolroom concept with Glenview High a few years later.
While Grundy was bringing the schoolyard to TV, Melbourne-based Hector Crawford (pictured) was also embarking on a change in direction. Crawford Productions had been involved in series production as far back as the 1940s, producing radio programs and serials, and had later made its mark in television with police dramas including Homicide, Division 4 and Matlock Police. But television drama was going through a generational change in the 1970s — police and crime shows were on the outer while Number 96, launched in 1972, was proving that serialised drama was a cheaper and viable format for prime time.
Crawford had developed a concept based around the workings of a fictional television station and, like 96, would feature ample amounts of sex and nudity. With the 0-10 Network having success with 96, The Dream Makers was offered to the Nine and Seven networks. Both knocked it back.
By July 1973 it was reported that 0-10 was investing over $1 million in new Australian production — including a pilot for a new drama series which happened to be The Box, a re-work of The Dream Makers concept.
Early speculation of cast members for the project included George Mallaby (Homicide), Terence Donovan (Division 4), Jack Thompson (Spyforce) and English actress Sandra Gough (in Australia for a 'working holiday').
Although Gough was reported to be interested, she was reluctant to commit to any role that required nudity. "I am against that on the screen. It's not at all necessary," she told TV Times.
Even Bert Newton, best known for hosting variety programs such as In Melbourne Tonight and the TV Week Logie Awards, was reported to be on the short list of candidates for playing the role of a TV presenter. "I know more about it than I can tell you but that's it at the moment," he told TV Times. "I have not done any TV acting but I do regard sketch work which I have done on many occasions as a type of acting, though some people might argue about that."
Production for The Box began in Melbourne in October 1973. After months of speculation the cast list was finally confirmed — Graeme Blundell (later to become famous as Alvin Purple), Barrie Barkla, Fred 'Cul' Cullen, Judy Nunn, Monica Maughan, Fred Betts, Briony Behets (pictured with George Mallaby) and Kay McFeeter were the first to be announced.
After weeks of negotiation, George Mallaby was eventually signed up for the leading role of TV executive Paul Donovan. Ken James, best known from children's series Skippy The Bush Kangaroo, was signed on for the part of actor Tony Wild.
Bert Newton's rumoured involvement in the series was not to be — with the part of TV compere Gary Burke going to English actor Peter Regan.
Also joining the cast were Paul Karo, Helen Hemingway, Lois Ramsey, Ken Snodgrass, Belinda Giblin and Vanessa Leigh (pictured).
The Box burst onto screens in a 90-minute debut, broadcast on ATV0 in Melbourne on 11 February 1974. Sydney's TEN10 followed the next night. The series was not surprisingly run back-to-back with Number 96. On the day of its debut, in a rare move Hector Crawford placed prominent ads in the daily papers justifying his move into sex-and-sin drama and responding to the critics:
"Our programs have always enjoyed a remarkable degree of success in Australia because we have produced the type of drama which Australians want to see. Our approach to The Box has followed the very same policy, recognising that our society's tastes and standards are changing and, to a great extent, maturing. To us, television must reflect this change, this growing maturity.
"I believe our responsibility is to the television audience at large, not to vocal, and sometimes, highly managed minority groups which try to dictate what people should be allowed to see on their screens."
The Box's executive producer Tom Hegarty also confirmed to Woman's Day just how explicit the series was to be:
"The Box is not billed as a family show. We plan it for fairly late evening viewing, after the kids have gone to bed, and any sex there is in the show will be fairly adult. It is an adult show. We are not playing for kids."
Viewers looking for nudity, or outrage, were sure to find plenty in the opening episodes. When variety show host Gary Burke (Peter Regan) fails to appear on cue after a commercial break it is revealed that he had been 'distracted' by a young female, Felicity (Helen Hemingway), in his dressing room. Not only was Felicity young but also under-age (though the actress was not).
Later, a photoshoot featuring cop show star Tony Wild (Ken James) in a naked pose with Felicity leads to a lesbian kiss between Felicity and magazine reporter Vicki Stafford (Judy Nunn, pictured). Not even the groundbreaking Number 96 had managed a same-sex smooch.
With such titillating material The Box was understandably a ratings hit. In particular in Sydney it managed a rating of 46 on its debut — meaning that 46 per cent of all TV sets in Sydney were tuned to The Box. Its early ratings in Melbourne, where the series was made, were not as high but still put the new show second to only Number 96 in the ratings.
As well as the emphasis on sex and nudity, the goings on at the fictional television station, UCV12, were almost regarded as a satiricial, if not accurate, portrayal of the television industry at the time. "Of course we do draw a lot on what happens around here," Hegarty told Woman's Day.
The portrayal of bullish station owner Sir Henry Usher (Fred Betts) was the subject of much industry speculation. Was he modelled on Sir Frank Packer, owner of the Nine Network, or even Reg Ansett, owner of ATV0. It was revealed many years later that the character was based, affectionately, on Hector Crawford himself.
While Crawford may not have considered The Box his best work it was the one series that kept the company afloat after the networks had canned his cop shows in quick succession. Some of the actors to have featured in the Crawford cop dramas would soon re-appear in The Box, including Don Barker, Gary Day, Tom Richards and John Stanton.
And while The Box didn't get Bert Newton, it did manage to get Graham Kennedy (pictured with Paul Karo) to appear as himself in the 1975 feature film spin-off.
Some of the other cast to feature in The Box during its series run included Noni Hazlehurst, Tracy Mann, Tristan Rogers, Shane Porteous, Jill Forster, Tony Bonner, Geraldine Turner, Christine Broadway, Tony Barry, Delvene Delaney, Syd Heylen, Donald McDonald, Luigi Villani and Davina Whitehouse.
The series continued to feature certain amounts of nudity. Perth-born model Cheryl Rixon (pictured) was to become the show's new sex symbol, replacing Vanessa Leigh, while one storyline had the staff of UCV12 finding themselves inadvertently at a nudist retreat. The episode, filmed at a secluded property on the outskirts of Melbourne, featured cast members and extras, male and female, of various ages and sizes and in various stages of nudity — but the public was no longer shocked. "We ran the scene some two or three years after The Box started, and there was not even a murmur," writer Jock Blair told TV Week in 1981.
So with the public no longer being shocked by such titillation The Box, like 96, had nowhere else to go. Ratings fell and both series wound up production in 1977.
Crawfords went on to other projects including The Sullivans for the Nine Network, Cop Shop for the Seven Network and the ill-fated Hotel Story for 0-10.
Source: TV Times, 28 July 1973, 11 August 1973, 18 August 1973. 1 September 1973, 8 September 1973, 22 September 1973, 23 March 1974, 25 January 1975. The Age, 11 February 1974. TV Week, 29 August 1981. Super Aussie Soaps, Andrew Mercado