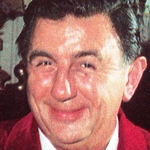 Gordon Chater (pictured), from sketch comedy series The Mavis Bramston Show, won the Gold Logie for Most Popular Personality on Australian TV at the 8th annual TV Week Logie Awards.
The presentation was held at Melbourne's Southern Cross Hotel on Monday, 21 March 1966, though there appears to have been no televised or press coverage of the event. Even TV Week only devoted three black-and-white pages to listing the award winners and instead of the Gold Logie winner it put Best Teenage Personality winner Normie Rowe on the cover.
Chater's co-star Carol Raye won the Logie for Best Female Personality. It seems since Lorrae Desmond's Gold Logie win in 1962 that females were not deemed worthy of the Gold award, with the highest accolade for a female personality being silver.
The Mavis Bramston Show not surprisingly won the Logie for Best Live Show. The win came after a huge year for the show which had expanded to a national audience. But by the time of the Logie wins, both Chater and Raye were no longer associated with the program. Chater had moved on to a proposed sitcom, Fiddlers Three, which was not to come to fruition. He had more success in the ensemble cast of sitcom My Name's McGooley, What's Yours? for the Seven Network, while Raye had made the switch to Sydney station TEN10 for her new show, '66 And All That.
Seven's drama series Homicide, well established as a ratings hit, won the Logie for Best Drama for the second year running.
An ABC special, Birth, won the award for Best Documentary. The 50-minute program, produced by Jim White of Melbourne's ABV2, documented the process of the birth of his daughter, Hilary. The idea for the documentary had come from his wife. The film had already been commended with a special award at the Australian Film Awards and had attracted interest from TV broadcasters in other countries.
The Logies also made two special award presentations. The talent quest series Showcase '65 was awarded a Logie for Outstanding Contribution To The Development Of Talent, while The Magic Circle Club received a special award for Outstanding Contribution To Children's Television.
And as the quiz show Pick A Box entered its 10th year on TV, the show's co-host, Dolly Dyer, was given a rather unique award, "For Her Cheerful Devotion To Bob And Their Show". The husband and wife team (pictured) had worked together since Pick A Box began as a radio program in the late 1940s.
In the state-based categories, in Victoria it was a clean sweep by In Melbourne Tonight, winning Victoria's most popular program, with host Graham Kennedy and IMT regular Mary Hardy taking out the most popular personality awards.
Don Lane and his TCN9 program Tonight With Don Lane were winners in New South Wales along with ABC presenter Diana Ward. Brisbane-based variety program Theatre Royal won for most popular program from Queensland for the fifth year running.
In South Australia it was another win for Adelaide Tonight and for host Ernie Sigley, voted the state's most popular male personality for the third year in a row.
Afternoon variety show Anything Goes, from Hobart's TVT6, took out all three awards for Tasmania — with the program and its two hosts, John Crook and Caroline Schmit, each claiming a Logie.
Overseas guests at the Logie Awards included British comedian Jimmy Edward and Coronation Street stars Doris Speed, Arthur Leslie and Pat Phoenix.
National Awards:
Gold Logie: Gordon Chater
Best Female Personality: Carol Raye
Best Teenage Personality: Normie Rowe (pictured)
Best Live Show: The Mavis Bramston Show
Best Drama: Homicide
Best Documentary: Birth
Best Commercial: Coca-Cola
TV Week/PAN AM Award Best Overseas Show: The Dick Van Dyke Show
Outstanding Contribution To The Development Of Talent: Showcase '65
Outstanding Contribution To Children's Television: The Magic Circle Club
For Her Cheerful Devotion To Bob And Her Show: Dolly Dyer
State Awards:
NSW: Don Lane, Diana Ward, Tonight With Don Lane
VIC: Graham Kennedy, Mary Hardy, In Melbourne Tonight
QLD: Gerry Gibson, Jill Edwards, Theatre Royal
SA: Ernie Sigley, Pam Western, Adelaide Tonight
TAS: John Crook, Caroline Schmit, Anything Goes
The 58th annual TV Week Logie Awards. Sunday 8 May, 7.30pm (Red Carpet 7pm), Nine Network.
Source: TV Week. TV Week, 26 March 1966.