This week The X Factor has kicked off yet another series to find the next act that Australia will seemingly fall in love with.
Fifty years ago today another big-budget talent quest was trying to do much the same thing — although except wanting to find the next One Direction, it was more about finding the next Joan Sutherland.
TV in Australia was almost a decade old before producer Hector Crawford (pictured) came up with a lavish initiative — Australia's first 'national' TV talent quest — Showcase.
Announced by the Independent Television System network (now Network Ten) in June 1965, Showcase promised £1000 plus an overseas trip for two to the winner of the 15-episode series. The series runner up would collect £500 and third placegetter £250. All other grand finalists who do not gain a major placing will collect £50. Taking into account weekly prizes the show's overall prize pool over 15 episodes was set to top £8400 — making it the richest talent quest in Australian history.
Auditions for the initial series of 80 acts were held in each state from July, with acts to be in one of four categories — Vocalists, Group acts, Dancers and Variety acts. Produced at the studios of ATV0, Melbourne, the first episode debuted on Wednesday 15 September 1965. Hosting the show was Gordon Boyd (pictured), an English-born performer who had earlier hosted his own variety series on ABC. The production also featured a 25-piece orchestra, conducted by Crawford himself.
As well as being carried by the Independent Television System (0-10 Network) stations in Sydney, Melbourne and Brisbane, Showcase was also picked up by NWS9 Adelaide (after SAS10 withdrew from carrying the show following a dispute with ATV0), TVT6 Hobart, CTC7 Canberra and STW9 in Perth.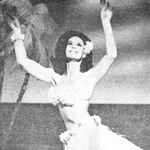 The nine acts to feature in the first episode included 12-year-old pianist Alan Kogosowski, Brisbane rock band The Avengers, Maltese-born magician Lucky Fordali, Sydney singer Valmai Johnston, Adelaide tenor John Giglio, 24-year-old Norfolk Island dancer Diarna Peek (pictured), Sydney-based pop singer Sheila Raye, Glasgow-born pop singer George Armstrong, and Perth folk group The Wayfarers.
Initial reviews after the first episode were less than complimentary. TV Times' columnist John Pinkney opened his review of Showcase with, "Seldom in entertainment has so much ballyhoo preceded such a lame, tame squib as Showcase '65".
He added, "Everything about the production of this turgid talent quest — from stilted compere Gordon Boyd to the often laughable sets — was monstrously unoriginal and titanically trite."
Pinkney was not too impressed about the acts from episode one but did make a point of mentioning Sheila Raye and The Wayfarers as possible highlights.
Fellow TV Times critic Frank Doherty was similarly unimpressed, although his main concern was that the judging was restricted to four showbusiness professionals ("all of them, albeit, highly qualified to assess talent") and did not involve any public participation. He compared this to the former radio talent quest Australia's Amateur Hour, which had listeners phone in to vote for their favourite performers.
Before the initial series came to an end, Doherty was able to find some progress had been made with the show: "Showcase '65 seems now, however, to have taken some notice of (the) severe drubbing it received, for there has been an undoubted improvement." He added that host Boyd, who was earlier criticised as being wooden or stilted in his delivery, had now been allowed to show some of his own personality rather than be tied down to dry scripted lines. "That is a good thing to see — a show that can pull itself up to a fairly good standard after a disheartening start," Doherty concluded.
The first series of Showcase was won by Melbourne-born baritone Thomas McDonnell, (pictured) collecting the £1000 and taking the prize trip to London to further his music studies, accompanied by his wife and baby daughter. McDonnell went on to a professional career in opera, including performing with the Sadler's Wells Opera (later English National Opera).
Showcase went on to win a TV Week Logie award in 1966 for Outstanding Contribution to Development of Talent.
With the show's return in May 1966, Crawford had ordered some changes — the most significant being the addition of a "people's choice" vote as well as the panel of four industry judges. Viewers were invited to submit their votes via post. Another change was extending the show's season from 15 to 25 episodes, and contestants and even finalists (except the grand finalist) from the 1965 series were eligible to re-enter.
Winning the grand prize at the end of season two were 13-year-olds, pianist Alan Kogosowski (who re-entered in 1966, winning the public vote and coming runner-up in the judges' vote) and piano accordionist Michael Kluger (winning the judges' vote). Both went on to careers in their respective fields of performance.
The 1967 series was extended to 30 episodes and, following a trial in 1966, incorporated telephone voting for the series final. The public response to voting, particularly in Melbourne where the show was made, saw suburban telephone exchanges jammed as tens of thousands of callers were attempting to register their votes. The massive response led to producers having to restrict Melbourne telephone voting the following year to a pre-determined ballot of 250 households. "It's a sad thing, but short of making very costly telephone arrangements, we can't see a way around it," Boyd told TV Times. Full telephone voting arrangements were allowed to go ahead in other states.
Showcase '68 saw the show extended to two series over 40 weeks, featuring a total of 144 acts, with the winners of both series competing in the year-end grand final. It was also the year that America's NBC network launched their own version of Showcase based on the Australian model.
Just weeks before the start of the 1970 series Boyd announced his resignation from the program. "I am a bit of a crusader," he told TV Times. "I'm very worried about the present state of the world. I would like very much to do a program that analyses and tries to understand problems like drugs and violence. But on commercial TV, who cares? They figure it won't rate."
Possible contenders as Boyd's replacement were reported to include Mike Preston (In Melbourne Tonight), Terry O'Neill (Time For Terry), Johnny Farnham, Normie Rowe and Chris Kirby. It eventuated that none of them were to become host, but rather performer Rod McLennan, previously seen on variety show The Entertainers, was appointed to the role.
The axe finally fell on Showcase at the close of the 1970 season. ATV0 general manager Max Ryan said that "we feel the program has run its race, and done so very successfully". He also cited the show's appeal with older viewers, while the channel as a whole was aiming to appeal more to under-45s.
The series was revived in 1973, with Boyd reprising his role as host. The new-look Showcase '73 was again a Crawford production but this time on the Nine Network. The debut episode featured some of the performers from the original series, including James Pegler, Geraldine Fitzgerald, Tony Pantano, Greg Bonham, Julie Raines and Michael Kluger. The series continued as Showcase '74 before again being retired. One of its aspiring talents was a young pop singer from South Australia, Mark Holden. The show bowed out with a 90-minute special broadcast in colour, followed by a national concert tour (pictured) featuring Boyd and some of the show's contestants.
The 0-10 Network revived the show for a brief run in 1978, hosted by Stuart Wagstaff.
Source: TV Week, 19 June 1965. TV Times, 29 September 1965. TV Times, 3 November 1965. TV Times, 24 November 1965. The Age, 26 May 1966. TV Times, 30 November 1966. TV Times, 1 November 1967. TV Times, 7 February 1968. TV Times, 26 June 1968. TV Times, 23 October 1968. TV Times, 28 January 1970. TV Times, 4 February 1970. TV Times, 11 February 1970. TV Times, 30 September 1970. TV Times, 12 May 1973. TV Times, 26 October 1974.