Ernie Sigley, Gold Logie winner and legend of Australian radio and television, has died at the age of 82.
He had been living with Alzheimer's disease for five years.
His career began when still a teenager, working as a turntable operator and announcer at 3DB in the 1950s. He became one of the first hosts on Melbourne television, presenting the pop music show Teenage Mailbag on HSV7 from 1957.
He worked overseas at the BBC and Radio Luxembourg before returning to Australia in 1963, but was unable to get work in his home city of Melbourne. A planned meeting with GTV9 went nowhere when the manager he was to meet with didn't show up. After that snub, he ended up in Adelaide at ADS7, appearing on a children's show and The Sunnyside Show. He then switched channels when NWS9 offered him a role as booth announcer and commercial presenter. When Adelaide Tonight host Lionel Williams went overseas, Sigley became his replacement. He ended up hosting Adelaide Tonight for almost a decade. His popularity in Adelaide saw him collect a number of TV Week Logies for South Australia.
In 1973, while still hosting Adelaide Tonight during the week, he was also commuting to Sydney to host TCN9's Saturday night variety show, Club 9.
He returned to Melbourne in 1974, and for two years he hosted the national The Ernie Sigley Show with Denise Drysdale. The show was a ratings hit and the pair collected Gold Logies in 1975.
His association with Nine came to an abrupt end early in 1976, after an off-air outburst saw Kerry Packer fly down to Melbourne to sack him in person. He emerged soon after as the host of a variety show, Ernie, from ATV0, screening five nights a week. By the end of the year, Ernie had presented a week of episodes from each of Hong Kong and New Zealand.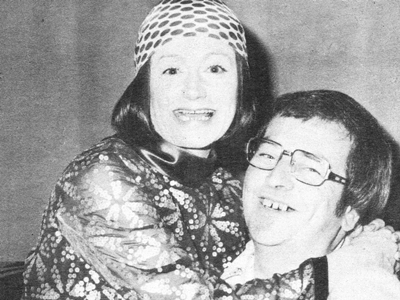 In 1978 he was back at HSV7, replacing Mike Williamson as co-host of The Penthouse Club, working alongside Mary Hardy. He continued with the show, which became Saturday Night Live, until it was axed at the end of 1979.
He made some brief forays into acting, including an ABC children's series, Sam's Luck, in 1980 and the movie Dead Man's Float. He was then host of Wheel Of Fortune, produced in Adelaide for the Seven Network, working with Adriana Xenides from 1981 to 1984.
Other hosting credits included Thursday Night Live (for BTV6, Ballarat), The Ernie Sigley Show (again), Pot Luck, In Melbourne Today and In Sydney Today — the latter two re-uniting him with Drysdale on screen and which later combined to become Ernie And Denise.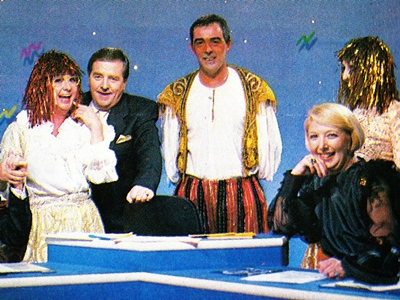 Sigley also continued to work in Melbourne radio for many years, including a return to 3DB in the 1980s, then 3UZ, 3AK and over a decade in the afternoon shift at 3AW.
He retired from radio in 2008 but continued to perform, including a tour with Drysdale. The pair appeared together on the morning chat show The Circle in 2010.
Sigley is survived by his wife of 47 years, Glenys, and children Matthew, Guy, David and Emma.
Source: 3AW, The Age. TV Radio Guide, 9 May 1965, 22 February 1975. TV Guide, 5 July 1980. TV Week, 15 March 1975, 13 November 1982. TV Times, 12 May 1973.