YouTube: kylegalley
For almost a decade, watching The Penthouse Club was a Saturday night tradition in Melbourne.
Debuting on HSV7 on 10 October 1970, it was a variety show with intermittent live crosses to the Saturday night harness racing and would link up segments with Sydney's The Club Show with Rex Mossop.
It was a rough format to work with, lacking in sophistication and, with the barest of budgets, didn't have much emphasis on production values. However, despite its limitations it was the chemistry and popularity of its two hosts — football commentator Michael Williamson and comedian and radio host Mary Hardy — that made it a winner with Melbourne viewers. Its success led to the format being locally adopted by Seven Network stations in other cities.
With variety on the way out at rival channel Nine, Penthouse provided an outlet for local and visiting performers and gave viewers a welcome respite from the usually slim pickings of Saturday night TV.
Penthouse Club also added another string to its bow when it began hosting the weekly Tattslotto draw from 1973.
In August 1974, Hardy caused controversy when she accidentally dropped the f-bomb in one show when a segment did not go entirely to plan. She was suspended from appearing on television for a week.
It was not to be the first time the comedian with a quick wit landed in hot water. A few months later a similar incident saw the Australian Broadcasting Control Board take action and asked Hardy to "show cause why an order should not be made prohibiting or placing restrictions on her from rendering items for radio or television."
Following assurances made by Hardy, through her solicitors, that no such incident would occur again, the Board decided not to take further action but her activities were to be further supervised by Seven.
She was remorseful for her on-camera outbursts. "There's no excuse. It should not happen," she later told TV Times. "I know that if my mother were here she'd have been very disappointed in me."
In January 1975, former children's TV presenter Trudy Jaworski, filling in for Hardy, also attracted the Board's attention to the show when she discussed a news report about a "love diet". According to the Board, the discussion was deemed to have been "in a manner which was considered by the Board to exceed tolerable bounds of good taste."
Jaworski defended her conduct. "It was all part of some very funny discussion between Tony Barber and myself," she told TV Week. "Apparently it was my reference to love making to which some people took exception, which is really quite amazing because, after all, it is an adult show." But Seven, still sensitive from the fallout from Hardy's on-air gaffes, ended up dropping Jaworski from making further appearances on the show.
In 1977, Williamson retired from broadcasting and was replaced by a rotation of various hosts including Bill Collins, Jimmy Hannan and Ernie Sigley, before Sigley was ultimately appointed co-host with Hardy.
In early 1978, Hardy was surprised on set when she was greeted by Roger Climpson, host of This Is Your Life, with an episode of his show presented in her honour.
Hardy, who had won six Logies as Most Popular Female Personality in Victoria during the course of Penthouse Club, ended up leaving the show at the end of 1978. She denied that her sudden exit from the show was caused by any rift. "At no time was I rattled — not with Mike Williamson, Bill Collins, or Ernie," she told Scene in 1979. "If you can handle the likes of Graham Kennedy, Mike Walsh and Noel Ferrier, then nobody can faze you."
Sigley also denied industry gossip that he and Hardy did not get along. "I had nothing to do with Mary leaving Penthouse. I stress that we didn't fight — on or off the cameras," he told Scene. "Despite rumours of of bitter behind-the-scenes bickering and jealousy between us, the fact is that we got on rather well. The first I knew of Mary's move was when Channel 7 rang me in Adelaide." (As well as hosting Penthouse in Melbourne, he had also been commuting to Adelaide to host a local variety show there)
With its popular co-host gone, Penthouse Club was revamped going into 1979 with a new title, Saturday Night Live, and Sigley joined by a new co-host, Belinda Leigh.
The new-look Saturday Night Live failed to match the popularity of its earlier years and was quietly axed by the end of 1979.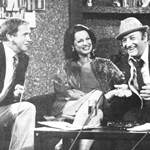 The format of Penthouse/Saturday Night Live made a return to TV in 1980, when ATV10 launched The Saturday Night Show (pictured), with Williamson reprising his role as host, and accompanied by Annette Allison. The show was to be short-lived.
Source: TV Times, 7 October 1970, 8 February 1975, 12 April 1975, 6 May 1978. TV Week, 8 February 1975. TV Guide, 22 September 1973. Scene, 16 September 1978, 18 November 1978, 27 January 1979. The 27th Annual Report 1974-75, Australian Broadcasting Control Board.