This Sunday, 5 April, marks the 50th birthday for Sydney's TEN10. Today and over the weekend we'll take a look at the channel's formative years.
Following the launch of ATV0 in Melbourne in 1964, the year 1965 saw the new Independent Television System (ITS) network extend to Sydney, Brisbane and Adelaide.
Sydney joined the network with the advent of TEN10. The channel officially launched on Monday, 5 April 1965, two years to the day after the licence for the station was awarded to United Telecasters Sydney Limited (UTSL).
UTSL was one of nine applicants for the Sydney licence. One of the unsuccessful candidates for the licence was a young Rupert Murdoch, who already owned Adelaide television station NWS9. Ironically, he was to acquire TEN10 and ATV0 amid more controversial circumstances many years later.
Shareholders in UTSL included AWA, Email, NRMA, Bank Of NSW, JC Williamson Theatres and Colonial Sugar Refineries.
Within six months of its receipt of the licence, UTSL had announced that the new channel would have the call-sign TEN10. The company also made its first executive appointments and had purchased property to locate its transmitter.
Robert Lord, formerly general manager at Wollongong's WIN4, had been appointed as station manager. Ross Thyer, the station's new chief engineer, worked with AWA on its early television demonstrations during the 1954 Royal Visit. He was later involved in the development of television stations ATN7 Sydney, HSV7 Melbourne and QTQ9 Brisbane.
"The establishment of this third commercial station represents a most interesting challenge," Mr Lord (pictured below) told TV Week at the time. "The station has plans for programs which are most exciting and I look forward to helping implement them. I am confident that the Channel Ten call-sign will quickly achieve popularity."
Property in Hotham Parade in the Sydney suburb of Artarmon had been purchased for £46,500 for location of the channel's transmission tower.
By February 1964, work had begun on clearing a 10-acre property in the suburb of North Ryde for TEN's premises. The building, designed for four studios and administration offices, was budgeted to cost £750,000.
While construction was taking place, the station was acquiring its library of programs to hurl at its older rivals. Much of its overseas programs were purchased as part of the ITS network. Meanwhile, TEN's Melbourne sister station, ATV0, had secured a package of almost 200 feature films from the Paramount studio, to be shared with TEN10 and other ITS stations as they came on the air.
General Manager Reg Fox (pictured below) told TV Week that the new channel would offer viewers an alternative to the established stations. "For example, the other commercial stations show news at 6.30. We will show a situation comedy in that timeslot. We will have news spots, lasting about three minutes, throughout the early evening program. Our main news bulletin will follow immediately after our movie at between 9 and 10 o'clock each night," he said.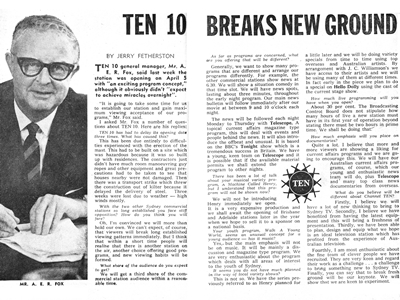 TEN10 planned to supplement its news coverage with a Monday to Thursday current affairs program, Telescope. "It is based on the BBC's Tonight show which is a tremendous success in Britain," Mr Fox said. TEN had hired Bill Peach, recently returned from overseas, to host the program. Also appointed to Telescope were reporter Tony Ward and producer John Hood. Ward, previously known to viewers as an interviewer on ATN7's Seven Days program, said Telescope will be unlike other current affairs programs. "It will not only give background to the news, it also will have a musical and a satirical content," he told TV Week. "This program also won't be frightened to comment on the newspapers — and on other television stations, including the ABC."
TEN10 also planned to relay the Melbourne-based variety show The Ray Taylor Show. Taylor was a familiar face to Sydney viewers before he went to Melbourne to join ATV0 in 1964.
As 1965 came around, TEN was hoping to launch on Monday 1 March. The date was to be postponed to 29 March and then again to April. Changes to the opening date were prompted by delays in construction — as a bout of bad weather, a transport workers strike and logistical problems in transporting and maneuvering steel beams and equipment for the transmission tower through suburban areas of Artarmon all impacted on construction.
Opening day finally did arrive, Monday 5 April, and TEN10's program was put into action at 3.30pm, as presentation co-ordinator Norm Player pressed the start button on the channel's modern automated presentation system. The system, designed to manage TEN's entire on-air presentation, was able to be operated by a single person — while older TV stations would have up to five presentation co-ordinators at any time.
Opening night included a half-hour special, Countdown, providing a 'musical journey through familiar and unfamiliar parts of Sydney'. From 7.00pm, Take Ten was basically a 90-minute selection of program trailers and previews for upcoming programs as well as an introduction to the various on-air personalities to feature on the new station.
Prime Minister Sir Robert Menzies officially opened the channel at 8.26pm. In his address he said having an extra channel would be good for the future of TV "that we should have as wide a choice as possible in the programs we want to look at. I do not mean that there ought to be so many they cease to be effective, but I do mean that a choice, the possibility of turning that knob and getting on to another station is of tremendous importance."
Then it was the night's star attraction, the lavishly-produced 75-minute musical extravaganza – TV Spells Magic. The £25,000 production, billed as the most expensive ever in Australia at the time, featured 260 cast and extras and very few spoken words – the program was made up almost entirely of music, song and dance pieces to tell the story of the construction of a television station.
The program was produced by Australian Robert Fleming, seconded from London's Rediffusion, with music and lyrics written by Englishmen Ronald Cass and Peter Myers.
Among the cast of TV Spells Magic were Keith Petersen, Evie Hayes, Chips Rafferty, Neva Carr Glynn, Nigel Lovell, Tikki Taylor, Dinah Shearing, Chuck Faulkner, Gwen Plumb, Diana Perryman, Queenie Ashton, Ron Shand, Arlene Dorgan, Don Crosby, Alistair Duncan, Margo Lee, Maggie Stuart, Ruth Cracknell, Wendy Blacklock and Frank Taylor.
Probably the most memorable of the show's cast was model Diane Granquist (pictured right with Petersen) wearing a revealing toga (pictured below) as she unveils the TEN logo.
Before it had even aired, TEN had already sold TV Spells Magic to 21 television stations across Australia — including network partners ATV0 and upcoming channels TVQ0 Brisbane and SAS10 Adelaide. Other stations to buy the program included STW9 Perth, CTC7 Canberra and TVT6 Hobart.
So impressed with the production of TV Spells Magic that TEN10 executives entered the program for the prestigious Golden Rose of Montreaux award – the world's premier light entertainment TV award.
In a similar vein to TV Spells Magic, TEN also had plans for a lavish 13-part series, A Machine Called Henry, described as "a musical love story" in which 'Henry', a computerised machine, acts as match-maker. Although the concept had attracted media attention before TEN's launch, its production was to be stalled pending the launch of the network's Brisbane and Adelaide stations with hopes to attract a national sponsor. It would then seem that A Machine Called Henry disappeared without trace.
TEN10 did have better luck in launching children's programs Owly's School, Space Station 10 and Walk A Young World. Later programs to come from the TEN studios included variety shows Ten On The Town, 66 And All That and In Town Tonight. Chat show Girl Talk won host Hazel Phillips (pictured) a Gold Logie in 1967. Dita Cobb and Gwen Plumb were also daytime stars with their own shows.
Barry Crocker hosted The Barry Crocker Show and later Say It With Music, before Bobby Limb brought his long-running Sound Of Music series across from TCN9. Ironically, Nine then picked up Crocker to take over Sound Of Music — keeping the same title as Limb's program now at Ten.
Johnny O'Keefe hosted pop music show Where The Action Is. Rosemary Eather hosted, wrote and produced the breakfast program Good Morning! and John Mahon hosted Sydney's New Faces. Night owls tuned in for the ghoulish Deadly Earnest, played by Ian Bannerman, whose movie hosting was inevitably more entertaining than the B-grade films featured.
John Bailey joined the channel as newsreader and also hosted Telescope and its successor, Newsbeat. For a time he was also colleagues with his wife, Tanya Halesworth. Bailey also stepped up to host quiz  and game shows including Personality Squares and It's Academic.
Children came under the spotlight in The Little People (pictured). John Bonney hosted The Marriage Game but soon resigned from the show to pursue an acting career. He was replaced by Malcolm Searle. Tony Ward, one of the original team on Telescope, also went on to pursue acting, leaving TEN10 to score the lead role in Nine's spy drama Hunter.
While UTSL had hoped for TEN to turn a profit after its second full year of operation, the company incurred heavy losses as ratings failed to compete with the more established stations and the increase in competition had bumped program prices up. For its first full financial year in operation, 1965-66, TEN reported a loss of over $2 million. The next year it reported a loss of $1.2 million. It would be 1969 before it reported its first full-year profit, a modest $46,556.
While TEN10's financial position was starting to show signs of improvement by the end of the decade, like its partner stations in the network, it still needed a good shot in the arm. That was to come in the 1970s…
Source: Sydney Morning Herald, 9 August 1962. The Age, 6 April 1963. The Age, 18 February 1964. TV Week, 2 January 1965. Broadcasting & Television, 25 February 1965. TV Week, 20 March 1965. TV Week, 3 April 1965. Broadcasting & Television, 8 April 1965.  The Age, 26 May 1966. Sydney Morning Herald, 16 November 1966. TV Times, 26 April 1967. Sydney Morning Herald, 30 September 1969.