Division 4 star Gerard Kennedy won the Gold Logie for Most Popular Personality on Australian Television at the 14th annual TV Week Logie Awards.
The awards were held at Melbourne's Southern Cross Hotel on 18 February 1972 and hosted by Bert Newton. The Nine Network telecast was shown live to Sydney and Melbourne and for the first time to Brisbane and Adelaide.
The Gold Logie win was Kennedy's second, having also won the award the previous year. He also took home the Logie for Best Actor for the second year running. Division 4 won the Logie for Best Australian Drama, while fellow Crawford production Matlock Police won the Logie for Best New Drama.
Despite having a separate Gold Logie award for Most Popular Female Personality for the past two years, TV Week on this occasion decided not to award a Gold Logie to a female, citing the lack of female representation on national television. However, following the inaugural Best Actor category in the previous year, the judging panel created a new category of Best Actress, won by Division 4 star Pat Smith.
The judging panel also created a new category for Best Compere, won by Logies and Australia's New Faces host Bert Newton.
Pop star Johnny Farnham won his fourth Logie for Best Teenage Personality, and the 0-10 Network's Young Talent Time won Best Australian Musical/Variety Show. Young Talent Time cast member Jamie Redfern became the youngest person to date to win a Logie by taking out the Best New Talent award. At the time of the Logies presentation, Redfern was in the US on tour with Liberace, who discovered Redfern when visiting Australia for the TV Week King Of Pop Awards a few months earlier.
The Seven Network sitcom The Group, the comedy around a group of young adults sharing a flat, won Best Australian Comedy. Although the series had been cancelled after only one season, the award judges saw promise in it sparking a renewed interest in situation comedy. The show's producers, Don Cash and Bill Harmon, went on to later success with Number 96.
The Coca-Cola Export Corporation's "Fancy Nancy" series of commercials for its Fanta soft drink won the Logie for Best Commercial. The commercials, which follow the adventures of Fancy Nancy as she travels in her search for more soft drink for her party, featured a mix of live action and psychadelic animation. The theme for the commercials was sung by Johnny Farnham, while the character of Fancy Nancy was played by 15-year-old Anne Lambert, who went on to a successful acting career.

YouTube: alpesh shah
The category for Best Overseas Show was split up into two awards — one for British shows (won by The Persuaders) and one for American (won by The Mod Squad).
Award judges also gave out six special awards: Best Individual Acting Performance (won by Jack Fegan for his guest role in Division 4), Outstanding Creative Effort (won by ABC's six-part series Dead Men Running), Outstanding Contribution To TV Journalism (Dateline '71's report on the pitfalls of pyramid selling), Best Scriptwriter (Tony Morphett, for his work on ABC's Dynasty) and Best News Coverage (ABC's reporting of the battle between police and anti-apartheid demonstrators at the Victoria-Springbok Rugby match at Melbourne's Olympic Park).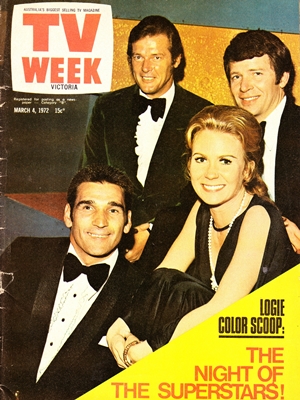 Special overseas guests at the 1972 Logies included Roger Moore (The Saint, The Persuaders), Juliet Mills (Nanny And The Professor), Robert Reed (The Brady Bunch), Rock Hudson (McMillan And Wife) and Kenneth Connor (from the British Carry On films). Hawaii Five-0 star Jack Lord was scheduled to attend the Logies as well as appear at upcoming telethons in Sydney and Melbourne, but was a late withdrawal due to illness just prior to his scheduled departure from Honolulu.
National Awards:
Gold Logie — Best Personalty: Gerard Kennedy
Best Actor: Gerard Kennedy
Best Actress: Pat Smith
Best Teenage Personality: Johnny Farnham
Best Musical/Variety Show: Young Talent Time
Best Australian Drama: Division 4
Best New Drama: Matlock Police

Best Australian Comedy: The Group
George Wallace Memorial Logie For Best New Talent: Jamie Redfern
Best Commercial: "Fancy Nancy" (Fanta)
Best Overseas Show (UK): The Persuaders
Best Overseas Show (US): The Mod Squad
Special Award — Best Scriptwriter: Tony Morphett
Special Award — Best Individual Acting Performance: Jack Fegan
Special Award — Outstanding Creative Effort: Dead Men Running
Special Award — Outstanding Contribution To TV Journalism: Dateline '71
Special Award — Best News Coverage: Springbok Rugby Match, ABC News
State-based awards (Best Male Personality, Best Female Personality, Best Show):
NSW: Bob Rogers, Penny Spence, The Bob Rogers Show
VIC: Frank Wilson, Mary Hardy, Penthouse Club
QLD: Ron Cadee, Dina Heslop, I've Got A Secret
SA: Ernie Sigley, Anne Wills, Adelaide Tonight
WA: Jeff Newman, Jenny Clemesha, Stars Of The Future
TAS: Graeme Smith, Sue Gray, Smith's Weekly
Source: TV Week, 26 February 1972, 4 March 1972
The 62nd annual TV Week Logie Awards, Sunday 19 June, 7.30pm, Nine/WIN and 9Now.