Bert Newton, one of the pioneers and enduring personalities of Australian television, has died at the age of 83.
He had been in hospital for several months and went into palliative care recently following complications from recent surgery to have a leg amputated.
Born in 1938, Newton started in radio when still a teenager, becoming a presenter on 3XY, then Melbourne's only 24-hour radio station.
In 1956, an eighteen-year-old Newton was auditioned by the Herald and Weekly Times newspaper group in 1956 as a prospective talent for its upcoming television station HSV7. He passed the audition but was asked to "wait" for his TV debut as the management at HSV7 claimed to already having two "stars" on its payroll, radio 3DB identities Eric Pearce and Dan "Danny" Webb, and said they could not afford the sum of £25 a week to employ a third. A disappointing blow as he had just refused an offer of £35 a week to stay at 3XY.
Despite the delay, his TV debut eventually followed in August 1957 as a replacement for Noel Ferrier as host of HSV7's night time variety show The Late Show.
Knowing that rival GTV9 was keen to have him, he tried on numerous occasions to resign from Seven but management continually refused to accept. In desperation, he resigned publicly, on-camera at the end of an edition of The Late Show early in 1959, thanking his producer and colleagues and informing viewers that he would no longer be appearing on the program. HSV7 executives then told him his services were no longer required, and he was then invited to appear on a GTV9 telethon alongside Graham Kennedy, the host of In Melbourne Tonight and a friend of Newton's from radio.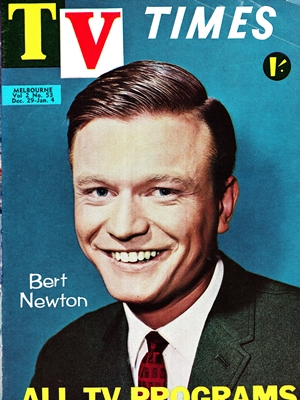 GTV's ultimate plan for him was to host a daytime show to complement Kennedy's IMT. The new show didn't debut as quickly as planned so as a result he was invited to join Kennedy in presenting live commercials on IMT – and almost instantly an invincible TV double-act was born. The partnership of the two continued on-air for over a decade, and the friendship continued off-air for many years afterwards.
But with the fame and admiration that came with appearing on television most nights of the week, there came a downside. In January 1964 Newton was admitted to hospital having suffered a nervous breakdown and was in treatment and out of the spotlight for months. It would be another nine months before he returned to television, albeit in only a 'guest appearance' on IMT on the night of the opening of 'Studio 9' – a new state-of-the-art studio built specifically for IMT. GTV9 would then only employ him in minor voiceover duties with the occasional appearance on programs such as IMT. The turning point came in 1966 when GTV was to telecast the Queen Of The Pacific special for the Nine Network and, at the sponsor's insistence — and against Nine's wishes — Newton was appointed the show's host. His performance on that night led to him hosting Nine's next big event, the TV Week Logie Awards, from 1967.
While Newton was often considered Kennedy's second banana' on IMT, hosting the Logies was to become his domain. His ability to adlib and spark conversation with any of the award presenters and overseas guests, no matter how difficult they may have been, made him a natural for the role and he would go on to host the awards a record 20 times.
Following Kennedy's 'retirement' from IMT at the end of 1969, Newton was one of the four hosts appointed as his replacement. Unfortunately, IMT 1970-style didn't have the same success that it had enjoyed the previous decade and the program was phased out during the year. Newton finished up 1970 hosting a weekly half-hour program The Acid Test, which would put amateur actors into short plays and their performances assessed by a panel of judges.
His TV profile took a fall after the demise of IMT and the ill-fated The Acid Test. In an interview with Melbourne's Listener In-TV newspaper in July 1972, he lamented that, apart from appearing in commercials for rental company Canberra Television, he had only appeared in 25 hours of television in the year so far.
Less than two months after the Listener In-TV interview, Newton had been announced as part of the line-up for The Graham Kennedy Show which began in September 1972. The pair maintained the same chemistry made famous during the IMT days. Their professional partnership came to a rather abrupt end in 1975 after Kennedy's suspect "crow call" saw him banned from appearing on live television and soon cutting ties with Nine outright. Newton stayed on at Nine to become part of another popular TV double, this time with American performer Don Lane, whose The Don Lane Show replaced Kennedy in May 1975.
While Newton was often the straight man to the comic Kennedy, with Lane he was the clown, with live studio stunts and costumed performances for the customary prize wheel segment, usually to affectionately mock visiting overseas guests such as Demis Roussos, the Osmonds, Gene Simmons of Kiss or The Two Ronnies.
While Newton and Lane formed their partnership on The Don Lane Show, they were also appearing together as panelists on the Sydney-based game show Celebrity Squares and worked together in radio, on Melbourne station 3UZ. Lane hosted the breakfast program, Newton presenting the morning program, and the pair presenting a half-hour in between.
By 1976, with The Don Lane Show, the Logies and Celebrity Squares, Newton's TV profile was clearly on the up again and it continued with GTV9's announcement that he would take over from Frank Wilson as host of the weekly talent show New Faces. Once again, his adlib skills came to the fore and like his annual Logie Award hosting duties, it became a role to which he was indelibly linked.
He would continue in his roles at Nine through the remainder of the 1970s and into the 1980s, but also made appearances on other networks. He hosted a short-run variety series, The Bert Newton Show, on ABC, and made guest appearances on The Paul Hogan Show (then at Seven) and the sitcom The Bluestone Boys. He also hosted special events like The Gown Of The Year fashion awards for the 0-10 Network.
While Newton had been hosting the Logie Awards for over a decade, and had won a number of awards during that time, the prestigious Gold Logie had always eluded him despite being nominated almost a dozen times. He had seen colleagues Kennedy and Lane each collect the award, but it would be 1979 before he won his own Gold Logie for most popular personality on Australian television. He would go on to win another three Gold Logies, in 1981, 1982 and 1984.
In the early 1980s, Newton continued his role as Nine's special events host, presenting events such as the celebration of 25 years of television in 1981, the Logies in 1982 and 1984 and the opening of the Sydney Entertainment Centre in 1983. In mid-1981, Newton and his wife Patti were announced as hosts for Nine's new quiz show Superquiz – a new take on the classic Pick-A-Box format. The weekly program won good ratings for Nine but was short-lived.
After eight years, The Don Lane Show wrapped up at the end of 1983, In February 1984, Newton was promoted to hosting his own 'tonight' show – for the first time since the early 1970s. Tonight With Bert Newton had the unenviable task of running four nights a week in the later timeslot of 10pm whereas Nine's variety shows had traditionally started at 9.30pm. The program was unable to fill the void left by Lane and was cancelled at the end of the year. He continued to host New Faces into 1985, but by mid-year the program had been axed and Newton's services were no longer required by the Nine Network. He later recalled that the first he heard of his sacking from Nine after 26 years' service was from a reporter from TV Week.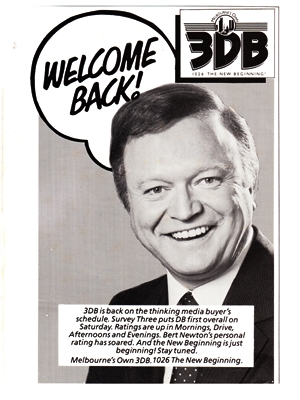 Newton's next career move was not into television but back into radio — but not specifically as a presenter. He was signed up as general manager of talkback station 3DB. Under Newton's control, the ailing station was revamped with a new lineup with Newton taking on the breakfast shift and fronting an expensive advertising campaign. The revamp failed to give 3DB any significant ratings growth and when the station was sold to new owners in 1988 with plans to replace it with a new call-sign and format, Newton was one of the last voices to be heard on the station before it signed off.
In 1988, he made a return appearance at the TV Week Logie Awards for the first time since hosting the 1984 presentation – this time was appearing as the recipient for entering the TV Week Logie Awards' Hall Of Fame. His acceptance speech was a rather cutting observation of the industry as it stood then, lamenting that despite the award recognising his talent as a host and performer on television, it had been three years since he'd been allowed to appear on television. The speech seemed to have triggered some response in the industry, as later that year he'd been invited to appear as guest host for a week on Nine's Midday and by the end of the year had been signed by the Seven Network, thirty years after publicly resigning from HSV7. His first role upon returning to Seven in 1989 was to host the TV Week Logie Awards which were being telecast on Seven for the first time. More importantly, he was to host a new daytime variety show designed to drag viewers away from the popular Midday With Ray Martin.
Seven's The Bert Newton Show, coupled with a new soap opera The Power The Passion, failed to sway viewers from Nine's popular daytime schedule and both programs were taken off the schedule by the end of the year. The early 1990s saw him make an attempt to get back into radio management with a scheme to "lease" radio station 3AK from its owners, and in doing so would install his own lineup intended to provide an entertainment and talkback format. The Australian Broadcasting Authority ruled that it would not approve the scheme and hence it was dropped.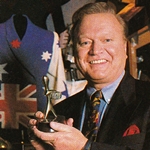 In 1991, he presented a segment on Nine's 35 Years Of Television special. At around the same time, Network Ten announced that it had signed him up for a new show, The Morning Show, and also a revival of the New Faces program. New Faces did not have a long life at Ten, but The Morning Show would evolve into Good Morning Australia (GMA) in 1993 and would continue for fourteen years. GMA involved a heavy commitment, at one stage filling twelve and a half hours of television each week but becoming a high revenue earner for the network with its advertorial content filling the gaps between studio segments. Newton hosted the TV Week Logie Awards telecast on Ten in 1993, and appeared again in 1998 to receive the Hall Of Fame award on behalf of inductee Graham Kennedy, and would be invited on a number of occasions to announce the winner of the Gold Logie, often receiving a standing ovation from the crowd when entering the stage. In 2006, Newton was one of a line-up of co-hosts as a celebration of 50 years of television, and in 2010 he hosted the Logies solo one more time. He made his last appearance at the Logies in 2018.
By 2005, GMA had suffered a decline in ratings, partially due to Nine launching a competing morning show with Kerri-Anne Kennerley. Despite Ten's efforts to revamp GMA during the year, it was cancelled at the end of 2005. Newton ended up returning to the Nine Network after twenty years, this time to host a rework of the game show Family Feud and to takeover hosting the nostalgic clip show 20 To 01. During 2006, he also received a Gold Logie nomination for the first time in over twenty years, followed up with another nomination in 2007.
Bert's Family Feud, scheduled in the important 5.30pm timeslot as lead-in to the news, struggled against Seven's popular Deal Or No Deal – which had already fought off a number of game shows – and by May 2007 Nine had announced the program was to be 'rested' though Newton had re-signed to stay at the network to host 20 To 01, another retrospective program What A Year, and special events for the network.
Newton quietly ended ties with Nine in 2014.
He is the only person to have been paid tribute by This Is Your Life three times — the most recent being for his 70th birthday — and in 2018 was one of five Australian TV personalities paid tribute on a series of commemorative postage stamps.
In 1979, he was also appointed a Member of the Order of the British Empire and in 2006 was made a Member of the Order of Australia.
Bert Newton is survived by wife Patti, children Matthew and Lauren and grandchildren Sam, Eva, Lola, Monty, Perla and Alby.