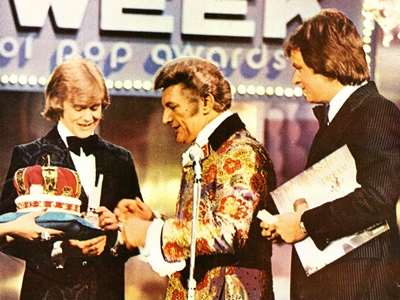 The King Of Pop Awards was the premier awards for Australia's music industry for over a decade.
From its beginning as a popularity poll run by teen newspaper Go-Set in 1967, it quickly evolved into a major awards night conducted by TV Week and went on to be broadcast to a national television audience. It was broadcast on the 0-10 Network through to 1975 and then from 1976 to 1978 on the Nine Network.
The King Of Pop was a title bestowed on Australia's most popular male performer, but for years the equivalent female award was not the Queen of Pop but rather the more mundanely titled Best Female. It was 1972 before the best female category was dubbed the Queen of Pop.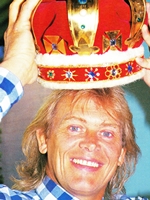 In 1969, Johnny Farnham won the title of King Of Pop and would go on to win it a further four years in a row. Years later, in 1993, he was reunited with the perpetual — and a sweat-stained — "crown" when TV Week was doing a clean out of its offices. "Look at all this sweat. That's all mine. It's still there," he told TV Week at the time. "I can remember all that. This crown really is the story of my life."
The 1971 TV Week King Of Pop Awards, culminating in Farnham's third win of the top award, was held at the studios of ATV0 in Melbourne. The awards were broadcast in Melbourne on Friday 22 October 1971, but the presentation was actually taped at midnight the night before, possibly due to Farnham and awards guest, British actor Derek Nimmo both committed in the evenings to the Melbourne stage production of Charlie Girl.
Hosted by Johnny Young, Ross D Wyllie, Jeff Phillips and Dal Myles, the 1971 TV Week King Of Pop included special guests Elton John and Liberace.
The Best Female award was won by Allison Durbin, who also won the award for Best Dressed Female Performer.
Other winners on the night:
Best Group: Daddy Cool
Best New Talent: Jamie Redfern
Best Songwriter: Russell Morris
Best Lead Guitarist: Rick Springfield
Best Drummer: Gary Young
Best Bass Guitarist: Beeb Birtles
Best Organist: Jenny Johnson
Best Single Record: Eagle Rock
Best LP: Bloodstone
Best Dressed Male Performer: Johnny Farnham
Best Dressed Female Performer: Allison Durbin.
Other King Of Pop winners were Normie Rowe (1967, 1968), Jamie Redfern (1974), Daryl Braithwaite (1975, 1976, 1977) and John Paul Young (1978).
Queen Of Pop winners: Colleen Hewett (1972, 1973), Debbie Byrne (1974, 1975) and Marcia Hines (1976, 1977, 1978)
The TV Week King Of Pop Awards continued through until 1978. TV Week then partnered up with Countdown to form the TV Week Rock Awards, which appeared in 1980 (pictured) and 1981. TV Week then exited the partnership, and what became the Countdown Music And Video Awards continued through until 1987.
The demise of Countdown and its awards roughly coincided with the unrelated debut of the ARIA Awards in 1987, though it was 1992 before those awards gained television coverage.
Source: TV Week, 23 October 1971, 30 October 1971, 22 October 1977, 26 April 1980, 29 February 1992, 4 December 1993. Listener In-TV, 16 October 1971. Wikipedia