Actor Tommy Dysart, best known from Prisoner and the Yellow Pages "Goggomobil" commercials, has died at the age of 86.
One of the first students enrolled at the National Institute Of Dramatic Art (NIDA) when it opened in 1959, Dysart's acting career began in theatre.
He soon made his television debut with a guest role in Consider Your Verdict. This began a long list of television credits, mostly in guest roles, including Moby Dick – Rehearsed, The Stranger, Skippy, Division 4, The Rovers, Phoenix 5, Matlock Police, Homicide, Silent Number, Ben Hall, Luke's Kingdom, Against The Wind, Skyways, The Sullivans, Water Under The Bridge, The Last Outlaw, Cop Shop, Women Of The Sun, Come Midnight Monday, The Flying Doctors, All Together Now, The Late Show, Chances, Round The Twist, Blue Heelers, Pizza, Something In The Air and Neighbours.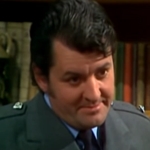 One of his most familiar TV roles was as corrupt prison officer Jock Stewart (pictured) in Prisoner, before he gained a cult following from playing the part of a frustrated Goggomobil owner in a Yellow Pages commercial.
He also had prominent commercial roles in spots for Don Smallgoods and became a brand ambassador for Shannons Car Insurance.
Tommy Dysart is survived by his wife of over 50 years, fellow performer Joan Brockenshire, who also appeared in the Yellow Pages commercial, and son Kole.

YouTube: AustralianAds
Source: Shannons, Prisoner Cell Block H Wiki, BGM Agency, IMDB. TV Times, 19 July 1975. TV Week, 6 March 1982.