Part III of this week's theme commemorating 50 years of Network Ten which made its first appearance on 1 August 1964 with the launch of ATV0 (now Ten) in Melbourne. 
The dawn of the 1980s marked a significant chapter in the life of ATV0 as it made the switch to ATV10 on Sunday, 20 January 1980 at 2.00pm.
At the time it was believed to be the first time anywhere in the world, outside of the US, that a major city television station was changing its frequency.
The changeover, largely intended to address negative connotations from the '0' call sign and that pockets of the Melbourne area could not receive an adequate Channel 0 signal, was not an inexpensive exercise as it required the installation of a new transmitter as well as an overhaul of all on-air presentation with new station identifications and promos. An extensive advertising campaign, including a letterbox drop across the entire Melbourne area and setting up a telephone hotline number to assist viewers with the re-tune, attempted to ensure that all of Melbourne was ready and excited about this 'new' channel.
ATV also had to foot the bill for nearby Gippsland station GLV10 to shift to an alternative frequency, Channel 8, to free up the 10 frequency for use in Melbourne. This in itself was also complicated as there were concerns that Gippsland viewers in certain areas would lose reception of Melbourne channels 7 and 9 due to transmission on Channel 8. This necessitated the distribution of "filters" to be attached to TV sets to avoid the Channel 8 transmission interfering with reception of channels 7 and 9.
As a result of ATV's new frequency the 0-10 Network became known as Network Ten.
Graham Kennedy (pictured with Prisoner stars Fiona Spence and Patsy King), last seen on the channel as host of Blankety Blanks, was hired to front TV and radio commercials promoting the landmark changeover from Channel 0 to 10 and was the first to welcome viewers to the new ATV10. "It immediately appealed to me because it will be an historic occasion. A television station changing its frequency will probably never happen again in our lifetimes," he told The Age prior to the change. His appearance in the advertising campaign also triggered a possibility of making a return to the station for a variety show, despite his assertion 18 months earlier that he'd never work for the channel again when he accused ATV0 of handing a poor lead-in audience to his Blankety Blanks which in turn affected its ratings. "I really meant it when I said I'd never appear on 0 in Melbourne," he told TV Week at the time. "But now that Rupert Murdoch has taken over, and ATV0 has become ATV10, it's looking good. Rupert and I have had talks about a program which would probably do quite well on a Saturday night. It's based — but not tightly — on the show Chevy Chase does on NBC called, I think, Saturday Night Live. But I suppose it would inevitably resemble a 1980s In Melbourne Tonight if I was in it."
The planned variety show did not eventuate, as Kennedy spent most of the year working on movie projects and a comedy series for ABC radio and was a partner in establishing Sydney radio station 2Day FM.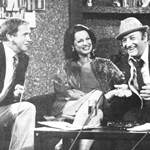 ATV10 did make some attempts at other variety projects. The Saturday Night Show, hosted by Michael Williamson and Annette Allison (pictured with studio guest Syd Heylen), provided a mix of variety and harness racing — a format made popular in the '70s by HSV7's The Penthouse Club. The channel also tried The Ted Hamilton Show, starring Ted Hamilton, then best known as an actor in Division 4, and Sue McIntosh. Neither program survived to see 1981.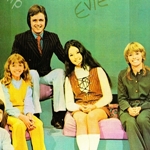 Ten also tried an Australian adaptation of the hit British series Are You Being Served?, featuring John Inman reprising his role of the camp Mr Humphries, joined by Shane Bourne, June Bronhill, Tony Bazell, Kerry Daniel and Reg Evans. More successful was Young Talent Time, which celebrated 10 years in production in 1981 and continued through until 1989. Over its 18-year run the series, hosted by Johnny Young, launched the careers of Debra Byrne, Philip Gould, Denis Walter, Sally Boyden, Karen Knowles, Tina Arena and Danni Minogue.
Jimmy Hannan, star of variety show Jimmy in the 1960s, returned to the Nunawading studios to host Personality Squares in 1981, while Greg Evans and Kerry Armstrong hosted magazine show Together Tonight.
Evans then returned to Ten in 1984 to host Perfect Match, a show that displayed the same risque humour and innuendo that made Blankety Blanks successful a few years earlier.
The changeover to Channel 10 in 1980 coincided with a revamp of the 6.00pm Eyewitness News. Former newsreaders Bruce Mansfield and Annette Allison had been dumped at the end of 1979, their roles replaced over the summer by Michael Schildberger and Peter Hanrahan. The revamp into 1980 saw David Johnston return to full-time TV, after leaving HSV7 a few years earlier, joined at the newsdesk by reporter Jana Wendt. The new decade saw greater resources thrown at the news bulletin, including greater capacity for live crosses during the bulletin plus instigating meteorologist Rob Gell's four-day weather forecast.
The new-look Eyewitness News gave Ten a much-needed ratings boost. So much so that Wendt was soon made an offer to join the rival Nine Network as reporter for 60 Minutes. Taking her place at the newsdesk from early 1982 was Jo Pearson (pictured), a newsreader and journalist from sister station TVQ0 in Brisbane. The David-and-Jo combination, no doubt helped by her subsequent marriage to weatherman Rob Gell, became a ratings giant — with Ten eventually coming neck-and-neck with leader National Nine News in the all-important news battle.
Eyewitness News' ratings hit a high in 1987 when rival HSV7 sacked longtime newsreader Mal Walden. The impact of Walden's sacking saw Seven's news ratings hit record lows. David Johnston, a former colleague of Walden's at Seven, threw him a lifeline and offered him a job presenting human interest stories under the title Mal's Melbourne.
By the close of 1987, Ten was dealt a blow when it was announced that husband-and-wife team Rob Gell and Jo Pearson had accepted an offer to join the Nine Network. Ten responded by expanding Eyewitness News to three newsreaders, with Johnston joined by Walden and newcomer Tracey Curro. The triple-header format was short lived and Walden was soon moved to the weekend bulletin. Curro later went to the Seven Network's Beyond 2000.
In the area of drama, Prisoner (with Maggie Kirkpatrick as Officer Joan "The Freak" Ferguson pictured) continued production well into the 1980s, finally coming to an end in 1986 after 692 episodes. It was joined briefly by Holiday Island — a series produced by ATV10 and Crawford Productions. Holiday Island infamously tried to emulate a tropical Queensland island resort on the grounds of the Nunawading studios… during a Melbourne winter. The end result was not successful and the series was axed after only a few months.
ATV10 was also a network partner in the commissioning of an in-house drama, Arcade. The series, from the creators and writers of Number 96, depicted life around a suburban shopping mall. Despite the huge expense, in particular constructing a mock shopping complex in the main studio of Sydney's TEN10, the series only lasted six weeks.
Ten did have better luck with production of another Crawford series, Carson's Law. The 1920s period drama set in Melbourne starred Lorraine Bayly and Kevin Miles and ran for two years. There was also a move into children's drama with The Henderson Kids in 1984, followed up a few years later by The Henderson Kids II. The series was an early acting role for Nadine Garner and also featured Ben Mendelsohn, Nicholas Eadie, Antionette Byron, Peter Whitford and a young Kylie Minogue.
Special Squad, starring Alan Cassell, Anthony Hawkins and John Diedrich, was filmed in the streets of Melbourne with few scenes based within a studio.
In 1985, ATV10 took a gamble when it picked up Neighbours which had been axed by the Seven Network after six months. It was the first time in Australia that a drama series had been axed by one network and picked up by another. Production began at Nunawading late in 1985 and, coincidentally, the street location that forms the exterior setting for the fictional Ramsay Street was located only a short drive from the Nunawading studios. Neighbours made its Network Ten debut on 20 January 1986 and was soon to dominate the 7.00pm timeslot. The series made international stars out of relative unknowns including Kylie Minogue, Jason Donovan, Craig McLachlan and Guy Pearce, and many more in the decades that followed. Production of the series also made good use of the old Holiday Island set constructed on the grounds of the studio by re-using it as part of the Lassiter's retail and hotel complex depicted in the series.
The Eighties was also the decade of the big budget mini-series. The Ten Network invested big in event mini-series, usually mining Australian history or literature for series ideas. The decade started with Water Under The Bridge, adapted from the novel by Sumner Locke Elliott, and later led to others including Sara Dane, The Dismissal, Bodyline, The Thorn Birds, The Cowra Breakout, The Dunera Boys, The Harp In The South, Poor Man's Orange, Vietnam, Waterfront, The Last Bastion, The Dirtwater Dynasty, The Heroes and Bangkok Hilton.
The melodramatic Return To Eden, starring Rebecca Gilling, Wendy Hughes and James Reyne, was a ratings hit which later spun off into a regular series.
The channel's annual Deafness Appeal continued throughout the 1980s. The 1984 telethon featured a reunion of cast members from the 1970s early morning show The Early Bird Show. The audience response to the reunion sparked a revival of the show on Saturday mornings from 1985 and broadcast across the Ten network. Original co-host Marie van Maaren was joined by Darryl Cotton and the show, five hours each Saturday morning comprising studio segments interspersed with cartoons, continued through until 1989, when it was re-named Club 10 though the revamped show had only a short life.
The Sydney-based Good Morning Australia, launched in 1981, sparked a revival of breakfast-time news on television. Mid-morning television continued to be represented with Good Morning Melbourne taking over from Everyday in 1981. The morning show, hosted by Roy Hampson (pictured) and Annette Allison, continued until 1988 when it was replaced by a national production, 'Til Ten, from Sydney.
The Comedy Company provided a surprise ratings hit when it was put up against the top-rating 60 Minutes. The show ran for three seasons and led to a number of spin-offs.
As the decade drew to a close ATV10 and its interstate counterparts were going through a period of change. Rupert Murdoch had relinquished his ownership of TEN10 and ATV10 as he had become an American citizen. Both channels then came under the control of businessman Frank Lowy's Westfield Capital Corporation in 1987. The company also had interests in Network Ten channels in Adelaide, Perth and Canberra and later bought TVQ10, Brisbane.
The year 1988 saw ATV10 and the Ten Network at a ratings peak — helped by the network broadcasting the 1988 Seoul Olympic Games as well as popular shows Perfect Match, The Comedy Company, Eyewitness News and Neighbours. The network's profile was also boosted during the year with the launch of NEW10 in Perth and the transition of TVQ0 to Channel 10 in Brisbane.
The following year brought a change to Ten's fortunes. Ratings had taken a dip as established shows were losing some shine and new titles failed to grab audiences. The re-badged Ten News was also being hit by a resurgent Seven Nightly News.
A change in network branding to 10 TV Australia in July 1989 was accompanied by a raft of game shows, including The Great TV Game Show and The Price Is Right being produced at Nunawading. The ratings failed to rise, although Neighbours was still a strong performer even after the loss of cast members Kylie Minogue and Jason Donovan. Ten's overall ratings and financial downfall set the pace for a dramatically changed network heading into the 1990s.
Source: The Age, 17 January 1980. TV Week, 1 March 1980. TV Week, 31 March 1984. From The Word Go! Forty Years Of Ten Melbourne, 2003.

YouTube: TelevisionAU