21 July 1973: Charles 'Bud' Tingwell (Homicide)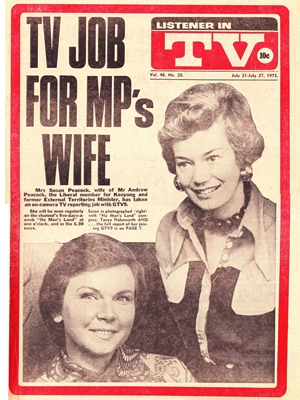 21 July 1973: Tanya Halesworth and Susan Peacock (No Man's Land)
21 July 1979: Terry Norris, Louise Philip, Greg Ross (Cop Shop)
21 July 1979: Don Lane and Bert Newton (The Don Lane Show)
21 July 1984: Rowena Wallace (Sons And Daughters)
21 July 1990: Simone Buchanan (Hey Dad), Beth Buchanan (Neighbours)
21 July 2007: Natalie Saleeba and Ben Lawson (Neighbours)
---
21 July 1968: Sunday night movies are Strange Intruder (1956), Mr Hobbs Takes A Vacation (1962) and To Catch A Thief (1955).
21 July 1976: Olympic Games coverage continues on ABC, Seven and Nine. Plus there's Australian drama with Certain Women and Number 96.
21 July 1984: Saturday night TV includes Four Corners, Hey Hey It's Saturday Night, Young Talent Time and the movie 10, starring Bo Derek and Dudley Moore.
21 July 1992: ABC debuts 'documentary series' Sylvania Waters, a 12-part series focusing on the life of an Australian family who have been followed by a camera crew for five months.