The Seventies not only saw the increase in female representation in dramas — with ABC's Certain Women creating Australia's first all-female lead cast — but it also saw female viewers better served in daytime viewing.
The Mike Walsh Show, which debuted in February 1973, took the traditional tonight show format and transplanted it into a daytime timeslot. It set out to prove that females — which made up the bulk of the daytime audience — deserved better entertainment and more informative discussion on daytime TV than cheap panel and quiz shows or segments around housekeeping.
But there was another frontier ready to tackle.
While there were trailblazing journalists like Anne Deveson and ABC's Caroline Jones dating back to the 1960s, female representation in news and current affairs was limited to largely token representation or being limited to lightweight stories or delivering the weather forecast.
So the next step for women and daytime TV came in June 1973 with the debut of current affairs show No Man's Land.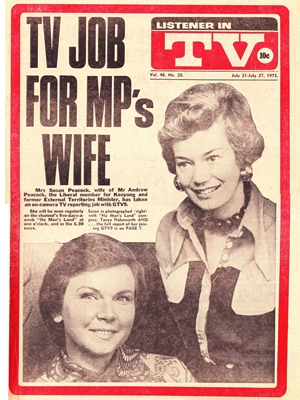 Fronted and produced by Tanya Halesworth, formerly of ABN2 and TEN10 in Sydney, No Man's Land featured an all-female line-up. Reporter Kay Cardwell was soon joined by Susan Peacock, a former newspaper reporter who was then wife of Liberal MP Andrew Peacock.
Halesworth saw the show not as being a women's lib project, but a chance for daytime viewers to be informed on the day's events from a women's perspective. "We could virtually be regarded as a carry on from Mike Willesee's (prime time) A Current Affair," she told TV Times in 1973. "The audience No Man's Land will be attracting will be the woman who hasn't the time in the morning to read papers and listen to the news because she is busy getting the family off to work and school."
No Man's Land premiered on GTV9, Melbourne, on 11 June 1973 at 1.00pm — sandwiched between Nine's imported soap Days Of Our Lives and the start of The Mike Walsh Show on rival channel ATV0 at 1.30pm.
The success of the Melbourne-based show soon saw the reporting line-up extended to include Mickie de Stoop (who replaced Halesworth as host when she quit for personal reasons in mid-1974), Carryl Browne, Kay Stammers and Andrea Lee-Steere, with the show extending its reach to Adelaide and Tasmania. Later additions to the team included Julie Foster, Robyn Miller, Sandi Ryan, Gail Jarvis, Jan McGuinness, future philanthropist Jeanne Pratt and future actor Deborra-lee Furness.
In February 1974, a Sydney version of the show debuted with host Sue Smith and reporters Maureen Earl, Penny Spence and Maria Quinn. The Sydney version, also broadcast in Brisbane, was short-lived and replaced with the Melbourne-based show.
In 1975, No Man's Land won a TV Week Logie Award for Most Outstanding Contribution To Daytime Television. However, the show was not without controversy. An early venture for host Halesworth to spend a night in prison to form the basis for a prime-time special report was canned when prison authorities pulled the pin.
Later in 1975, the Australian Broadcasting Control Board (ABCB) found that No Man's Land had breached the Broadcasting and Television Act by reporting what the board deemed was an "electoral matter" during the so-called 'silent period' in the days leading up to the 1975 federal election. Nine disputed the finding but no action was taken by the ABCB.
A shift in the show's timeslot to 3.30pm in Melbourne early in 1976 did it no favours, but No Man's Land's final undoing came in May 1976, when an interview between journalist Prue MacSween and university lecturer Dennis Pryor on the topic of swearing ended with various swear words aired unedited. The original intention was said to be a humorous end to the interview with Pryor saying a string of swear words to be bleeped out. When the intended bleeping did not occur, and the words went to air in the mid-afternoon timeslot, the segment was cause of complaint by the ABCB. Host de Stoop took the blame for the slip up. "It was totally my responsibility to see that the words were bleeped out and I made a mistake in not doing so," she told TV Times.
The man who uttered the swear words also lamented the show's demise. "It is most unfortunate because Nine have done away with the only intelligent daytime women's program," he said.
Nine claimed that the show's axing wasn't requested or demanded by the ABCB but the complaint followed another incident where the network put the show on notice after airing a story about a nudist convention in Western Australia which featured full frontal nudity. "Our decision to cancel the show was based solely on the fact that the producers of No Man's Land had ignored our warnings not to show material the network considers offensive," GTV9 executive vice-president David Evans told TV Times.
de Stoop went from No Man's Land to reading the news at GTV9, then a short stint at ATV0 as a newsreader and hosting daytime interview show Shoulder To Shoulder before a move into talkback radio.
Source: The Age, 11 June 1973, 26 July 1973, 27 May 1976. TV Times, 16 June 1973, 25 May 1974, 5 June 1976. Listener In-TV, 21 July 1973. The Australian Women's Weekly, 20 March 1974, 27 August 1975. TV Week, 24 May 1975, 31 January 1976. Twenty-eighth Annual Report, Australian Broadcasting Control Board, 1975.