Jimmy Hannan, one of Australia's leading stars of the 1960s, '70s and '80s, has died at the age of 84 after a short battle with cancer.
Sydney-born Hannan made his TV debut in 1956 as a contestant on Name That Tune, Australia's first TV game show.  The prize money he won on the show paid for him to travel to Canada, where he would try to break into the television and club circuit. He then had two years in London, including work at the BBC, before returning to Australia.
His first TV hosting role on his return was the game show Say When in 1962. He became a recording star with songs including Beach Ball, featuring the Bee Gees as backing singers!

YouTube: Conniptions886
It was as host of TCN9's teenage show Saturday Date and from making regular appearances on Bandstand and In Melbourne Tonight that Hannan won the TV Week Gold Logie for Most Popular Personality.
No sooner had he won the award that he had been signed up in a major deal to switch from Nine to the fledgling Melbourne channel ATV0. "I had a bright future with the Nine Network and went overseas while my manager re-negotiated the contract with them," Hannan told The Australian Women's Weekly in 1981. "I returned six weeks later expecting to be back on Nine with an even better deal, only to find that I'd been signed to Channel 0 in Melbourne. The station had just begun transmission, and at the time I was the only 'name' they had."
At ATV0 he hosted a musical variety show, Jimmy, which was relayed across the 0-10 Network. The show later became Jimmy Hannan Tonight, competing with Nine's popular In Melbourne Tonight.
Hannan had also made a guest appearance on the Royal Children's Hospital Good Friday Appeal on rival channel HSV7 in 1966. His performance triggered a response from a keen viewer, a Mrs Jackson of Kew, to promise to donate $100 if he sang again. Mrs Jackson followed this with another $100 offer for another song… and another.

YouTube: FrozenDoberman
While in Melbourne he also worked for several years at radio station 3UZ, then the city's top rating pop music station.
In 1970, Hannan had left 0 and returned to Nine as one of the successors to Graham Kennedy on IMT. His Thursday night hosting of IMT soon saw the program shift to Friday nights with the new name, The Weekend Starts Here.
TV credits during the '70s included Spending Spree, The Graham Kennedy Show, Celebrity Squares, The Jimmy Hannan Show, Have A Go, Penthouse Club and Let's Make A Deal.
In the 1980s he guest hosted The Mike Walsh Show and hosted Network Ten shows Personality Squares, Search For A Star, $100,000 Moneymakers and Value Shopping. He also worked for a time as a producer on the game show Perfect Match.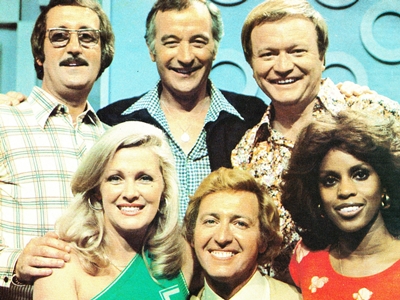 Hannan then retired from television to live on a farm in Bellingen, but he made a rare return to TV in a guest performance on The Late Show, performing the Jimmy Barnes song Working Class Man, and appeared as a celebrity contestant on Sale Of The Century.
In 2015, he donated much of his gathered memorabilia from 60 years in showbusiness to the National Film and Sound Archive.
Jimmy Hannan is survived by his wife Joanne (pictured in 1964) and four children, including former TV personality Melissa Hannan.
Source: News.com.au, NFSA. TV Week, 4 July 1964, 12 March 1966. The Age, 14 April 1966. The Australian Women's Weekly, 25 February 1981.