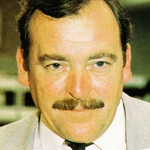 Anthony (Tony) Hawkins, the actor who played Bob Morris in the long-running series Prisoner, died last week in a Kyneton hospital.
Although he was an actor for 50 years, as a young adult in the 1950s he was a police officer in London. He didn't have a long stay in policing, feeling disillusioned with the justice system, and turned to acting. Ironically, many of his future roles involved playing members of the police force.
His early acting career was in the United Kingdom, with his first Australian TV role in the 1973 series Ryan.
He went on to appear in numerous dramas during the Seventies, including Matlock Police, Division 4, Homicide, Power Without Glory, Bluey, Against The Wind and Skyways.
He first appeared in Prisoner in 1979 as a police officer. He then returned to the series the following year for the role of Bob Morris, father of one of the prison inmates and who later wed prison officer Meg Jackson (Elspeth Ballantyne). The role continued on a recurring basis for around two years.
He had a lead role in the Crawfords police drama Special Squad in 1984. Other credits during the Eighties included Water Under The Bridge, The Last Outlaw, Women Of The Sun, Prime Time, Body Business, Carson's Law, The Flying Doctors, Inside Running and The Magistrate.
He later appeared in Ocean Girl, Tales Of The South Seas, The Damnation Of Harvey McHugh, Kelly, Bony, Janus, Mercury, Blue Heelers, Marshall Law and Saddle Club.
His last credited role was in the ABC telemovie The Great Air Race.
The funeral for Anthony Hawkins will be held in Lancefield on Monday, which would have been his 81st birthday.