Logies: Gold is their goal
Ray Martin, Daryl Somers, Georgie Parker and Bruce Samazan (pictured) have been shortlisted for the Gold Logie by TV Week readers. It is Parker's second Gold nomination, coming after a year where she farewelled A Country Practice and took on a new role in Acropolis Now. Somers has won three Gold Logies already (1983, 1986 and 1989) — "It's terrific to be nominated again," he told TV Week. "It's great to know the people still like what you do and that Hey Hey still has a loyal following."  Midday host Ray Martin previously won the Gold in 1987 but has been nominated "seven times, I think".
TV Week Logie Awards publicly-voted categories:
Gold Logie — Most Popular Personality: Ray Martin, Georgie Parker, Bruce Samazan, Daryl Somers (1992 winner: Jana Wendt)
Silver Logie — Most Popular Actor: Cameron Daddo, Scott Michaelson, Bruce Samazan, Gary Sweet (1992 winner: Bruce Samazan)
Silver Logie — Most Popular Actress: Rebekah Elmaloglou, Georgie Parker, Toni Pearen, Kym Wilson (1992 winner: Georgie Parker)
Most Popular Series: A Country Practice, E Street, Home And Away, Police Rescue (pictured). (1992 winner: E Street)
Most Popular Light Entertainment Program:  Australia's Funniest Home Video Show, Hey Hey It's Saturday, The Main Event, Midday With Ray Martin (1992 winner: Fast Forward)
Most Popular Lifestyle/Information Program:  Beyond 2000, Burke's Backyard, Getaway, Healthy Wealthy And Wise (1992 winner: Burke's Backyard)
Most Popular Telemovie or Mini-Series:  Heroes 2, The Leaving Of Liverpool, The Other Side Of Paradise, Tracks Of Glory (1992 winner: Brides Of Christ)
Most Popular Light Entertainment Personality: Ray Martin, Bert Newton, Daryl Somers, Steve Vizard (New category)
Most Popular Actor in a Telemovie or Mini-Series: Cameron Daddo, Garry McDonald, Craig McLachlan, Gary Sweet. (1992 winner: Cameron Daddo)
Most Popular Actress in a Telemovie or Mini-Series: Josephine Byrnes, Justine Clarke, Marg Downey, Judy Morris (1992 winner: Josephine Byrnes)
Most Popular Comedy Program:  All Together Now, Fast Forward (pictured), Hey Dad!, Mother And Son (New category)
Most Popular Comedy Personality: Mary Coustas, Ruth Cracknell, Jon English, Magda Szubanski (New category)
Most Popular Public Affairs Program: A Current Affair, Hinch, Real Life, 60 Minutes (1992 winner: A Current Affair)
Most Popular Children's Program: Agro's Cartoon Connection, Play School, Saturday Disney, Vidiot  (1992 winner: Agro's Cartoon Connection)
Most Popular New Talent: Dieter Brummer, Simon Denny (pictured), Natalie Imbruglia, Matthew Krok (1992 winner: Kym Wilson)
Most Popular Sports Coverage:  AFL Grand Final, Barcelona Olympic Games, Cricket, Tennis (1992 winner: Cricket)
Most Popular Music Video:  Accidentally Kelly Street (Frente), The Day You Went Away (Wendy Matthews), Everything's Alright (Kate Ceberano, John Farnham, Jon Stevens), In Your Room (Toni Pearen) (1992 winner: When Something Is Wrong With My Baby (Jimmy Barnes/John Farnham))
TV Week Logie Award industry-voted categories:
Gold Logie — Hall Of Fame, Most Outstanding Actor, Most Outstanding Actress, Most Outstanding Telemovie or Mini-Series, Most Outstanding Series, Most Outstanding Achievement in Public Affairs, Most Outstanding Achievement in News, Most Outstanding Single Documentary or Series, Most Outstanding Achievement By Regional Television.
Logies: The Greatest of them all!
Bert Newton, host of the 35th annual TV Week Logie Awards for Network Ten, continues his recollection of his favourite Logie memories:
"I am often asked who my all-time favourite Logies guest is, and without question, my answer to that is John Wayne (pictured, 1975). Don Lane and other friends of mine had spoken to me about people having auras about them. I'd never really understood or experienced what they meant until I met John Wayne. He was absolutely larger than life. His aura was just incredible, I've never experienced anything like it before or since.
"Another man I'd be hard-pressed to forget is Muhammad Ali.  Like John Wayne, he had this incredible aura. I knew he had walked into the room before I saw him. His presence was that strong. The incident with Muhammad in 1979 is probably the most famous of all Logies stories. The one thing that is inevitably left out when this story is told is that leading up to the Logies I'd been doing a series of commercials as Colonel Sanders for Kentucky Fried Chicken. The catchphrase, which I came up with, was "I like the boy" and that's what I said to Muhammad Ali, not realising the connotation of "boy" to a black person — and we didn't in Australia. I remember Lauren Tewes (The Love Boat) was sitting at the front table and I have never seen anyone get as close to giving birth without being pregnant as Lauren. What she was trying to do was get my attention, and she was shouting out : "He said Roy, he said Roy!" and I'm saying, "No I didn't." Then I twigged to what was happening. Fortunately Muhammad realised my naivety and went along with it. There were a few tense moments though, I will admit, and it made headline news around the world the next day. He sent me Christmas cards for years after that and the night is a very happy memory for me. I received my first Gold Logie that year — presented to me by Muhammad Ali."
"I couldn't write about the Logies without mentioning the wonderful international offer I received — and turned down. Roger Moore was flown to the 1972 awards by Faberge, the perfume people. He and the world manager of Faberge met me after the telecast and invited me back to England with them to try out for the compering job of Miss World. Miss World was a very major event then, shown all over the world. Stupidly, I said no. Why? It's the same old story. I had things happening here and I would have had to have broken my contract with Channel Nine. I often wonder what would have happened if I had accepted their offer."
"To finish off, I would like to say how thrilled I am to have received my four Gold Logies (not counting the Hall Of Fame Logie) that were presented to me by Muhammad Ali, Van Johnson (1981), Olivia Newton-John (1982, pictured) and Bob Hawke (1984). It is an incredible thrill to win the Gold, and those who say anything to the contrary… well, that's their problem."
Briefly…
Controversy surrounds the Seven Network's new Norman Gunston Show following the sudden departure of writer Trevor Farrant, and actor Garry McDonald (Gunston, pictured) failing to appear in a recent episode. The official line from Seven is that McDonald was "too ill" to front the show, and Mary Coustas (as Effie from Acropolis Now) stepped in. McDonald's illness has triggered the possibility that the series will be unable to complete its planned run of thirteen episodes… and may also affect his ability to work on the next series of ABC's Mother And Son later in the year.
Queensland university graduate Samantha Butler is the host of ABC's new youth-based current affairs program Attitude. Butler, 20, has previously worked in ethnic and community radio and is keen to give the youth of Australia an outlet for issues relevant to them. "I travelled the country for a couple of months talking to people and it became blinding obvious that the 18-to-25-year-old group weren't being catered for," she said. "We believe this show provides them with a voice." Attitude has nine reporters and researchers on staff, and all are under the age of 24.
Nine's new drama series Paradise Beach could provide the leap to international fame for its cast of young stars. With the series already sold to the US, Spain, Turkey, Columbia, Greece, Germany, Italy and Scandanavia, the cast are guaranteed a wide exposure. "We've been told to brace ourselves," cast member Jon Bennett (pictured, far right) told TV Week. "We've been told it is going to be huge overseas, especially since the surfing culture of Australia is very much flavour of the month right around the world." The series' cast also includes newcomers (pictured, from left) Ingo Rademacher, Kimberley Joseph, John Holding and Megan Connelly. "The show has the potential to be every bit as big as Beverly Hills 90210," Rademacher told TV Week. "I see Paradise Beach as having a very American feel to it. By that I mean it will be removed from the Home And Away and E Street style of drama."
Pamela Stephenson's hosting of the early episodes of the second series of Sex has impressed Nine executives so much that they are now seeking to appoint her as ongoing host… a move that would ditch Sophie Lee who hosted the first series but was unavailable for the early episodes of the second series due to being in New Zealand. Lee is due back in Sydney next month but is currently not on contract to the network.
Lawrie Masterson: The View From Here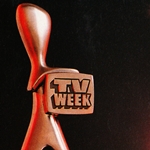 "Congratulations to everyone nominated in this landmark year of the TV Week Logie Awards… and I can assure you that the nominees and performers aren't the only ones who might be getting just a few butterflies at this stage. The awards are, of course, a huge investment of both financial and personal resources on TV Week's behalf — our baby, so to speak. And, like any expectant parent, we're going through some nervous times. Again this year we've managed to organise an all-star gathering of the four Gold Logie nominees for the cover of this week's TV Week. Ray Martin and Georgie Parker were at last year's shoot, along with Jana Wendt and Steve Vizard. This year Daryl Somers is back in contention, along with a new face, Bruce Samazan. The personable young man from Network Ten's E Street won a TV Week Silver Logie as Australia's Most Popular Actor last year, so his rise to a Gold Logie nominee was no surprise to me."
Loose Talk
"No, I'm not an idiot, but the children are working on it." — Martin Kelly (Robert Hughes), Hey Dad!, Seven.
"Unlike sex, there is no end to plastic surgery in marriage. The older you get, you want it more." — Charles Wooley, 60 Minutes, Nine.
"When Prince Charles declared his love for Camilla Parker Bowles, he never dreamed the world would one day listen in." — Deb Richards, Four Corners, ABC.
Program Highlights (Melbourne, March 21-27):
Sunday: Ken Sutcliffe hosts live coverage of the Australian Indy Car Grand Prix (11am, Nine) from Surfers Paradise, Queensland. Sunday night movies are Sibling Rivalry (Seven), The Hunt For Red October (Nine) and Crime Broker (Ten).
Monday: Simon Townsend, formerly of children's program Simon Townsend's Wonder World fame, returns to TV with a new series, TVTV (6.30pm, ABC), presenting reviews and analysis into the world of television. The program airs Monday to Thursday nights.
Tuesday: In All Together Now (8.00pm, Nine), Sam (Simon Gligora, pictured) is convinced Anna (Jane Hall) is pregnant after she innocently kisses him. In GP (8.30pm, ABC), William (Michael Craig) and an old colleague pilfer supplies for an ailing Aboriginal community health centre. Documentary series The Cutting Edge (8.30pm, SBS) presents Convicted, filmed in Northfield Women's Prison in South Australia.
Wednesday: In Newlyweds (8.00pm, Seven), the wedding for Allie (Annie Jones) and Peter (Christopher Gabardi) has finally arrived and with it a whole range of problems. The story of Ronald Ryan, the last man to be hanged in Australia, is told in documentary-drama The Last Man Hanged (8.30pm, ABC), through the eyes of journalist Keith Willey, who covered the 1967 execution and the political machinations leading up to it.
Thursday: In Getaway (7.30pm, Nine), Tina Dalton swims with the dolphins in Bunbury, WA; Rebecca Harris finds budget accommodation at St Mary's Youth Hostel in Tasmania; and Jeff Watson goes shopping in Jermyn Street, London. Steve Jacobs (not related to Steven Jacobs of All Together Now) and Genevieve Picot star in Wrath, the final episode of Seven Deadly Sins (9.30pm, ABC).
Friday: Sandy Roberts heads live coverage of the Davis Cup tennis — Australia versus USA — live from Kooyong, Melbourne (11am, Seven). Burke's Backyard (7.30pm, Nine) presents a New Zealand special, including a visit to the home of former New Zealand Prime Minister David Lange, and also featuring cartoonist Murray Ball of Footrot Flats fame. The 1993 AFL Premiership Season starts with delayed highlights of the Round 1 match between Footscray and Collingwood at the MCG (9.30pm, Seven).
Saturday: Afternoon sport includes Davis Cup: Australia versus USA (1pm, Seven), the Australian 500cc Grand Prix (1pm, Nine) and Hong Kong Sevens Rugby Union from Hong Kong Stadium (2pm, Ten). Seven's Saturday night AFL replays are back for the 1993 season (6pm). In Beyond 2000 (7.30pm, Seven), Amanda Keller takes a look at the 600-year-old oak tree in Sherwood Forest in danger of final collapse and how its genetic clone is being grown, and Tracey Curro investigates the depths of Monterey Bay with a remote controlled underwater vehicle.
Source: TV Week (Melbourne edition), incorporating TV Times and TV Guide.  20 March 1993.  Southdown Press.