Dame Olivia Newton-John has died from cancer at the age of 73.
Born in England in 1948, she came to Australia with her family at the age of six. While still a teenager she became a regular performer on Melbourne television, appearing on shows like The Happy Show, Time For Terry and Go!! and formed a double act with Pat Carroll. She also appeared in the film Funny Things Happen Down Under.
After winning a talent contest on Johnny O'Keefe's Sing Sing Sing, she used the prize money to go to the United Kingdom, to be joined later by Carroll. The pair performed together until Carroll's return to Australia, with Newton-John staying in the UK to further her solo career. With popular hits and albums, she became a regular performer on British television and represented the United Kingdom in the Eurovision Song Contest in 1974.
Her career then took her to the US, where she became a success in country music, and then scored the leading role of Sandy in the movie version of the musical Grease, which elevated her to superstar status. She continued her successful recording career and followed up Grease with lead roles in Xanadu and Two Of A Kind. She also established the Australian-themed retail store Koala Blue in Los Angeles with former singing partner Pat Farrer (née Carroll).
Although based in the US, she continued to make regular visits to Australia, making appearances on shows including Australian Music To The World, The Don Lane Show, TV Week Logie Awards, Australia Live, The Royal Australian Bicentennial Concert and filming an HBO special, Olivia Down Under.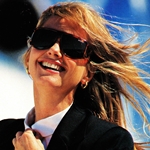 In the 1990s, Newton-John made a cameo appearance in the series Paradise Beach, which starred her then husband Matt Lattanzi. A passionate advocate for the environment, she went on to present her own documentary series, Wildlife With Olivia Newton-John, that ran for two years on the Nine Network.
Later TV appearances in Australia included The Man From Snowy River, Good Morning Australia, Rove Live, Enough Rope With Andrew Denton, Australian Idol, The Project and Australia Unites: The Victorian Bushfire Appeal.
She was inducted into the ARIA Hall Of Fame in 2002, appointed an Officer of the Order of Australia (AO) in 2006 and named Companion of the Order of Australia (AC) in 2019. She was awarded a British damehood in 2020.
Her last acting role was in the Australian film The Very Excellent Mr Dundee.
She was first diagnosed with cancer in 1992 and became an advocate for breast cancer research and later the use of alternative treatments such as medical cannabis. In 2012 she opened the Olivia Newton-John Cancer and Wellness Centre in Melbourne. Her cancer returned in 2013 and then again in 2017.
She died peacefully at her ranch in southern California surrounded by family and friends.
Olivia Newton-John is survived by her husband John Easterling, daughter Chloe Lattanzi, sister Sarah Newton-John, brother Toby Newton-John and extended family.