It is 40 years since A Country Practice made its debut on the Seven Network. With the first episode airing on 18 November 1981 in Sydney and 23 November 1981 in Melbourne before much of the rest of the country — A Country Practice introduced us to the fictional town of Wandin Valley, with the main focus on the local hospital and general practice. The series also cast an eye over the local vet and the town's police force of one.
Produced in Sydney and on location at nearby Pitt Town, it ran for 12 years on the Seven Network before Ten took over the series and shifted production to Melbourne for one year. The original cast included Shane Porteous, Grant Dodwell, Penny Cook, Lorrae Desmond, Anne Tenney, Brian Wenzel, Shane Withington and Helen Scott — while Fatso the wombat and Doris the pig became favourites.
Other cast members to feature over the show's 1000+ episode run included Joyce Jacobs, Joan Sydney, Gordon Piper, Syd Heylen, Georgie Parker, Maureen Edwards, Mary Regan, John Tarrant, Wendy Strehlow, Josephine Mitchell, Kate Raison, Nick Bufalo, Andrew Blackman, Judith McGrath, Kym Wilson, Diane Smith, Matt Day, Michelle Pettigrove, Paul Gleeson, Vince Colosimo, Jane Hall and Claudia Black.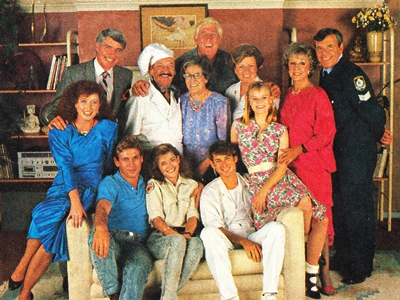 While A Country Practice dealt with all manner of relationship dramas and medical stories, it also covered topical social issues such as homosexuality, AIDS, nuclear war, domestic and sexual abuse, drug addiction and suicide. The fictional Wandin Valley also copped its share of natural disasters such as bushfires — with the series' final two-hour episode on Seven depicting the Wandin Valley Hospital, the focal point for many of its storylines, being destroyed by fire.
But the show's most definitive storyline was the death of fan favourite Molly Jones (played by Anne Tenney), after a lengthy battle with leukaemia in 1985.
When Network Ten picked up the show at the end of 1993, it shifted production to Melbourne and the fictional Wandin Valley, previously deemed to be somewhere in New South Wales, was now suddenly in Melbourne's Dandenongs and with a revamped cast line-up. The Network Ten run of the series struggled and it played out most of its episodes on Saturday afternoons.
A Country Practice sold well overseas, including the United Kingdom, Ireland, New Zealand, Canada, France, Germany, Zimbabwe and on the PBS network in the United States. It became one of Australia's most awarded dramas, with 29 TV Week Logie Awards to its credit — including three for Most Popular Drama –and series creator James Davern was inducted into the TV Week Logie Awards Hall of Fame in 1991.
The series has had a number of re-runs on free-to-air and pay TV over the years and has been released on DVD. The entire series, including the episodes made for Ten, is also available on the Seven Network's streaming platform, 7plus.