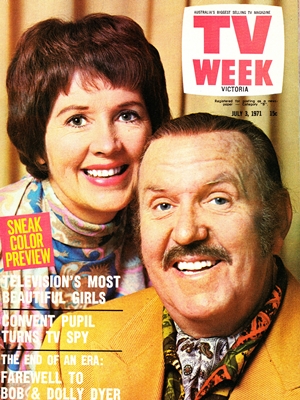 It is 50 years ago today that Pick-A-Box ended an era as Australian television's first long-running quiz show.
It was not the first quiz show on Australian television — though its existence as a radio program pre-dated television by several years — but it was the first to capture a significant national following and it outlasted all of its early contemporaries.
Hosted by Tennessee-born Bob Dyer and his Australian wife Dolly, it began on radio in 1948 before making its television debut in March 1957, initially on Saturday nights before moving to Mondays in 1960.
Launching the catchphrase "the money or the box" into the language, Bob Dyer's popularity saw him win the TV Week Gold Logie in 1961 (pictured with Dolly). He also won a Logie for Best Compere in 1962, and a special Logie for "TV Quizmaster Of The Decade" in 1968. Wife Dolly also won an honorary Logie in 1966 — "For Her Cheerful Devotion To Bob And Her Show".
Such was the show's success that even its champions went on to become celebrities. The most famous was schoolteacher Barry Jones (pictured above with Dyer and fellow champion George Black), who was known to challenge questions put to him. Footage of Jones' debating the accuracy of Dyer's question about "the first British Governor-General of India" has become the show's most defining moment and one of the oft-repeated clips in TV flashback specials. Jones appeared on the show at various times between 1960 and 1968. He went on to become one of Australia's first talkback radio hosts and later entered state and federal politics.

YouTube: Classic Australian TV
Pick-A-Box continued through the 1960s with strong ratings for the Seven Network, but by 1969, the Dyers, who packaged the show for Seven and sponsor BP, had begun to wonder that the show had perhaps run its course. Despite the various quiz show innovations that it had introduced over the years, they felt it was losing its distinctiveness among a growing trend towards game and quiz shows. Knowing that the show still had the support of Seven and BP, they continued with it for a further two years before finally deciding to pull the pin in March 1971.

YouTube: JiMemes
The final "regular" episode of Pick-A-Box aired on 21 June 1971, with the final, airing on 28 June 1971, taking the form of a nostalgic special paying tribute to the show's two hosts and some of the show's memorable moments.
The Dyers' contribution to television was recognised with the pair receiving a special TV Week Gold Logie in 1971 (pictured below with fellow Gold Logie winners Maggie Tabberer and Gerard Kennedy), and both being honoured in the Queen's Birthday honours that year.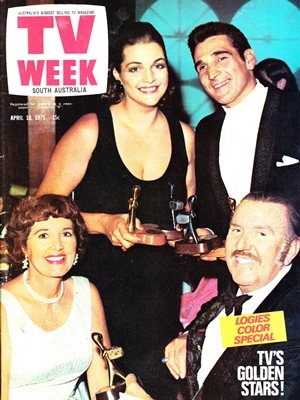 The pair then moved to Queensland in retirement, pursuing their love of big-game fishing and claiming a number of world records and titles in that field. Bob continued an association with BP, fronting newsreel films and documentaries sponsored by the company, but the pair largely kept out of the spotlight. They made a rare television appearance in 1977 as part of the 21st anniversary celebration of Australian television.
Bob Dyer passed away in 1984, and Dolly in 2004.
Despite its success, the Pick-A-Box format did not return to TV until 1981, when Bert and Patti Newton hosted Ford Superquiz for two seasons on Nine.
The format made another return in 1989, as Superquiz, hosted by Mike Walsh and Deborah Hutton for Network Ten.
Source: TV Week, 26 April 1962, 3 July 1971. TV Times, 31 March 1971, 1 October 1977.