It was 40 years today that Australian TV (finally…!) began to colour our world.
The wait for colour was a long one for Australia. The United States and Canada made the transition to colour by the mid-1960s, and the United Kingdom started the conversion to colour TV from 1967. Many European countries followed in 1968.
Even New Zealand viewers were able to see Queen Elizabeth II open the Sydney Opera House in colour in October 1973.
But for much of the 1960s and early 1970s, Australians were left with just speculation as to when colour TV might finally arrive.
Some tentative steps were made in 1964 when ATV0, the channel that had just launched in Melbourne, had conducted some experimental colour transmissions prior to receiving permission from the broadcasting authorities. The tests consisted of a colour test pattern for durations of between five and fifteen minutes in the early hours of the morning on an almost daily basis for about three months.
The channel was keen to experiment with colour, in particular because films and many imported shows from the US had started to be made in colour.
The Australian Broadcasting Control Board (ABCB) then ruled that no further transmissions were to take place pending the formation of standards for colour television in Australia.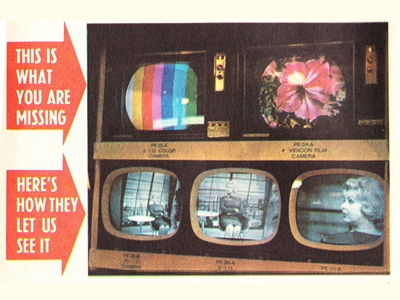 ATV0 and the ABCB did eventually agree on a trial of colour television. In June 1967 the station covered a country horse racing event in colour — making it the first "live" colour program on Australian TV. The colour broadcast was not transmitted to the public but was able to be viewed on closed circuit monitors located at the ATV0 studios in Nunawading. Station executives, government representatives and members of the press were invited to view the colour pictures.
TV Times reporter Fred Robertson was impressed:
"It did not take long to realise the impact that colour television is going to have on Australia when it is introduced. People will return to the old routine of watching everything and anything that the channels put on the screen."
Some TV executives were making bold predictions that Australian TV would be in colour by 1 January 1970. Even the technically conservative ABC was weighing into the debate. "Whether the Government is aware of it or not — the great colour race is on," one ABC representative told TV Week in April 1967. "You can forget predictions that colour TV is many years away." Bruce Gyngell, manager of TCN9, responded that, with colour equipment on order that would enable them to broadcast colour film, "It would be possible for TCN9 to make colour test transmissions in 18 months."
TV stations across the country also went ahead with their colour tests and demonstrations, including HSV7's closed circuit demonstration at the Royal Melbourne Show in 1968:

YouTube: aussiebeachut0
Canberra station CTC7 also displayed colour television in a shopping centre demonstration over ten days in September 1969.
ABC had already started filming major sporting events and some documentaries in colour for archival purposes and potential export. The Government, however, was maintaining its slow and steady approach — with Postmaster-General Alan Hulme insisting that the transition to colour was not going to be a rush job, taking into account the long term investment by government, industry and viewers on new equipment.
ATV0 then embarked on what was the largest colour TV project to date — covering the Australian tour of the Billy Graham Crusade. ATV0, in association with Glen Warren Productions of North America, produced four one-hour programs from Graham's Melbourne appearances which would be syndicated to 600 stations, covering approximately 50 million viewers, across the United States. More than $1 million of equipment was freighted to Australia for the production, including cameras on loan from a Canadian TV station, CFTO9.
In February 1969, the Federal Government announced that after years of consideration — and fierce lobbying by equipment manufacturers from all sides — Australia would adopt the German PAL colour TV standard as opposed to the American NTSC and French SECAM systems. PAL was found to provide a better quality and definition of picture and was compatible with both VHF and UHF bands — although at that time television in Australia was exclusively VHF. Engineers also found that PAL was better suited to rugged terrain areas like those in many Australian cities and country areas. PAL had also been adopted in the United Kingdom and various other European countries.
Although the PAL system had been chosen, government and industry still had another 18 months or so ahead of them for testing and to settle on specific Australian standards — and with the Government's commitment that manufacturers would get at least 18 months between the announcement of a conversion date and the date itself, Australians looked set to get colour TV possibly by around 1973.
But even though Australia was still waiting on a conversion date, independent production companies had already taken steps towards ongoing colour production. Programs like Skippy, Barrier Reef and The Rovers (pictured) in the 1960s and Homicide, Ryan, Boney and Spyforce from the early 1970s, all produced on film, were being made in colour in advance of the colour TV conversion, with a view to potential sales to countries where colour was already in place.
Three years after the government decided on adopting the PAL standard, Prime Minister William McMahon finally announced on 15 February 1972 that Australian TV would be switching to full-time colour transmission from Saturday 1 March 1975 — "C-Day".
The announcement came with predictions that colour TV sets would likely retail for around $700 (in 1972 dollars). The conversion was predicted to cost ABC around $46 million over six years with the commercial sector expected to spend around $70 million to upgrade studios and transmitters — although some stations had already invested in colour-based equipment. A spokesperson for Sydney's ATN7 said in 1972 that the station already had a colour-ready transmitter plus videotape machines that were colour compatible. ATN had expected its overall conversion bill to be no more than $700,000.
Melbourne's HSV7 had already converted its transmitter for colour by 1972 and was ready to commence the phase-in of colour production. In March 1972, GTV9 produced a special series, International Opportunity Knocks, a talent quest to find an Australian contestant to compete in the long-running UK series, Opportunity Knocks. The contest final was produced at the GTV9 studios in colour and broadcast in the UK a few days later.
Len Mauger (pictured), formerly of ATV0 but by this stage the manager of Australian Consolidated Press which controlled TCN9 Sydney and GTV9 Melbourne, said that despite the channels being well advanced in conversion he expected the full three-year advance period would be necessary. "Even now in Sydney there are areas where good reception is impossible on all four channels. Good reception is vital to good colour," he told TV Times. "The three-year period will allow us to experiment and perfect our transmission equipment, and manufacturers to improve their aerials to ensure the kind of colour reception that will justify the expense."
With over 130 transmitters scattered across the country, ABC in 1972 expected that it would have capital city studios and equipment such as videotape machines, microwave links and transmitters all converted for colour by 1 March 1975. The roll-out of colour conversion to regional sites was then expected to take a further three years.
By 1974 colour conversion was in full swing with capital city stations making the final conversions to studio equipment and commencing regular colour TV production. The Federation of Australian Commercial Television Stations (FACTS) had proposed that the Government bring forward the conversion date to 1 July 1974 but this was denied — with the Broadcasting Control Board maintaining that test transmissions in colour would be allowed to commence in October 1974 with C-Day still to be on 1 March 1975.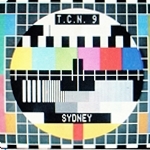 Monday, 7 October 1974, saw the commencement of regular colour test pattern transmission (such as TCN9's, pictured). This was at first limited to only a maximum of a couple of hours a day, to enable broadcasters the opportunity to fine tune or test their equipment and for TV retailers to put colour TV sets on display.
Two weeks later, 19 October 1974, saw the colour tests expanded to allow sports coverage — but still limited to only a couple of hours a day to a maximum of four hours a week. Hence, viewers could be watching a tennis match or golf or the afternoon horse racing but only be able to see a portion of it in colour.
The tests were later expanded to allow full sports coverage plus other program material in colour such as news bulletins, special events, movies and selected episodes of general programming.
ABC's new pop music show, Countdown, made its debut in November as a half-hour show on a Friday night — produced and broadcast in colour. ATV0's annual telethon for the Nerve Deafness foundation was renamed Colorthon, with six of its scheduled 26-and-a-half hours broadcast in colour.
Viewers were treated to colour broadcasts of the Showcase talent quest finals and the Miss Australia Quest.
Christmas saw Carols By Candlelight and Bobby Limb's Sound Of Christmas broadcast in colour, as well as the ABC's via satellite coverage of the opening ceremony of the Holy Year, followed by midnight mass from the Vatican.
The changeover period also saw networks ramp up their promotional efforts. ABC had 'tweaked' its logo to be bolder and to incorporate colour designs, and also unveiled some cheeky new station idents.
The Seven Network also unveiled a modernised logo featuring the rainbow colours, while Nine added colour to its existing logo. Meanwhile, new slogans started appearing around the networks — including "First In Color", "Living Color", "Color Your World" and "Come Home To Colour". (Australian commercial networks insisted on the American spelling of "color", while ABC maintained its spelling as "colour")
Finally, after months of test transmission, C-Day finally arrived on 1 March 1975. The week leading up to the final changeover saw networks imposed a restriction that no prime time programming was to be in colour until C-Day, but daytime tests were still allowed.
At 12.00am, 1 March 1975, Australian television finally burst into full, unrestricted colour. Because networks, as they are now, didn't exist in the Seventies it was up to individual stations to determine how they would mark the event. Some channels stayed on the air all night for the occasion with a range of colour specials and movies. For some channels, particularly regionals, it was "business as usual" with transmission ceased overnight and in some cases not resuming until late afternoon. ABC probably made the most significant effort in the launch of C-Day, starting with a five minute sketch featuring the cast of comedy series The Aunty Jack Show — with Aunty Jack (Grahame Bond) armed with a tin of "colour remover" to fruitlessly resist the incoming flood of colour:

YouTube: National Archives of Australia
The sketch was then followed by a one-hour edition of Countdown, introduced by Johnny Farnham (pictured) and featuring an all-Australian line-up of performances. ABC's special overnight transmission continued with an episode of the British series Monty Python's Flying Circus followed by a replay of a world championship tennis match from 1973.
ABC's C-Day daytime line-up included special children's programs and seven hours of sports coverage. Prime time was highlighted by the variety special Colour It Music from the Sydney Opera House and including performances by Cleo Laine and John Dankworth, the Australian Ballet, Claire Poole Singers, Judy Stone, Darryl Braithwaite, Sydney Symphony Orchestra and Melbourne Symphony Orchestra. Later in the evening the half-hour special The ABC Of It looked at 24 hours in the life of the ABC, encompassing radio and television operations as well as crosses to international bureaus in London, Tokyo, Jakarta and New York.
Even though the ABC had proposed a three-year schedule to roll-out colour transmission to all regional sites, it had managed to complete the transition by 1976. Only three commercial stations were reported to have missed the C-Day deadline — the most significant being NTD8, Darwin, which was off the air for ten months following Cyclone Tracy destroying much of the city at Christmas, 1974.
Earlier predictions that Australians would be slow in adopting colour TV, as had been the experience in the UK and US, were found to be way off the mark. Approximately 2.5 per cent of homes were reported to have converted to colour TV in time for "C-Day", but by July 1976 an estimated 17 per cent of households had made the switch. This number would shoot up to 60 per cent by the end of 1977. Australia went on to complete one of the fastest changeovers to colour TV anywhere in the world.
But early adopters of colour TV were warned about buying a set that may not allow for future requirements — in particular the advent of UHF television in Australia which was due to occur anytime from the late 1970s. Early colour sets had either VHF-only (Channels 0 to 11) controls or dual VHF-UHF tuners. The policy was that after 1976 all colour TV tuners sold in Australia were required to have both VHF and UHF capability, or at least the capacity to have a UHF tuner added.
The advent of colour also marked a shift in the scheduling of re-runs. Black-and-white programs that had been circulating in re-runs were suddenly being frowned upon, and as a result short-sighted TV networks (around the world, not just in Australia) discarded swathes of black-and-white programs from their archives as they were deemed to not be of any further use or market value. Very few predicted the future potential for re-runs or merchandising — and nobody was to predict the development and growth of new technologies such as home video, pay TV and the internet that would breed an appetite for such classic material.
Source: TV Times, 13 January 1965. TV Times, 28 June 1967. Sydney Morning Herald, 19 May 1968. The Age, 28 February 1969. TV Times, 12 March 1969. Canberra Times, 3 September 1969. TV Times, 26 February 1972. TV Times, 18 March 1972. The Australian Women's Weekly, 23 October 1974. TV Week, 14 December 1974. Choice, January 1975. TV Times, 22 February 1975. TV Week, 1 March 1975. Sydney Morning Herald, 19 July 1976. Canberra Times, 28 October 1977. Classic Australian TV.
YouTube: aussiebeachut0, National Archives Of Australia