Skippy The Bush Kangaroo, possibly Australian television's first great export, made its Australian debut 50 years ago this month — starting first in Sydney and Melbourne on 5 February 1968, with other states to follow.
Ninety-one episodes over three series were made between 1966 and 1969.  Following the adventures of the Waratah National Park ranger's youngest son, Sonny Hammond, and his ultra-intuitive marsupial companion, Skippy The Bush Kangaroo was made by Fauna Productions with some financial assistance from the Nine Network. It was sold to 128 countries, including the United States where it was syndicated to 160 local television stations.
It was already showing in the United Kingdom, Finland, Netherlands, Canada (in both French and English) and Japan before it had debuted in Australia, and deals had been made to sell the show to Germany, France, Malta and Kenya.
A feature film, Skippy And The Intruders, was also made and Skippy merchandise was everywhere.
Skippy The Bush Kangaroo starred Ed Devereaux, Tony Bonner, Ken James, Garry Pankhurst as Sonny, Liza Goddard and a guest list that includes some of Australia's most well-known actors. In 1969 it collected a TV Week Logie Award for Best Export Production — with Skippy, accompanied by trainer Scotty Denholm, present to accept the award with her human cast colleagues — and won numerous other industry awards.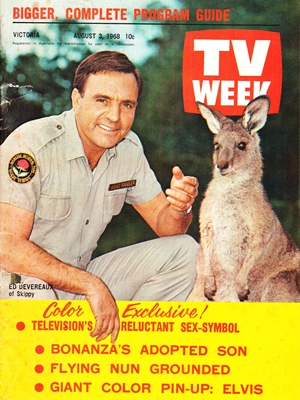 Although the series ceased production after only 91 episodes, because it was filmed in colour (at a time Australian television was still in black and white) it continued to appear in repeats on the Nine Network on a regular basis until well into the 1980s. Although repeats of the show became sparse in subsequent years it has since returned to Nine and secondary channel 9Gem in the mid-dawn and early morning timeslots.
The building that was the set of the park ranger's home and headquarters still stands virtually untouched, serving as a time capsule of the show with furniture and fixtures from its original use still in place, but is closed from the public. Approval was granted in 2017 for plans to restore the site to its former glory.
A spin-off series, The New Adventures Of Skippy, was produced in the 1990s, with Andrew Clarke (pictured below) playing a grown up Sonny Hammond as the head of a wildlife park in Queensland.
Source: TV Times, 31 January 1968. TV Week, 13 July 1968, 3 August 1968. TV Eye — Classic Australian TV. ABC