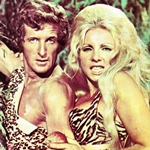 It's hard to imagine that today's politically-correct ABC back in the mid-1970s put together some saucy promos in order to boost its profile.
Although, given the most popular shows at the time were sexy sagas Number 96 and The Box, it's probably no wonder that ABC hopped on the bandwagon somewhat.
There were 25 of the 60-second clips produced in 1975 to coincide with the conversion to colour television. They featured Darrell Kirk, a carpenter who was making a career change into acting, and Anne Semler, a dancer, model and actress from Adelaide who later appeared in the short-lived drama series Arcade. The pair are depicted in fantasy situations in each clip, including some less-than-subtle gestures and close-up shots, particular of a scantily-clad Semler.
Such promos would cause outrage today but in 1975 the ABC's audience research showed that 62.5 per cent of those surveyed wanted the commercials to continue.
Shock Horror Aunty winds up its second series this week with a brief look at some of the promo clips.
The program, hosted by The Chaser's Craig Reucassel, also continues to recall some of Aunty's other more provocative moments — such as when comedy show The Micallef Program and even current affairs flagship Four Corners irked the RSL.
Mocking and antagonising politicians rate a mention, including a mock obituary for then Prime Minister Malcolm Fraser that never made it to air on The Of Show, and former Prime Minister Bob Hawke's treatment by both current affairs and comedy shows.
Also covered is the topic of the 1972 political satire Our Man In Canberra which was controversially dropped by the ABC amid suggestions it was forced by the Government.
Other shows to be featured include comedies Australia You're Standing In It, DAAS Kapital and The Gillies Report and a glimpse at the 1970s documentary series Chequerboard's report on a nudist colony that was banned from broadcast. Even innocent night-time soap Bellbird rates a mention for its controversial killing off of character Charlie Cousens (Robin Ramsay) from atop a wheat silo, a storyline that sparked massive outcry from its devoted audience.
The program also features interviews with Wendy Harmer, Tracey Harvey, Mike Carlton, Tim Ferguson, Rory O'Donoghue, Maurice Murphy, Phil Scott and former ABC Managing Director David Hill.
Shock Horror Aunty. Wednesday 27 November, 9.30pm. ABC1
Source: TV Times, 12 July 1975.