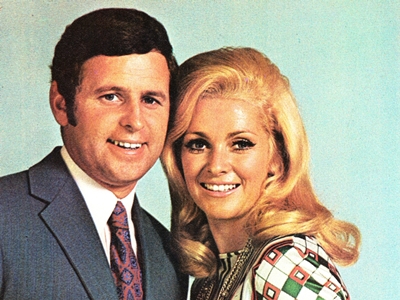 The launch of the Seven Network's Temptation in June 1970 marked the beginning of one of the most successful game show franchises on Australian television.
The show was a creation of producer Reg Grundy, "inspired" after seeing the American game show Sale Of The Century. He revised the format and came up with the new title before successfully selling the concept to Seven and to a sponsor, Coles New World supermarkets.
Temptation was hosted by Tony Barber, a relative unknown on television at the time apart from appearing as "the whistler" (pictured) in a TV Week Logie Award-winning commercial for Cambridge cigarettes. Barber had been a radio announcer and nightclub performer in Perth before moving to Sydney in the early 1960s, where his club act soon saw him signed up by celebrity agent Harry M Miller. A guest appearance on ATN7's Tonight Show encouraged Grundy to audition him for hosting Temptation.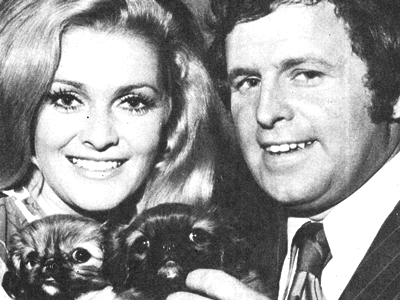 Sydney model and dancer Barbara Rogers was appointed as Barber's co-host. Rogers had appeared in television commercials for over a decade, starting when she was a teenager.
The pair spoke admirably of each other before the show's debut. "He's gorgeous and he's great to work with," Rogers told TV Week. "And she's just tremendous," Barber said of his co-host.

YouTube: FrozenDoberman
Theirs was a chemistry that sparked and, as they recalled later, marked something of a generational change in television. Their predecessors were the more genteel Bob and Dolly Dyer, from the long-running Pick-A-Box, but Barber with his boisterous enthusiasm and Rogers' on-camera charm and '70s fashion were a hit with viewers.
Temptation began as a one-hour show every weekday afternoon, starting on 1 June 1970. When Pick-A-Box, a weekly prime time show, was coming to an end in 1971, Grundy took the initiative and convinced Seven to fill the timeslot with a night time version of Temptation, offering bigger prizes and a new name — The Great Temptation — while maintaining the daytime original.
The Great Temptation launched on 5 July 1971, initially as a weekly half-hour show. By 1972 it was increased to two nights a week and, from 1973, 'stripped' Monday to Friday. It had become a ratings hit in the important 7.00pm timeslot. Barber went on to win a TV Week Gold Logie for Most Popular Personality on Australian Television, and Rogers won two Logies for Most Popular Female Personality In New South Wales.
Seven then took a gamble in 1974 to shift the show to the 8.30pm timeslot, then dominated by the 0-10 Network soap Number 96. It was a risk that did not pay off, and both Temptation and Great Temptation were gone by the end of the year.
Barber stayed working with Grundy, going on to a short-lived game show, Name That Tune, before having more luck with a new Perth-based game show, Family Feud, that eventually ended up being relocated to GTV9 in Melbourne.

YouTube: Australian Television Archive
By 1980, Temptation was being revived but this time on the Nine Network and with the original overseas title, Sale Of The Century, having formed an agreement with its custodian in the US. Barber was recalled from Family Feud to host the new show.
Sale Of The Century debuted on 14 July 1980, with Barber and Victoria Nicolls as its first hosting double. The show became an even bigger hit than Great Temptation had been, earning Nine huge ratings in the 7.00pm timeslot.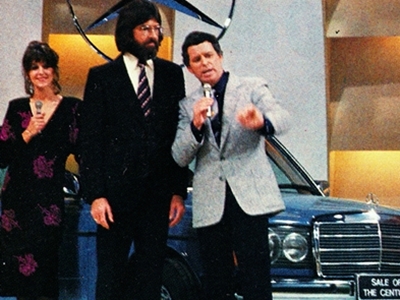 Its success prompted Grundy to head to the US to sell the Americans his beefed up format of what the they created in the 1960s. NBC picked it up and Grundy produced the American Sale Of The Century, based on the Australian adaptation, for six years.
Back home, Sale Of The Century continued through to 2001 — including being re-named Sale Of The New Century during 2000 — before Nine rested the show. It was to come back in 2005, reviving Grundy's original 1970 title Temptation, and hosted by Ed Phillips and Livinia Nixon (pictured).
The new version of Temptation continued through to 2009.
In 2018, Temptation's original duo, Tony Barber and Barbara Rogers, were reunited on Studio 10 and recalled their days with the popular show:

YouTube: Studio 10
Source: TV Week, 30 May 1970, 30 October 1971, 3 March 1973, 15 December 1973. Reg Grundy, Reg Grundy.