'A giant Godzilla grabbed us'
Cameron Daddo (pictured) has written in TV Week about the recent earthquake to hit Los Angeles: "It was my first experience of an earthquake. As if the giant clawed hand of an angered Godzilla had grabbed us. At 4.30am on Monday, 17 January, I awoke to a symphony of car alarms and vibrating windows. When I realised what was going on, the bed was doing 'bunny-hops' and Mother Earth was groaning in pain — a noise I will never forget. Directly after the quake,I grabbed the phone and called my wife, Alison, to tell her the news: 'S***, here comes another one!'. The first aftershock almost turfed me off the bed. I assured Al that I was okay and we did our usual long goodbye. I surveyed the apartment and wandered down the plaster-covered stairs to see how the neighbours were doing and to listen to their battery-operated radio. It was only then that I realised how bad it all was. When the power was restored and the TV signal finally came through, I saw images live and in-your-face as only the Yanks can do."
And the earth moved for Gavin, too
Former A Country Practice star Gavin Harrison was also caught up in the LA earthquake. Just hours before the quake struck, Harrison had been driving on the Santa Monica Freeway. That freeway became a twisted mass of collapsed concrete and steel. "I am very lucky," he told TV Week. "If I had decided to come home a couple of hours later, I'd be a part of that rubble."
In: Toni. Out: Tina
Toni Pearen (pictured) has scored an eight-week guest role in Home And Away, playing the part of a schoolteacher. The role comes after Pearen was recently threatened with her life while performing in the Queensland town of Gladstone. "I was just about to go on when we got a call from a guy who said, 'You'd better get everyone out of the nightclub because we're going to blow it up, and Toni Pearen with it!'. I panicked. I really did, because nothing like that has happened to me… but the police took it seriously," she told TV Week. Meanwhile, Tina Thomsen, who plays Finlay Roberts, is leaving Home And Away after three years. "I didn't really feel my character was going anywhere," she said. "People have known for a while that I've wanted to leave."
Briefly…
Former Home And Away star Rebekah Elmaloglou has returned from performing in the pantomime Aladdin in the UK to take up a role as guest reporter for Seven's The Great Outdoors. "I've always watched friends, such as Sofie Formica, on the show and wished I had the opportunity to report, because I am interested in that," she told TV Week. Elmaloglou will also be starring soon in the upcoming feature film The Sum Of Us.
Peta Toppano (Prisoner, Return To Eden) is set to join the cast of Ten's new drama series Heartbreak High for a 13-week guest role.
Former Beyond 2000 reporter Simon Nasht is joining SBS' new computer and technology series The Big Byte, joining Basia Bonkowski. The Big Byte will be taped in New Zealand and will screen in both Australia and New Zealand later in the year.
Production of ABC's troubled drama project The Damnation Of Harvey McHugh is now back in progress. Some episodes are being re-filmed for new producer Sue Masters but the cast is not expected to change. The series is expected to go to air mid-year.
Lawrie Masterson: The View From Here
"The gimmicky line they're using to promote the new US series The X Files is: "Don't watch it on your own". Well, I did… on your behalf, of course, and with the light on, but, then again, I was making notes. The X Files is one of the new cult hits from America's Fox Network, which has to be given credit for trying to be a bit different occasionally."
Program Highlights (Melbourne, February 12-18):
Saturday: The Australian Skins Golf (3pm, Seven) is broadcast live from Mackay, Queensland. Larry Emdur hosts the Uncle Toby's Ironman Super Series (3pm, Ten) from Manly, Sydney. Hey Hey It's Saturday (6.30pm, Nine) returns for the new year with Daryl Somers and Ossie Ostrich (pictured). Drew Morphett hosts live coverage of the pre-season AFL game between Aboriginal All-Stars and Collingwood, from Darwin (8.30pm, Seven).
Sunday: The Fast Forward special 38 And A Bit Fabulous Years Of Australian Television (7.30pm, Seven) takes a comical look at Australia's television history — featuring Magda Szubanski, Marg Downey, Gina Riley, Michael Veitch, Jane Turner, Geoff Brook, Steve Blackburn, Alan Pentland, Glenn Robbins and Peter Moon. The Winter Olympics from Lillehammer, Norway, begin with the Opening Ceremony (8.30pm, Nine). Sunday night movies are The Hand That Rocks The Cradle (Seven) and Terminator 2 — Judgment Day (Ten).
Monday: ABC programs TVTV (6.30pm), Four Corners (8.30pm) and Media Watch (9.15pm) are back for the new year. Andrew L Urban hosts new series Front Up (8pm, SBS), featuring spontaneous interviews with ordinary Australians. The Winter Olympics settles into its regular nightly coverage (8.30pm to midnight, Nine).
Tuesday: GP (8.30pm, ABC) returns with a 90-minute special episode — featuring the arrival of new doctor Martin Dempsey (Damian Rice).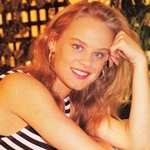 Wednesday: In Neighbours (6.30pm, Ten), Annalise (Kimberley Davies) fears for her safety when Tim (Drew Tingwell) bails her up in the empty Waterhole. Dino, Where You Been?, featuring Nadine Garner (pictured), is the first of SBS' new Under The Skin (8pm) series of dramas.
Thursday: Sandy Roberts hosts live coverage of the Australian Masters golf (12pm, Seven) — with coverage continuing through to Sunday. In Home And Away (7pm, Seven), Angel (Melissa George) remains determined to tell Dylan (Jimmy Lucini) she is his real mother.
Friday: In The Great Outdoors (7.30pm, Seven), Sofie Formica visits the rainforest and sub-alpine areas of Tasmania's Mount Field National Park; Frankie J Holden reports on the children's facilities at Great Keppel Island; and Bridget Adams sets off on a three-day journey across the Simpson Desert.
Source: TV Week (Melbourne edition), incorporating TV Times and TV Guide. 12 February 1994.  Southdown Press