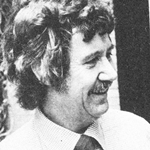 Reg Grundy, the radio announcer who went on to become one of Australia's most successful television producers, has died at the age of 92.
His media career began in the 1950s as a sports commentator on Sydney radio station 2SM. This led to him developing and hosting radio game shows, the most successful being Wheel Of Fortune which began at radio station 2CH and later moved to TV with a daytime show on TCN9.
The success of Wheel Of Fortune led Grundy to form his own production company, mainly focusing on game and quiz shows. Early efforts included the children's show Ampol Stamp Quiz and the long-running Brisbane-based I've Got A Secret.
It was while producing I've Got A Secret that Grundy met his future wife, model Joy Chambers. Chambers had auditioned for a part in the panel show and instantly caught Grundy's attention. She scored the job and, eventually, became Mrs Reg Grundy.
Grundy continued producing game shows, most often adapting formats developed overseas, but also ventured into other genres. A counselling program, Heartline, was based in Brisbane but shown on other stations across the Seven Network in the early 1970s.
When quiz and game shows were losing favour with the networks, Grundy expanded his portfolio to include drama. His first drama project was the soapie drama Class Of '74 for the Seven Network. The series was successful enough to go onto Class Of '75 and led to more productions: The Young Doctors, Glenview High, Chopper Squad and The Restless Years. Entertainment programming included Bandstand '76, Pot Of Gold, The Better Sex, The Celebrity Game and Family Feud and the co-production of the feature film ABBA The Movie.
Grundy had successfully lured Graham Kennedy back to television after his abrupt parting from the Nine Network two years earlier. Kennedy's hosting of Blankety Blanks made that show a hit for the 0-10 Network and scored Kennedy yet another Gold Logie.
The success of Grundy's drama series Prisoner in Australia led his break into the US market, with the series syndicated to a number of stations across the country. This was followed by Grundy scoring the contract to produce two quiz shows — Scrabble and Sale Of The Century — for American network NBC. At the time it was an unheard of achievement for an Australian production company.
The Australian version of Sale Of The Century, launched in 1980, was an immediate success which ran for over 20 years. Other game shows to follow included Wheel Of Fortune (this time based as a franchise of the US format), The New Price Is Right, Personality Squares, Perfect Match, It's A Knockout and remakes of Blankety Blanks and Family Feud.
Success with soapies continued through the 1980s. Sons And Daughters was a hit that ran for six years and sold well overseas, and Neighbours was devised in 1984. Within two years, Neighbours had been launched and axed once by the Seven Network, then picked up by Network Ten where it became a ratings hit in Australia. But the show's success boomed when it was picked up by the BBC in 1986, and subsequently shown across Europe and even had a brief run in the United States and Canada.
Grundy sold his production empire to British media company Pearson Television in 1995. It is now a branch of the international FremantleMedia group.
The company continues to produce Neighbours and Wentworth, the modern-day adaptation of Prisoner.
Grundy was inducted into the TV Week Logie Awards Hall Of Fame in 1993 and was made a Companion of the Order of Australia in the Queen's Birthday Honours of 2008.
Reg Grundy is survived by his wife Joy Chambers and a daughter from his first marriage.