Home or Away?
Former Home And Away star Rebekah Elmaloglou (pictured) now appears unlikely to settle in the UK after a recent stint on the pantomime circuit.  "I got very homesick," she said.  "I prefer living in Australia."  The young star is looking at acting opportunities in Australia but is not keen to rush back into a long-term series.  "I wouldn't do a long-running show again.  It was great experience but now I'd like to do film, a telemovie or mini-series," she said.
Time runs out for Tracey
The Nine and Seven networks have got caught up in a legal battle over the services of journalist Tracey Curro.  In January, Curro was offered TV journalism's ultimate goal — a reporting gig on 60 Minutes, replacing Jennifer Byrne who had made the sudden decision to leave the program.  The lawyers got involved when it became known that Curro is still contracted to Seven's Beyond 2000 until August — but 60 Minutes' producer John Westacott has said that the vacancy may not be available for that long.  In Sydney's Supreme Court, Seven and producers Beyond were granted an injunction preventing Curro starting at Nine.  Nine has appealed the decision and is waiting an outcome.  "Tracey has been caught up in what is a muscle-flexing exercise by Nine and Seven," Westacott told TV Week.  "Seven aren't monsters and neither are Nine.  If Seven wanted to prove a point, well they've proved it.  It's now time to consider Tracey."  Beyond 2000 producer Peter Abbott says there is no animosity towards Curro.  "I only hope she can steer through this to a long and successful career," he said.  "Personally, I bear her no animosity, but I have a show to think of."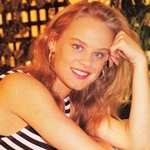 Acting gets under Nadine's skin
Award-winning actress Nadine Garner (pictured) was ready to give up acting a year ago, frustrated by the constant battle for work, but since a guest role in the second series of Phoenix she has reconsidered her position.  "Acting is something I enjoy.  I don't think I can walk away … it's too important to me," she told TV Week.  The 22-year-old has since scored a role in the upcoming film Speed, from the producers of Romper Stomper, and a part in the SBS series Under The Skin.
Briefly…
Now that production has wound up on E Street, former series star Simon Denny has knocked back an ongoing role in Home And Away but has accepted the offer of a guest appearance in A Country Practice.  Meanwhile, Melissa Bell is tipped to return to Neighbours.
Seven Network's current affairs boss Gerald Stone is believed to be discussing plans for a prime-time series with Jana Wendt — currently on a year's leave from television.  Wendt is believed to be interested only in "Barbara Walters-style" interview specials.
Queen Elizabeth II, played by Gerry Connolly (pictured), had to withdraw from hosting the recent Charity Comedy Gala in Melbourne at the last minute after an accident in rehearsal led to Connolly suffering torn ligaments and ending up in a wheelchair.  Ernie Dingo, originally signed as the gala's guest of honour, was asked at the last minute to host the event.  "It was all so spur of the moment, very unfortunate that the guest of honour ended up being the host," Dingo told TV Week.  "I suppose these things are meant to try us.  If I had known about the situation (Connolly's injury) earlier, I could have prepared myself.  I didn't have time to do that and it showed."  The Charity Comedy Gala, held at Melbourne's Athenaeum Theatre, airs on Seven this week.
Lawrie Masterson: The View From Here
"The Nine Network is certainly wasting no time putting to air its new Australian drama Law Of The Land.  It is due to have its premiere with a two-hour episode at 8.30pm (on Tuesday) and will go into a 9.30pm slot after that, but only the first hour of the show had been completed in time for me to review.  Following the disaster of RFDS, Nine really needs this one to work.  It's pleasant enough without being a real grabber, but I'll give it a chance."
Program Highlights (Melbourne, April 18-24):
Sunday:  Afternoon sport includes the NBL Mitsubishi Challenge (12pm, Ten), the Japanese 500cc Grand Prix (2pm, Nine) and AFL (1pm, Seven).  Sunday night movies are The Russia House (Seven), Presumed Innocent (Nine) and Terminator 2 — Judgement Day (Ten).
Monday: HG Nelson and Roy Slaven host the new sports commentary program This Sporting Life (9.30pm, ABC).
Tuesday:  In All Together Now (8pm, Nine), Thomas (Steven Jacobs) annoys everyone with his practical jokes and they plan to get back at him.  New series Law Of The Land debuts (8.30pm, Nine) — telling the story of a young lawyer who leaves a city practice to become a country town magistrate, starring David Roberts, Lisa Hensley, Debbie Byrne (pictured) and Richard Moir.  The one-hour special Fast Forward — Exposed (9.30pm, Seven) features cast members of the sketch comedy series presenting their favourite sketches and showing how some of the show's tricks were done.
Wednesday:  Ernie Dingo hosts the Melbourne International Comedy Festival's Charity Gala (8.30pm, Seven), from the Athenaeum Theatre, Melbourne — featuring appearances by Marty Putz, Ross Daniels, Rachel Berger, Greg Champion and the musical cabaret The Monte Carlos.  Current affairs host Derryn Hinch presents The Skase Mirage (8.30pm, Ten), a two-hour special featuring interviews with former businessman and media tycoon Christopher Skase, who had fled to Spain four years earlier to escape the Australian media and authorities.
Thursday:  In Getaway (7.30pm, Nine), David Reyne discovers the delights of Bora Bora Island and visits Melbourne's Southgate, Tina Dalton visits Appletree Cottage in South Australia, Jeff Watson goes wine tasting in the Hunter Valley and visits a nudist colony, and Anna McMahon swims with the dolphins at Rockingham, Western Australia.
Friday:  Frankie J Holden joins the cast of The Great Outdoors (7.30pm, Seven), presenting a story from the Australian War Memorial, Canberra.
Saturday:  In Beyond 2000 (7.30pm, Seven), Tracey Curro reports on military night vision goggles, and Andrew Waterworth takes a leap into the future at Tokyo University, where research is being made into the possibility of self-maintained machines.
Source: TV Week (Melbourne edition), incorporating TV Times and TV Guide.  17 April 1993.  Southdown Press.