Thirty years ago, the Seven Network and lawyer-turned-comedian Steve Vizard gave the 10.30pm timeslot a shake-up with their new variety show, Tonight Live With Steve Vizard.
Vizard had been part of the team involved in the late-night sketch comedy series The Eleventh Hour, made for HSV7, Melbourne, in 1985. While many of his fellow cast members went on to form The Comedy Company for Ten, Vizard went back to his legal career — until Seven made him an offer to come back to form a new comedy show. That show became the sketch comedy series Fast Forward, with Vizard as producer, writer and co-star, that became a hit for Seven in 1989.
Seven then approached him for its next project, a five-night-a-week late night variety show to replace the more sedate Newsworld with Clive Robertson.
Heavily borrowed from The Late Show With David Letterman in the US, the new show called Tonight Live debuted on 29 January 1990 and delivered five nights a week of late night variety, interviews, comedy and lots of studio and outside broadcast stunts. Any overseas or visiting artist or performer would inevitably end up as a guest on Tonight Live.
Boosting Seven's late night ratings, the show was some welcome light relief for the network, which at the time of Tonight Live's launch had just gone into receivership — a fact frequently quipped by Vizard on the show.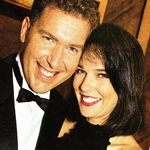 Tonight Live turned Melbourne newsreader Jennifer Keyte into a national star as she presented the news headlines at the top of the show. When Keyte left, Vizard replaced her with a reporter, Naomi Robson, who had only just joined the network and had barely any on-air experience but was suddenly fronting the news on national prime time television. Robson went on to be a Seven Network presenter for more than a decade.
There were numerous guest hosts over the show's four year run, while comedian Richard Stubbs became the show's resident Friday night host.
Vizard went on to win a TV Week Gold Logie in 1991 for Most Popular Personality on Australian Television.
In 2018, Vizard and Keyte (now chief newsreader for Ten in Melbourne) were reunited on the set of Studio 10 to talk about Tonight Live:

YouTube: Studio 10
Source: TV Week, 27 January 1990.