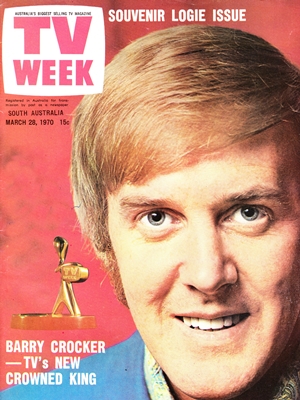 The 62nd annual TV Week Logie Awards were meant to happen this Sunday 28 June. While the awards will not be taking place this year, we continue the annual rundown of past Logies presentations to coincide with what would have been Logies weekend. Starting with the 1970 awards — 50 years ago. 
Sound Of Music host Barry Crocker and daytime TV presenter Maggie Tabberer were Gold Logie winners at the 12th annual TV Week Logie Awards.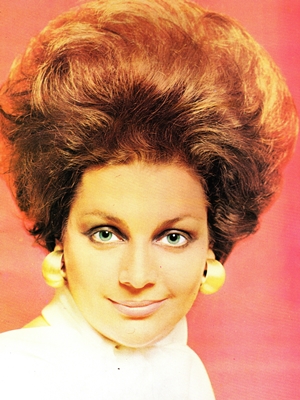 The awards were held on Friday 20 March 1970, at the Southern Cross Hotel in Melbourne and hosted by Bert Newton. The presentation was broadcast live through the Nine Network in Sydney and Melbourne, and on relay to CTC7, Canberra.
Crocker's Gold Logie for Best Male Personality comes a year after he left hosting the 0-10 Network's Say It With Music and took over at Nine's Sound Of Music. Sound Of Music also won the Logie for Best Australian Musical/Variety Show.
A former model, Tabberer gained a national profile as a panellist on Beauty And The Beast before scoring her own afternoon show, Maggie, seen on the Seven Network. Her Gold Logie win as Best Female Personality came after Logie judges had opted not to award a Gold Logie in the female category for the previous two years.
The Nine Network drama series Division 4 won the Logie for Best Australian Drama. The series, which debuted in 1969, ended Homicide's five-year winning streak in the category.
Pop star Johnny Farnham won Best Australian Teenage Personality for the second year running. The 20-year-old chart topper was also on the verge of breaking into a TV career. Just months after this Logie win, he scored a presenting job on a school holiday series, Good Morning Melbourne.
ABC series Chequerboard won the Logie for Best Australian Documentary Series. Chequerboard took the emphasis away from the interviewer and let its subjects tell their story in their own words. The show was a pioneer in incorporating "fly on the wall" perspectives, showing its interview subjects going about their day-to-day activities. It was a filming technique that is very common today but was groundbreaking for the time.
Jeff Phillips, a contestant on New Faces who went on to host his own show, Sounds Like Us on ABC, won the George Wallace Memorial Logie For Best New Talent.
Steve Raymond, a journalist with Sydney's TEN10, won Best News Reporting for two big news scoops during 1969. He scored an exclusive interview with English singer-actress Marianne Faithfull, who was in a Sydney hospital recovering from a drug overdose. The interview was sold overseas, including being published in full on the front page of a London newspaper. The other big news story was Raymond's coverage of a funeral for seven teenagers killed in a high-speed car crash in the remote NSW farming town of Warren. His reporting of the funeral attracted the praise of NSW Premier Robert Askin.
A commercial for Coca-Cola won the Logie for Best Commercial. The commercial featured a filming process that gave it a unique appearance with dancers and surfers shown as silhouettes and light outlines against a dark background. Filmed on Palm Beach in Sydney, with a soundtrack recorded by Doug Parkinson and featuring choreography by Ronne Arnold, the commercial led a saturation campaign by the soft drink maker. A colour version of the commercial was also made for cinema screening and won the Silver Lion Award at the Cannes Film Festival as the best soft drink commercial.

YouTube: retrooldcommercials
As well as the publicly-voted awards, TV Week Logie Awards judges also awarded six special awards: To transport magnate and ATV0 owner Reg Ansett for staging a boxing title fight that broke TV ratings records; to producer Hector Crawford, maker of successful programs including Homicide, Division 4 and Showcase; to children's program Here's Humphrey; to compere Bert Newton for his hosting of special events; to ABC documentary Dig A Million, Make A Million, reporting on the increasing overseas interests in Australia's mining boom; and to the Apollo 11 crew for creating "TV Greatest Moment" with their moon landing.
Included in the state-based awards, GTV9 presenters Mike Preston and Rosemary Margan won Best Male Personality and Best Female Personality in Victoria for the second year running. In Melbourne Tonight was voted Best Show in Victoria for the ninth time. Don Lane won Best Male Personality again for NSW, and his Tonight show again won Best Show in NSW.  Rosemary Eather, host of Ten's Good Morning!, won Best Female Personality in NSW.
Ernie Sigley, Anne Wills and Adelaide Tonight again took out the South Australian awards. Joy Chambers again won Best Female Personality in Queensland, and Lindsay Edwards and Caroline Schmitt won the awards for Tasmania for another year.
Western Australia had not had a Logies appearance since 1964. With the state-based categories' return to the state, Perth TV presenters Garry Meadows and Trina Brown, both from TVW7, won the Best Personality awards for Western Australia. Best Show was awarded to ABC's Today Tonight, the local version of the national This Day Tonight.
Special guests at the awards presentation included Robert Young (Marcus Welby MD), Peter Graves (Mission: Impossible), Peter Wyngarde (Department S) and Australia's 1968 Miss World, Penny Plummer.
Peggy Lipton, from US series Mod Squad, which won the Logie for Best Overseas Show, was also set to appear as a special guest, but had to cancel due to illness. She did make it to the Logies stage over 20 years later, in 1991.
National Awards:
Gold Logie — Best Male Personality: Barry Crocker
Gold Logie — Best Female Personality: Maggie Tabberer
Best Teenage Personality: Johnny Farnham
Best Musical/Variety Show: Barry Crocker's Sound Of Music
Best Drama: Division 4
Best Documentary Series: Chequerboard
Best Commercial: Coca-Cola
Best Overseas Show: Mod Squad
Best News Reporting: Steve Raymond
George Wallace Memorial Logie For Best New Talent: Jeff Phillips
Special Award — Pioneering Australia's First Championship Boxing Telecast: Reg Ansett
Special Award — Contribution To Australian Television: Hector Crawford
Special Award — Best Children's Show: Here's Humphrey
Special Award — Best Compere: Bert Newton
Special Award — Best Documentary: Dig A Million, Make A Million (ABC)
Special Award — Gold Logie For Providing TV's Greatest Moment: Apollo 11 crew Neil Armstrong, Buzz Aldrin, Michael Collins.
State-based awards (Best Male Personality, Best Female Personality, Best Show):
NSW: Don Lane, Rosemary Eather, Tonight
VIC: Mike Preston, Rosemary Margan, In Melbourne Tonight
QLD: Ron Cadee, Joy Chambers, The Dick McCann Show
SA: Ernie Sigley, Anne Wills, Adelaide Tonight
WA: Garry Meadows, Trina Brown, Today Tonight
TAS: Lindsay Edwards, Caroline Schmitt, It's Just For Us
Source: TV Week, 28 March 1970, 4 April 1970