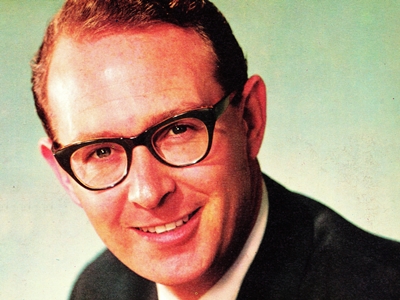 Brian Henderson, for so many years the face of National Nine News in Sydney, has died at the age of 89.
Having already beaten melanoma, prostate, bowel and throat cancer over the years, in 2020 he revealed that he had been diagnosed with kidney cancer and chose not to undergo major surgery and to let nature take its course.
He passed away with his wife of 55 years, Mardi, and daughters by his side.
He was born in New Zealand in 1931. By the 1950s he was working in Sydney radio. Once television arrived, he quickly became a constant presence at TCN9 for over forty years, as a newsreader and for 14 years the host of the pop music program Bandstand, which screened nationally.
He hosted the popular music show through to 1972, winning a TV Week Gold Logie in 1968 for Most Popular Personality on Australian Television.
After the demise of Bandstand, Henderson continued to read the news at TCN9. He survived Nine's ill-fated attempt in the 1970s at a dual Sydney-Melbourne news bulletin, News Centre Nine, and fought back to dominate the ratings despite every effort by rival networks to topple him.
He retired from Nine in 2002 but in later years made a low-key return to television to narrate a documentary for Foxtel based on the 1977 Granville train disaster.
In 2013 he was inducted into the TV Week Logie Awards' Hall of Fame.
In a statement from Nine, Chairman Peter Costello, paid tribute to Henderson:
"Brian Henderson was the best of the best, he was iconic. The ultimate professional and the trusted face of television news for generations of Australians. Hendo was not just a much loved newsman he also brought modern pop music to generations of Australian teenagers through his hosting role on Bandstand.
"He was trusted, he had a warmth that he brought into the living rooms of millions of Australians. He will be deeply missed but his giant legacy and contribution will live on in the DNA of Nine."
Darren Wick, Nine's Director of News and Current Affairs, said:
"Hendo was much loved and idolised by everyone of us lucky enough to have worked with him and learn from him.
"He was the epitome of credibility, reliability and clarity. He set the standard that we aspire to live up to night every night of the week."
Source: Nine News, Nine For Brands