Cover: Sonia Todd (Police Rescue)
The D-Generation of current affairs
The nightly chase for ratings between A Current Affair and Real Life has inspired the D-Generation's newest project, Frontline. The 10-part ABC series goes behind the scenes of a fictional current affairs program hosted by Mike Moore, an ex-ABC journalist now thrust into the commercial TV spotlight — a scenario which draws parallels to Seven's Real Life, hosted by former ABC reporter Stan Grant, though "spies" from various networks are said to have provided anonymous tip offs to some of the workings of commercial TV current affairs. Rob Sitch, who plays Mike Moore, says the 60 Minutes special where Jana Wendt analysed media behaviour was the impetus for the new project. "The hilarious irony of that program was they were looking at all the tricks of the media and how it's all done, and in actual fact it was a two-hour taping that was cut down to 46 minutes," he told TV Week. "The irony seemed to be lost on everyone that in trying to expose the lies within the media, they went and perpetuated another one, by making it look like the special was in real time." Starring alongside Sitch are D-Generation colleagues Jane Kennedy and Santo Cilauro, joined by Tiriel Mora, Alyson White and Bruno Lawrence.
Cut it out!
The two actors who feature in a steamy scene in an upcoming episode of Heartbreak High have hit out at Network Ten for censoring the scenes for being "too realistic". The episode sees Christina (Sarah Lambert) and drama teacher Phil North (Peter Phelps) consummate the attraction they had been trying to deny. "Channel Ten got scared with a particular scene between him and me," Lambert told TV Week. "Apparently, adults aren't allowed to have sex, but the kids are," Phelps said, in reference to an earlier episode where teenagers Nick (Alex Dimitriades) and Jodie (Abi Tucker) slept together. "It's like the kids go, 'Oh, gross' — as if it were their mum and dad having sex." So while the steamy scenes won't go to air, other tamer ones will. Heartbreak High screens in the early evening timeslot of 6.30pm Sunday.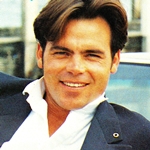 'I'm playing a gay… so what?'
Former Home And Away star John Morris (pictured) says he is unfazed about playing the part of a gay building foreman in Neighbours — a character that is set to cause some controversy on screen. "Personally it doesn't bother me at all, though as an actor I think it's a necessary situation in society and it's no big deal," he told TV Week. "It's real life. I'm playing a character that's gay — so what? I don't know how the general public will react to that, but this guy is a pretty normal sort of bloke. He's a normal Australian guy who happens to have a sexual preference that's not of the norm, that's all." Having lived in the UK, Morris says British fans will be pleased with the character's arrival. "They'll be saying over there, 'About time he had that going', because they've been having gay characters on TV for years."
Briefly…
Following recent speculation over the future of the low-rating Alan Jones Live, this week it is replaced by reruns of US sitcom Roseanne.
The Nine Network's holiday series Getaway is due to return next month with a new reporter (replacing David Reyne) and possibly a second new presenter. Cricket star and Midday regular Simon O'Donnell was offered a job with the program but surprised executives when he turned it down.
Former Neighbours star Mark Little (pictured) has scored one of the most coveted jobs in British television — as a new host on Channel 4's The Big Breakfast. "The audition process lasted four months and involved a couple of on-air shows, a couple of dummies, meeting the producers and the team," he told TV Week. "They know me in Britain because of Neighbours and because of my comedy work. I've been to Edinburgh twice and toured with my one-man show." The new job comes after the disappointment of Little's sitcom pilot No Worries not being picked up by networks. "There was no room for it because it was never made for a certain slot. It was a disappointment, but this job is all about disappointments… the highs and the lows."
Former E Street stars Bruce Samazan and Josephine Mitchell are now working together again, on Neighbours. Mitchell is joining the series in the guest role of wheelchair-bound Katarina, who invites Mark (Samazan) to help her organise events to publicise the Paralympics. "I think it's really good that Neighbours is featuring characters such as Katarina, who are not like the majority of people," Mitchell told TV Week. "Most people don't have to deal with a disabled person in everyday life, so a show such as Neighbours can help increase awareness and stop discrimination against them."
Lawrie Masterson: The View From Here
"It is difficult not to like Brett Butler, even after the soppy start to her sitcom, Grace Under Fire. She seems to fill out her Levis in too many of the wrong places and her almost deadpan, Southern drawl reeks of a postcode far removed from 90210. A couple of American magazines, in their haste to pidgeon-hole anyone new, have dubbed Brett Butler "The New Roseanne". I happen to think the old Roseanne is more than enough, thank you very much."
Program Highlights (Melbourne, May 14-20):
Saturday: The FA Cup Final — between Manchester United and Chelsea — is broadcast live from Wembley Stadium (10.55pm, SBS).
Sunday: Arts program Sunday Afternoon With Peter Ross (1.30pm, ABC) includes coverage of the BAFTA Awards. In Heartbreak High (6.30pm, Ten), Yola's (Doris Younane) life becomes complicated when Danielle's sister (Jennifer Hardy) confides that she is pregnant and doesn't want to tell her parents. Sunday night movies are Lethal White Female (Seven), Mermaids (repeat, Nine) and Sea Of Love (repeat, Ten).
Monday: James Sherry hosts the debut of children's game show A*Mazing (4.30pm, Seven). In Home And Away (7pm, Seven), Shane (Dieter Brummer) is determined to prove his worth to Angel (Melissa George). The Talk Show (7.30pm, SBS) presents a special one-hour episode to commemorate 1994 as Year Of The Family.
Tuesday: In Blue Heelers (7.30pm, Seven), when a young employee of a record store is caught stealing, she accuses her both of sexually interfering with her. In GP (8.30pm, ABC), Tessa (Marilynne Paspaley) and Julie (Denise Roberts) unwind at a health farm for the weekend, but leave with chicken pox.
Wednesday: In Hey Dad (7.30pm, Seven), Greg's (Mark Owen-Taylor) attempt to drag the workplace into the 20th century falls flat. In A Country Practice (7.30pm, Ten), Danny's (Vince Colosimo) mother Sophia (Agnieszka Perepeczko) arrives unannounced and tries to talk him out of a police career.
Thursday: In Neighbours (6.30pm, Ten), Mark (Bruce Samazan) is not handling his resignation from Lassiter's with good grace. In Beyond 2000 (7.30pm, Ten), Iain Finlay reports on the first television recycling plant that has been set up by Philips in Eindhoven, and Dr Caroline West tries out voice-activated ATMs.
Friday: In Home And Away (7pm, Seven), Shane's (Dieter Brummer) generosity towards Angel (Melissa George) backfires. In Rex Hunt's The Great Outdoors (7.30pm, Seven), guest reporter, AFL star Paul Salmon travels to the Victorian town of Thorpdale for a day of celebration, races and novelty events revolving around the potato; Penny Cook visits the Royal National Park to see how the flora and fauna are recovering from the recent bushfires; and Ernie Dingo joins members of the over-40s Ulysses Motorcycle Club on one of its day trips.
Source: TV Week (Melbourne edition), incorporating TV Times and TV Guide. 14 May 1994. Southdown Press.