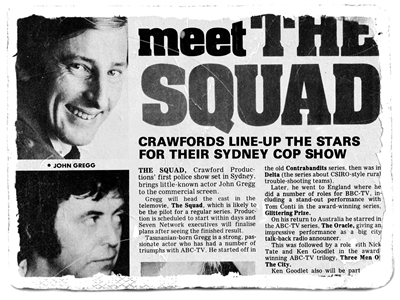 In May 1981, the Seven Network and Crawford Productions had announced plans to produce a new Sydney-based crime drama, The Squad, with a telemovie pilot soon to go into production. It was heralded as the first Sydney-based series from the Melbourne-based Crawford empire, which had several successful cop dramas under its belt by this stage.
Leading the cast of The Squad was John Gregg (Contrabandits, Delta, The Oracle), Frank Gallacher (Against The Wind, The Last Outlaw, Water Under The Bridge, Skyways), Ken Goodlet (The Long Arm, Bluey, Cop Shop, The Last Outlaw), Louise Howitt (Young Ramsay), Roger Ward (Number 96) and NIDA graduate Andrew Clarke.
It seems that Seven wasn't all that impressed with the pilot, eventually re-named Homicide Squad, that resulted. ATN7 in Sydney waited to broadcast it after the end of the 1981 ratings season in November. HSV7 in Melbourne held on even longer, belatedly airing it during the May school holidays in 1982 — another non-ratings period at the time.
The Age's TV critic Brian Courtis was brutal in his review of Homicide Squad, stating that it "does for television drama what Sale Of The Century does for the arts".
TV Week movie critic Ivan Hutchinson was a little more charitable, labelling it an "interesting thriller" and that "viewers should not necessarily be discouraged by the fact that the planned series failed to eventuate. Decisions about the future of series are not always made on the grounds of quality." He still only scored it one-star out of a possible four.
The Melbourne broadcast of Homicide Squad is among the latest addition of Classic TV Guides:
Source: TV Week, 2 May 1981, 15 May 1982. The Age, 18 May 1982.