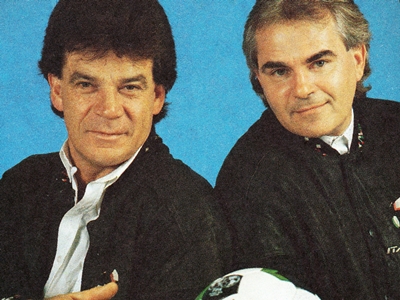 Since its inception in 1980, SBS has championed and promoted the world game of football, or soccer, to the domestic audience. The network covered local and overseas competitions and programs like World Soccer brought the game into the Australian mainstream. Before then, soccer was mostly allowed not much more than maybe an hour a week in obscure late-night timeslots not given much attention by ABC or commercial networks.
But for all of its commitment and passion for the game, the biggest competition of them all, the FIFA World Cup, was not to be seen on the network whose initials made it jokingly known as the "Soccer Broadcasting Service". The global contest was barely covered on Australian TV except for limited coverage on ABC… if that.
The situation changed in some way in 1986, when SBS partnered with ABC to cover the FIFA World Cup from Mexico. ABC held on to the opening ceremony, play-offs and finals — some of which not broadcast live — leaving SBS with the earlier first round matches.
For the 1990 rights, SBS joined ABC's bid. This was until SBS realised that the small print left SBS again as the "junior" partner and ABC keeping the higher profile matches to itself. It also learned that a New Zealand company was also bidding for Australian rights, intending to on sell to an Australian commercial network.
SBS sports chief Dominic Galati then went out on a limb to outbid the opposition, seeking to nail down exclusive rights for not just 1990 but also 1994 and 1998. Galati committed SBS at the last minute to a six-figure sum, hurriedly agreed to by managing director Brian Johns, who now had to justify the major expense at the next senate estimates meeting.
As it turned out, Johns' concerns were alleviated when SBS was allowed to seek corporate sponsorship to pay for its World Cup coverage — in what would be a precursor to SBS starting to supplement its public funding with commercial advertising from 1991.

YouTube: Aussie VHS Archive
Although SBS was offering the most comprehensive World Cup coverage in Australian television history to date (with all 52 games broadcast live, or close to live due to some scheduling conflicts), it still had the challenge that it was only available in the capital cities (and excluding Darwin) and only a few regional centres — and all on the UHF band, when many viewers still had no idea what that was. ABC, despite losing the rights to the smaller network, then chipped in and relayed SBS' coverage (headed by commentators Les Murray and Johnny Warren, pictured above) to areas that did not receive SBS and was also allowed to run a brief highlights package at night across the country.
The opening ceremony and first match (Argentina versus Cameroon) of the 1990 FIFA World Cup is among the latest addition of Classic TV Guides:
Source: TV Week, 2 June 1990. The Canberra Times, 20 May 1990.