TV Turns 40: Bert looks back
Australian TV turns 40 years old in 1996. Bert Newton — who has been involved with TV almost since the beginning — looks back at those early days: "In the major cities in 1956 — TV didn't come to rural Australia until much later, of course — I remember hundreds of people would be grouped outside electrical stores watching the TV screens through the windows. In the suburbs, people would put their kids in their pyjamas, dressing gowns and slippers, take deck chairs up to the local electrical store and sit outside watching TV as if they were at a drive-in!" Newton's TV career began in 1957, as host of HSV7's The Late Show for the grand sum of £25 a week ("a lot of money in those days"). "I started hosting The Late Show on May 3, 1957, at the age of 18. I still can't recall anyone else in Australia who had their own show at 18. And in retrospect, it was too young," he recalls. He lists his career highlights as including hosting the TV Week Logie Awards, his early years at Seven, working with Don Lane and Graham Kennedy, and hosting New Faces and, more recently, Good Morning Australia. He looks at the current state of television with some disappointment. "I don't think it's as good as I'd like it to be. But it's not as bad as some people like to paint it. I don't like to see TV losing that live quality, but I fear it's going to be difficult to retain much of it, because the times and requirements today are different. Then again, if live TV did take off again, we'd have only a handful of performers experienced enough to do it because there it is not a requirement these days."
Logies '96: The Big Deal
TV Week announces a new three-year agreement to have the TV Week Logie Awards broadcast on the Nine Network. The new arrangement ends the system where the awards alternated between various networks each year — with the 1995 awards broadcast on Seven. Colin Duck, chief executive of Pacific Publications (publisher of TV Week), said: "This is a landmark agreement for the TV Week Logie Awards, as it now cements their future until their 40th anniversary in 1998, and it is fitting that the Nine Network is involved. The first-ever Logies were presented during Graham Kennedy's GTV9 program, In Melbourne Tonight, and Nine televised the awards for many consecutive years throughout the Seventies and Eighties. We see the signing of this three-year agreement as a resounding vote of confidence by the network in Australia's longest-running and most prestigious showbusiness awards. We look forward to an exciting Logies presentation on Nine this year and in the years to come." The 38th annual TV Week Logie Awards will take place at Melbourne's new Flinders Park Function Centre, located adjacent to the home of the Australian Open tennis championship.
My hero!
Dr Patricia Edgar, director of the Australian Children's Television Foundation, says that the biggest mistake that producers make is to "soften" children's shows to suit the taste of adults. "Kids love heroes, such as Superman, Batman and the Mighty Morphin Power Rangers," she told TV Week. "A lot of parents forget what it's like to be a child. They take a moralistic stance and think that you (TV producers) should be developing characters that will teach children how to be good little human beings. But kids aren't interested in goody-two-shoes stuff." Dr Edgar is proud of the foundation's productions, including Sky Trackers, Round The Twist (pictured) and the new BBC co-production The Genie From Down Under. Of those children's programs not produced by the ACTF, Dr Edgar lists Here's Humphrey and Muilligrubs as among the best, and nominates Bananas In Pyjamas among her least favourites. "Bananas In Pyjamas is not a great program. Little kids do like it, but it's being promoted as a money-earner to sell product. It's a case where the commercial objective has overtaken the program's objective." Dr Edgar also notes the passing fads of hit shows like Mighty Morphin Power Rangers: "I don't get upset about programs like that. They are passing fads. Power Rangers takes the ingredients of lots of successful shows and puts them all in one. It works with kids. They like it. But next year they will have forgotten it and be on to the next one."
Briefly…
The Nine Network has done a backflip and will now retain Jane Hall as the host of its factual series Weddings. It was earlier reported that Jo Beth Taylor would be taking on the role. Taylor will continue to host Australia's Funniest Home Video Show, but it won't be returning to screens until the second half of the year.
Despite denials that she was unhappy at Seven, Melbourne newsreader Jennifer Keyte has quit the network. Rumours suggest she may be joining the new 24-hour news channel being set up by Seven, Nine and British BSkyB for the Foxtel and Optus Vision pay TV networks. Former Network Ten newsreaders John Gatfield and Juanita Phillips are already set to join the new channel.
Tracy Grimshaw has lost her co-hosting role at Midday, but word is that there are people within Nine who would be happy to see her move on to the flagship current affairs program, 60 Minutes.
Darren Devlyn: The View From Here
"In an industry renowned for jealousy, out-of-control egos and broken relationships. Maurie Fields (pictured) was an exception. Maurie, whose passing on December 18 had a resounding emotional effect on all who knew him, was not just a fine comedic and dramatic actor, he was a model husband and father. Like film critic Ivan Hutchinson, who also passed away in 1995, Maurie was unpretentious. They were men without enemies. Every time you walked away from an interview with Maurie you'd ask yourself, 'Why can't they all be this easy?'. He had an open policy with the media and was treated with enormous respect accordingly. I can't ever recall hearing or reading a scathing comment about the man."
Program Highlights (Melbourne/Regional Victoria, January 6-12):
Saturday: In the three-hour special Moto 95 (2pm, Nine/WIN), Darrell Eastlake relives some of the great moments in motor racing during 1995. The Hopman Cup (9.30pm, ABC) continues from Burswood Dome, Perth.
Sunday: The Benson And Hedges World Series Cricket (9.50am, Nine/WIN), Australia versus West Indies, is live from Brisbane. Our World (6.30pm, Nine/WIN) presents the documentary Vietnam Journey With Ken Done. Sunday night movies are Pacific Heights (repeat, Seven/Prime) and Travelling Man (Nine/WIN). Sunday Stereo Special (8.30pm, ABC) presents Simone Young Conducts Wagner, featuring soloists Elisabeth Connell and Bruce Martin with the Melbourne Symphony Orchestra and Australian conductor Simone Young. A new series, Passion (8.30pm, SBS), presents six short plays by Australian women. The first episode features Love Seen In Laundromat, starring Carole Skinner, and The Night Of The Missing Bridegroom, starring Jean Kittson (pictured).
Monday: The summer of tennis continues with the Peters International (11am, Seven/Prime) starting today and continuing through the week from White City, Sydney.
Tuesday: Benson And Hedges World Series Cricket, Australia versus Sri Lanka, is live from the Melbourne Cricket Ground, with only two hours of coverage allowed in Melbourne (2.20pm to 4.30pm, Nine), while regional viewers receive the full day-night coverage (2.20pm to 6pm, and 7pm to 10pm, WIN). Impromptu interview series Front Up (7.30pm, SBS) returns with host Andrew Urban.
Wednesday: Live coverage of the Peters International (11am, Seven/Prime) from Sydney is combined with coverage of the start of the Colonial Classic, from Kooyong, Melbourne. The Benson And Hedges World Series Cricket (2.20pm, Nine/WIN), Australia A versus West Indies, is live from the Sydney Cricket Ground.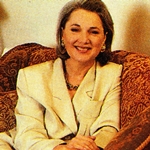 Thursday: The Peters International and Colonial Classic (11am, Seven/Prime) continue through the day, with the night session of the Colonial Classic (10.35pm, Seven/Prime) on a delayed telecast — with the same again on Friday. Healthy Wealthy And Wise presenters Iain Hewitson and Tonia Todman (pictured) present their own new shows — with A Cook's Journey (7.30pm, Ten) and Creative Living (8pm, Ten).
Friday: Benson And Hedges World Series Cricket (4.30pm, Nine/WIN), Australia versus Sri Lanka, is live from Perth. Current affairs program 7 Days (7pm, SBS) features an exclusive interview with Hazel Hawke.
Source: TV Week (Victoria Country edition), incorporating TV Times and TV Guide. 6 January 1996. Pacific Publications Pty Ltd.