In 2013, Television.AU and TV Tonight collaborated to chronicle the longest-running shows still on-air in Australia.
Now, ten years to the day, we're revisiting that list, adding new entries and acknowledging those which have since taken their leave.
DK: David Knox, TV Tonight
AB: Andrew Bayley, Television.AU
* indicates shows inducted into the TV Week Logie Awards Hall of Fame.

Royal Children's Hospital Good Friday Appeal, Seven
1957
DK: What began in 1931 by the Herald and Weekly Times was first broadcast in 1957 in conjunction with Radio 3DB. It expanded to its first full-day telethon in 1960 and has since become a Victorian tradition, with year-long fundraising events across the state. Seven Network personalities from around the country devote their annual Good Friday to this cause, frequently giving rise to spontaneous live television moments that only telethons can deliver. COVID and cutbacks may have pulled back on its marathon broadcast but in its 66th year another record was broken at $23m+ raised for Melbourne's Royal Children's Hospital with $428,774,440 raised across six decades of broadcasting.
TV Week Logie Awards, Various
1961
DK: First seen as 8 awards during a 1959 episode of In Melbourne Tonight with Googie Withers as host, it was Graham Kennedy who was awarded "Star of the Year." The first telecast was in 1961 from the Chevron-Hilton in Sydney on the ABC. Since then it has become known as TV's "Night of Nights" when industry gather to recognise their achievements, but not without frocking up and imbibing first. The unscripted moments are numerous and the international guests have featured everyone from John Wayne to Joan Rivers ("It's the ugliest award I've ever seen!"). Mr. Logies himself, the late Bert Newton, hosted solo more than any other, 19 times -a legacy now honoured with the Bert Newton Award for Most Popular Presenter. From 1996 – 2022 Nine was host broadcaster but in 2023 Seven takes over with a Sydney event. Love them or hate them, and it's seemingly an Aussie tradition to do the latter, they remain the nation's #1 awards night.
Four Corners, ABC *
August 1961
DK: Officially Australia's longest running single program, ABC's public affairs show has put stories on the national agenda for more than 60 years. From social issues, politics, crime, environment, war, immigration, whistle-blowing and major investigations, Four Corners has done them all. In 1961 cameras took us to Box Ridge Aboriginal Reserve near Casino, NSW; a report on Queensland police corruption in 1987 led to the Fitzgerald Inquiry; in 2009 it detailed a culture of footballers & sex, and in 2011 we learned of the treatment of Australian cattle in Indonesian abattoirs. More recent stories have detailed abuse of Indigenous children at Don Dale Youth Detention Centre, live baiting in the greyhound racing industry, allegations of war crimes in Afghanistan and sexism and inappropriate behaviour inside the Canberra bubble. A 'Who's Who' of journalists and producers has worked on Four Corners including John Penlington, Mike Willesee, Caroline Jones, Andrew Olle, Kerry O'Brien, Paul Lyneham, Jonathan Holmes, Bruce Belsham, Sarah Ferguson and Louise Milligan.
Play School, ABC *
July 1966
AB: Generations of Australian pre-schoolers, and their parents, have spent their mornings and afternoons with the various presenters and characters of Play School. For any actor the role of presenter on Play School is a much-sought after addition to their CV with the list of presenters over the last 57 years including some of Australia's most successful and popular actors. Depending on how old you are, you might recall presenters like Patsy King, Anne Haddy, Lorraine Bayly, John Waters, Benita Collings, Jan Kingsbury, John Hamblin, Noni Hazlehurst, Don Spencer and Alister Smart, or later names like Trisha Goddard, Monica Trapaga, George Spartels, Justine Clarke, Alex Papps, Deborah Mailman, Andrew MacFarlane, Rachael Coopes and Hunter Page-Lochard.
Telethon, Seven (WA)
1968
AB: Since its inception in 1968, the Perth-based Telethon has raised over $500 million for children's charities and medical research in Western Australia. As well as attracting celebrities from across the Seven Network, the annual weekend event has also attracted international guest stars such as Sammy Davis Jnr, Stevie Wonder, Julian Lennon, Celine Dion, Elton John, the Harlem Globetrotters and Harry Connick Jnr. In the mid-1980s, when TVW7 owner Robert Holmes à Court sold Michael Jackson the rights to the Beatles' catalogue for $48 million, part of the deal was for Jackson to come to Perth just to appear at Telethon.

YouTube: Behind The News
Behind The News, ABC
June 1968
AB: 
It was long thought that Behind The News began in 1969, until ABC itself realised that it actually began under a different title, Current Affairs, in June 1968. Bringing education and news together, Behind The News gave generations of school kids (and some of their parents) context to news and current affairs in terms that they could understand without being condescending. Budget cuts saw Behind The News axed in 2004 but it was soon to be reinstated.
Carols By Candlelight, 0-10 / Nine
1969
AB: Melbourne radio identity Norman Banks created the first Carols By Candlelight in 1938. Since then the annual event has become a tradition followed by Australians all over the country in celebrating Christmas and acting as a fundraiser for Vision Australia. The event was first televised in 1956 as part of GTV9's pre-launch test transmissions but did not become an annual television event until 1969, initially on the 0-10 Network. The Nine Network has been the Carols broadcaster since 1979, hosted for ten years by Brian Naylor, then for almost 20 years by Ray Martin. Other hosts since then have included Karl Stefanovic, Lisa Wilkinson, David Campbell, Allison Langdon, Eddie McGuire, Livinia Nixon and Brooke Boney.
Mass For You At Home, Ten
August 1971
AB: Television in the 1970s wasn't all about Number 96, Abigail or Alvin Purple, it also created Mass For You At Home, giving isolated or house-bound viewers an opportunity to participate in Catholic Mass every Sunday. In 2021, after almost 50 years based in Melbourne, it shifted to a new production model based at the Diocese of Wollongong. The show continues to air each week on Network Ten and pay-TV channel Aurora, and is streamed on YouTube.
A Current Affair, Nine
November 1971
AB: In 1971, Mike Willesee's A Current Affair was a game changer for current affairs on commercial television and ran for seven years on the Nine Network. After an absence of ten years, Nine revived the A Current Affair brand in 1988 with former 60 Minutes reporter Jana Wendt at the helm. The program cemented Wendt's reputation and popularity with the viewers, leading to her winning the Gold Logie in 1992. Among her successors are Ray Martin, Mike Willesee, Mike Munro, Leila McKinnon and veteran host Tracy Grimshaw, who recently stepped down after 17 years. Allison Langdon now hosts the program during the week, with Deborah Knight hosting the Saturday edition. Although the program now leans towards a merry-go-round of reports of dodgy tradespeople, neighbours behaving badly, and harsh bureaucracy, it does occasionally rise to the challenge of serious reporting.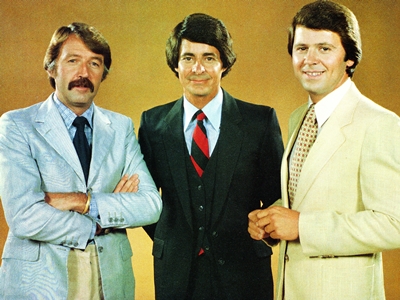 60 Minutes, Nine *
February 1979
AB: The Nine Network's expensive foray into prime time international current affairs was almost a ratings lemon when it launched in 1979. Persistence with the program eventually paid off and 60 Minutes was soon the flagship of Nine's news and current affairs portfolio and a ratings leader, fending off any number of challengers thrown at it by other networks. Some of the stories to have featured on 60 Minutes have become part of TV legend — including George Negus' famous interview with then British Prime Minister Margaret Thatcher; Tracey Curro's interview with controversial politician Pauline Hanson, whose "please explain" response has become part of the national language; Ray Martin's award-winning report on Sydney's Chelmsford Hospital; and former cult spokeswoman Ma Sheela's calm response — "tough titties" — when accused of stealing $40 million from the Orange People cult. In 2016, reporter Tara Brown and three colleagues were arrested on allegations of child abduction in Beirut when taking part in a botched child recovery operation. Those charges were later dropped.
Today, Nine
June 1982
AB: Nine launched The National Today Show in 1982 to further extend its commitment to news and current affairs coverage across the day. The National Today Show, initially hosted by Steve Liebmann and Sue Kellaway, fought it out with Ten's Good Morning Australia for over a decade. In the early 2000s the show that had woken up Australian viewers for twenty years got a wake-up call of its own in the shape of Seven's Sunrise. In 2006, the program recruited Network Ten newsreader Jessica Rowe to replace Tracy Grimshaw, but, through no fault of her own, Rowe's legacy from her stint at Today was the addition of the term "boning" into TV jargon — as Nine boss Eddie McGuire is said to have wanted her "boned" (sacked) from the program. It is a phrase he has denied using but the word stuck. Today has since expanded to a weekend edition and the mid-morning Today Extra. Other presenters to have appeared on Today over the years include George Negus, Patrice Newell, Elizabeth Hayes, Brian Bury, Eric Walters, Ian Ross, Monte Dwyer, Joan McInnes, Sharyn Ghidella, Lisa Wilkinson, Steve Jacobs, Georgie Gardner, Richard Wilkins, Deborah Knight, Allison Langdon, Ben Fordham and current hosts Karl Stefanovic and Sarah Abo.
Carols in the Domain, ABC, Seven
December 1983
DK: Started by a Qantas employee in 1983 who was an only child and wanted a Sydney event to celebrate Christmas, this event partnered with the Salvation Army, winning a TV broadcast first on ABC. It first screened on Seven in 1988 where it has run annually. Early acts included Normie Rowe, Jackie Love, The Fabulous Singlettes, Don Spencer, Ian Turpie, Sydney Conservatorium Orchestra and Chorale and Young Sydney Singers and more recently, Sunrise hosts, The Wiggles, Mark Anthony, Samantha Jade and Paulini.
Dateline, SBS
October 1984
AB: Former ABC journalist Paul Murphy headed SBS' international current affairs program Dateline when it launched as Dateline World in October 1984. The program has been through a number of format and timeslot changes over the years but now embraces video journalism, allowing unique access to covering international situations. Although Dateline no longer has a host up front, past hosts have included Pria Viswalingham, Jane Hutcheon, Jana Wendt, George Negus, Yalda Hakim, Mark Davis and Anjali Rao.
Neighbours, Seven, Ten, Prime Video *
March 1985
DK: One of Australia's most famous TV exports, this Grundy-produced serial had a short run on the Seven Network, being axed after only six months. But its domestic location in Vermont South, just happened to be around the corner from Network Ten in Nunawading, which swooped on the soap and was forced to rebuild internal sets after Seven destroyed the originals. Life on sunny Ramsay Street blossomed on Australian and British screens, with its mix of teen romance and cul-de-sac conflict. It launched the careers of Kylie Minogue, Jason Donovan, Guy Pearce, Craig McLachlan, Natalie Imbruglia, Holly Valance and made a household name of one 'Harold Bishop.' In 2022 the axe fell a second time after UK broadcaster Channel 5 chose to focus on home made dramas. Despite a grand farewell with homecoming cameos, fan tears and a sentimental epilogue by Jackie Woodburne, a later reprieve via Prime Video has led to a third chapter for 2023, again allowing for its magnificent training of crew and young talent. As they so often say, everybody working in Australian television has had a gig on Neighbours.
7.30 / The 7.30 Report, ABC
January 1986
AB: Launched from the ashes of the failed The National experiment of 1985, The 7.30 Report (now 7.30) has continued to present serious nightly current affairs when commercial TV efforts moved towards sensationalist, consumer-driven stories. A state-based program for its first decade, it was then hosted by Kerry O'Brien as a national format. Although it appeared a bit wobbly in the post-O'Brien era, it soon settled with Leigh Sales as host for 12 years, with Sarah Ferguson recently taking the lead.
Rage, ABC
April 1987
DK: Who hasn't chilled out on the couch to a session of rrrrrrage? Friday and Saturday nights on ABC has been home to the music video art form, kicking off any time from 11pm until the morning. For over 25 years ABC has embraced genres from pop to metal, R&B to rap, giving airtime to new artists as long as their clip was good enough. rage has hosted hundreds of guest programmers: musicians, comedians and even politicians invited to share their favourite music clips and explain why they mean so much to them. There have been themed nights, Wild Cards, summer Countdown specials, memorial tributes and, contentiously, a Top 50 that was dropped in 2006 triggering a rage amongst viewers all of its own. As music video shows teeter in an era of digital music and YouTube, ABC's real wild child continues to outstay them all.
Home And Away, Seven *
January 1988
DK: Buoyed by the success of Neighbours on Ten, Seven launched a new primetime drama about a foster family running a caravan park in the fictional town of Summer Bay. The Seven-produced concept worked, with viewers in Australia and the UK falling for soapie storylines against the backdrop of a surf beach, school and local diner. Summer Bay has featured a parade of Aussie stars including Melissa George, Kate Ritchie, Julian McMahon, Dannii Minogue, Ryan Kwanten, Simon Baker, Guy Pearce, Craig McLachlan, Chris Hemsworth, Isla Fisher, Ada Nicodemou, Lynne McGranger, Georgie Parker, Emily Symons, Shane Withington and more. 'Flamin' Ray Meagher remains the longest-serving actor in a continuous role on Australian TV with a Gold Logie to show for it. Although it is Australia's longest-running uninterrupted drama, Seven is sometimes torn over acknowledging the show's age, but it remains competitive in its 7pm slot and is a huge drawcard for 7plus.
Compass, ABC
February 1988
AB: Starting as a studio-based interview and discussion program, ABC's Compass has explored matters relating to religion, faith, ethics and spirituality. Initially hosted by Angela Pearman on Sunday afternoons, the program later developed into a primetime documentary format. Christina Koutsoukos took over as host in 1989, then veteran journalist Geraldine Doogue. With new host Indira Naidoo appointed this year, Compass has taken on a broader remit to include newer forms of spirituality and a focus on social justice.
Media Watch, ABC
May 1989
DK: Stuff-ups, beat-ups and barneys, the ABC's long-running commentary show has become the nation's media watchdog. A string of hosts, including Stuart Littlemore, Paul Barry (twice), David Marr, Monica Attard and Jonathan Holmes, have sought to keep the bastards honest, whether they be print, radio, television, online or even the ABC itself (including when controversial ABC general manager Jonathon Shier "rested" the show in 2000). Along the way there have been stories on Cash for Comment, ACA's Paxton kids saga, Today Tonight's 'Chase for Skase', fake Pauline Hanson photos, product placement, plagiarism, re-used archival vision and almost anything involving Alan Jones, Andrew Bolt or the Illawarra Mercury. Recently criticised for not seeking a right of reply, it is also the bane of editors across the country, who still watch it just to ensure they are not on it.
Gardening Australia, ABC
1989
DK: Amiable host Peter Cundall hosted this gardening show from 1989, answering "how to" viewer questions before finally signing off with his trademark "that's your bloomin' lot" in 2008. Briefly succeeded by Stephen Ryan it took the inimitable Costa Georgiadis to drive the show to a new audience in 2012, winning a surprise Silver Logie in 2019 as Most Popular Presenter. Amongst some of the show's long-running presenters have been Jane Edmanson, Colin Campbell, John Patrick, Angus Stewart, Tino Carnevale, Jerry Coleby-Williams, Sophie Thomson and Josh Byrne.
Landline, ABC
March 1991
DK: Perfectly fulfilling the ABC Charter to cover rural stories, this show brilliantly explains the bush to the city, with stories on agriculture, economics , business and product innovation, animal and crop science, regional infrastructure, climate and lifestyle with host Pip Courtney (previous presenters include Deborah Knight, Ticky Fullerton, Anne Kruger and Sally Sara). ABC still draws a consistent audience for this show that frequently pushes it into Sunday ratings.
Foreign Correspondent, ABC
March 1992
AB: Former 60 Minutes reporter and Today host George Negus went back to ABC, where his TV career started, to host Foreign Correspondent, providing serious international current affairs. initially on Saturday night. The program has been widely recognised both in Australia and overseas for its coverage and documentary reporting of international affairs.
Getaway, Nine
May 1992
AB: Australia's longest-running travel series was hosted by Jeff Watson, David Reyne, Anna McMahon and Rebecca Harris when it debuted in 1992. For over 30 years the program has taken viewers to a wide range of local and international travel destinations. It now appears on Saturday afternoons. Reyne is still with the show more than 30 years later, and Catriona Rowntree has been with Getaway since 1996.
The Sunday Footy Show, Nine
March 1993
AB: The Sunday Footy Show, with separate AFL and NRL editions, revived the age old format of putting a bunch of footy players and commentators together to discuss the round in progress. The AFL version featured the legendary Lou Richards for many years and continues to host a handball competition named in his honour. The success of the Sunday show in both AFL and NRL markets led to the top-rating Thursday night Footy Shows launching for each code on Grand Final Eve, 1993, but the Sunday show has even managed to outlive its prime time spin-offs.
Sydney Weekender, Seven
March 1994
DK: For 27 years Mike Whitney criss-crossed the state of New South Wales visiting travel spots and telling us about weekenders in Seven's long running travel and leisure show. After endless B&Bs, caravan parks, restaurants and adventure activities, he was succeeded by Matt Shirvington in 2022, then Sam Mac in 2023. Seven attempted to cull the show in 2020 as part of cost-cutting measures but a backlash from sponsors ensured it resumed in 2021 continuing to explore the Premier state.
Better Homes and Gardens, Seven
January 1995
AB: Noni Hazlehurst and John Jarratt initially hosted the TV spin-off of magazine Better Homes And Gardens, presenting a cheerful mix of stories relating to home improvements, gardening, pets, home maintenance and cooking. The program has since moved from Tuesday nights to Fridays where its viewer popularity survives despite some awkward channel shuffling to get around AFL coverage.
The Back Page, Foxtel
April 1995
AB: One of the pioneer shows of Australian pay-TV. Initially hosted by Peter FitzSimons and John Casey, then revamped with Mike Gibson in 1997, The Back Page is Fox Sports' longest-running program. Now hosted by Tony Squires with a panel of athletes, journalists and special guests each week, The Back Page promises lighthearted and diverse discussion on the world of sport. Former ironwoman Candice Warner is a recent addition as a regular panellist
Insight, SBS
July 1995
DK: Hosted initially by Vivian Schenker (pictured), then Gael Jennings, Insight was first paired with Dateline as a way of looking at Australian current affairs. But with host Jenny Brockie from 2001 it moved to a studio forum discussion, offering first-person stories on modern Australian experiences. Hosted by Kumi Taguchi since 2020, the series always offers up fascinating array of topics around moral dilemmas, parenting, honesty, adoption, anxiety, dating, gaming, consent and more.
Methodology: Australian TV shows (excluding news / sport) prior to 2010 still in production, or which remain with same producers / network.