It is 30 years since ABC's The Late Show made late Saturday night TV worth watching with its mix of live and pre-recorded sketches as it mocked politics, TV, films, advertising, sport, pop culture and some of our social mores.
Debuting on 18 July 1992, The Late Show featured many cast members from the D-Generation's comedy series from ABC and specials on Seven and from Melbourne breakfast radio — including Tony Martin, Rob Sitch, Santo Cilauro, Tom Gleisner, Mick Molloy, Jane Kennedy and Jason Stephens. Comedian Judith Lucy was added to the line-up in the show's second series in 1993.
In amongst the mix of on-location skits and live studio segments, the team comically re-voiced scenes from classic TV dramas Bluey and Rush and made them into Bargearse and The Olden Days — comedy classics in their own right. They created comedy gold with their musical mixups — where unlikely guest artists would perform songs made famous by others with similar names: such as actor Norman Yemm performing Losing My Religion by REM,  former Victorian premier Joan Kirner performing I Love Rock 'n' Roll by Joan Jett, Pete Smith's Dude (Looks Like A Lady) from Aerosmith, Jimmy Hannan's Working Class Man (Jimmy Barnes) and Al Grassby, Lucky Grills, Christopher Truswell ("Nudge" from Hey Dad) and Gwen Plumb (pictured) performing Teach Your Children from Crosby, Stills, Nash and Young.
Pissweak World, a series of commercials sending up suburban fun parks and tourist traps, led to Charlie The Wonderdog — a series parodying animal-themed adventure dramas and featuring veteran actor Charles 'Bud' Tingwell. Commercial Crimestoppers exposed some dodgy television advertising, and Countdown Classics took us back to the pop music icon of the '70s and '80s.
The regular Toilet Break segment featured dated performances from the archives of the 1970s variety show The Saturday Show and the 1987 talent quest Pot Luck — the latter including some of the scorching comments to the contestants from judge Bernard King.

YouTube: rrbroadway
Graham and the Colonel (pictured) gave us comical sports commentary and weary anecdotes, and Shirty The Slightly Aggressive Bear showed a dark side to the cute and cuddly characters of children's television.
The show made a special episode from Sydney following the announcement of the city as host of the 2000 Olympic Games and featured cameos by Jeanne Little, Geoff Harvey, Les Murray, Ian Maurice, Paul Clitheroe, ABC general manager David Hill and Don Burke.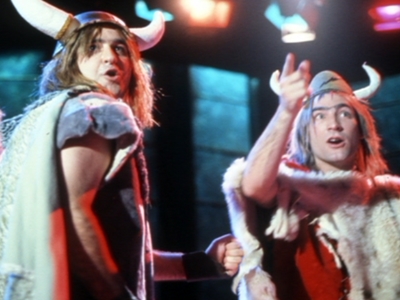 Although The Late Show only ran for 40 episodes over two years, its legacy to Australian television continues to this day. The team of Kennedy, Gleisner, Cilauro and Sitch went on to form Working Dog Productions, which produced the acclaimed current affairs satire Frontline and other television projects including Funky Squad, The Panel, All Aussie Adventures, A River Somewhere, Thank God You're Here, The Hollowmen, Audrey's Kitchen, Have You Been Paying Attention and The Cheap Seats.
Martin and Molloy went on to a popular syndicated radio show, Martin/Molloy, and produced films including Crackerjack, Bad Eggs and BoyTown. Stephens went on to a career in production, including dramas The King, Killing Time, Devil's Dust, Better Man, Wake In Fright and The Secrets She Keeps. Lucy has continued a successful comedy career including her own series Judith Lucy's Spiritual Journey and Judith Lucy Is All Woman and appearances in Kath And Kim, How To Stay Married, The Weekly With Charlie Pickering and Spicks And Specks.

YouTube: l00pes
The Late Show won two TV Week Logie Awards in 1994: Most Popular Comedy Program and Most Outstanding Achievement In Comedy.
The Late Show tribute website Champagne Comedy has an excellent account of The Late Show on the occasion of its 30th anniversary.
Images above sourced from the DVD The Best Bits Of The Late Show (2007).