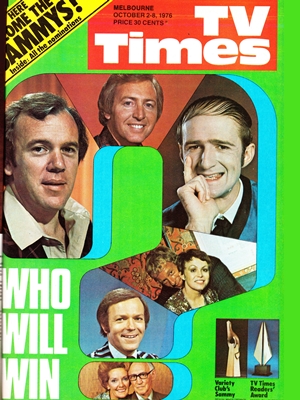 In 1976, the Variety Club of Australia, TV Times and the Seven Network launched The Australian TV And Film Awards, nicknamed "The Sammys". The name was derived from the trophy's design in the shape of a seal — Sammy the Seal!
The awards were a rival to the long-running TV Week Logie Awards, which were shown annually on the Nine Network.
The first presentation of the Sammys was held at the Sydney Opera House on 7 October 1976 and hosted by David Frost. Supporting Frost in presenting awards included Paul Hogan, Jack Thompson, Pat McDonald, Stuart Wagstaff, Digby Wolfe, Bobby Limb, Dawn Lake, Jacki Weaver and English actress Susan Penhaligon.
There were around 50 award categories, though thankfully for viewers only a selection were covered in the two-hour telecast. Most of the awards were judged by a panel representing various industry groups, unions and associations.
The major awards for the night were the Gold Sammys, awarded to both a male and female. The inaugural Gold winners were Garry McDonald (The Norman Gunston Show) and Helen Morse (from the film Caddie).
TV Times readers also had the opportunity to vote for three TV categories — Most Popular Personality, Most Popular Series and Most Popular Overseas Program. The inaugural winners of these categories were Mike Walsh, Number 96 and Starsky And Hutch respectively.
Although TV Times ceased publication in 1980, the Sammys continued in 1980 and 1981 before being quietly retired.
The first presentation of The Australian Television And Film Awards: The Sammys is among the latest addition of Classic TV Guides:
Source: TV Times, 2 October 1976, 16 October 1976, 23 October 1976.