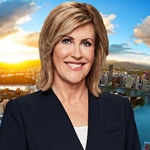 Brisbane newsreader Kay McGrath has signed off from her last Seven News bulletin on Sunday night, ending more than 30 years at the Seven newsdesk in Brisbane.
Originally from New Zealand, McGrath travelled the world before settling in Queensland in the late 1970s, scoring a job at the Gold Coast Bulletin newspaper followed by a reporting role at Eyewitness News for TVQ0 (now Ten) in Brisbane.
By 1984 she was promoted to read the evening Eyewitness News bulletin alongside Des McWilliam (pictured)
When TVQ0 owner Christopher Skase sold the channel and bought the Seven Network in 1987, he convinced McGrath to move to Sydney to front Seven's new national breakfast program, TVAM.
Her stint at TVAM lasted only a few months. "It just didn't work out as successfully as I'd hoped," she told TV Week at the time. "I found I was really missing Brisbane. Look what I missed out on, the Fitzgerald Inquiry and Expo, a journalist's dream." She returned to Brisbane early in 1989 to read Seven Nightly News with Frank Warrick — a partnership that continued for 13 years before his retirement.
McGrath was then partnered with former ABC newsreader Rod Young, leading to another long-running on-air partnership — first on weeknights, then on weekends.
Young now reads the Seven News Gold Coast bulletin and McGrath continued with the weekend news.

YouTube: 7NEWS Australia
In December it was announced that McGrath would step back from the news desk to focus on special reporting for Seven News. She will also appear on Seven's revamped Queensland Weekender program.
Seven News paid tribute to McGrath's 40 years in news on Brisbane television with a special report, followed by a tearful farewell.
Katrina Blowers will replace McGrath as Seven News' weekend presenter in Brisbane.
.@KayMcGrath7 thanks her family, Channel 7 and her viewers. "I would particularly like to thank you. You've invited me into your lounge rooms over the last 40 years. We've grown older together, and I wouldn't be here without your loyalty and support." pic.twitter.com/DUvGcsMPra

— 7NEWS Brisbane (@7NewsBrisbane) January 26, 2020
Source: Stellar, Sunrise. TV Week, 11 August 1984, 11 February 1989.